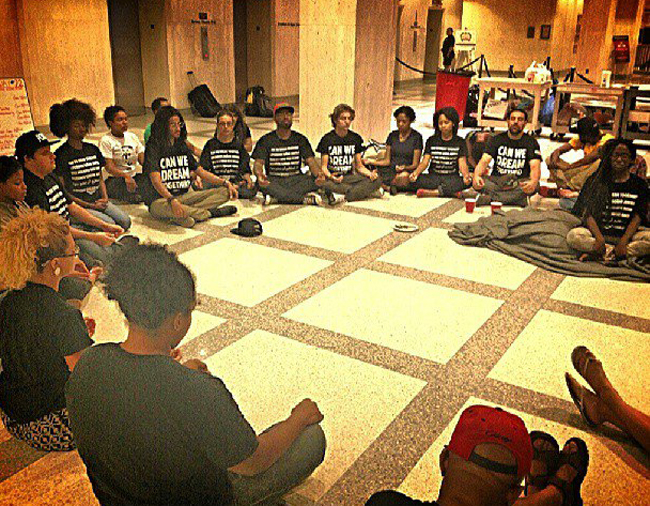 Lawmakers won't be back at the Capitol for a session until March after all.
Republicans have returned enough "no" votes in a poll of legislators to quash the idea of a special session to address the state's self-defense laws. That poll was triggered late Monday, after 33 Democratic lawmakers formally requested that the Department of State find out whether enough lawmakers supported calling a special session.
Supporters needed a three-fifths majority of the Legislature, or 96 votes, to force a special session opposed by Gov. Rick Scott and Republican legislative leaders. By Wednesday evening, they had just 37 votes, and opponents had 83 — a majority of the Legislature and more than enough to prevent a session.
Only one Democrat, Rep. Mike Clelland of Lake Mary, had voted against the session.
The defeat of the special session to address the controversial "stand your ground" law was expected. Changing that law is one of the main demands of the Dream Defenders, a group of protesters whose around-the-clock sit-in at the Capitol stretched to a 30th day on Wednesday with no apparent end in sight.
The group began its demonstration in Scott's office after George Zimmerman was acquitted of murder in the shooting death of 17-year-old Trayvon Martin. While Zimmerman's defense team did not use the "stand your ground" law, which grants legal immunity to people who use deadly force if they reasonably believe their lives are in danger, Martin's death drew nationwide attention to the policy.
House Speaker Will Weatherford, R-Wesley Chapel, tweeted what amounted to a declaration of victory Wednesday afternoon and implicitly called for the protesters to leave.
"FL supports self defense laws," he wrote. "We're spending way too much on protest security."
The Florida Department of Law Enforcement estimated that overtime for Capitol police has reached $149,998.30 since July 15, the day before the protests began. FDLE said 40 protesters were on hand Tuesday night, but at least 10 claimed to be demonstrating against climate change.
The answer from the demonstrators Wednesday was the same as it has been before: They don't plan to go anywhere.
Dream Defender Steven Pargett said they have no intention of leaving after the rejection of a special session on one aspect of what they call Travyon's Law. The protesters' proposed legislation also seeks to end zero-tolerance school discipline policies and supports initiatives meant to combat racial profiling.
"We're not leaving on account of the poll," Pargett said. "What's interesting is now we can see the elected officials are on the record because of the poll."
Intentionally or not, state officials were set to put one more barrier in the way of the protests Wednesday night, planning a required check of the Capitol's fire-alarm system from 8 p.m. to midnight.
"This testing will include the constant ringing of a loud, high pitch fire alarm throughout multiple floors of the Florida Capitol Building," said a flyer being used by the Department of Management Services to warn protesters about the fire alarm.
Meanwhile, civil rights activist Julian Bond, who has served as chairman of the NAACP and president of the Southern Poverty Law Center, was set to become the latest nationally known supporter to visit the protesters with a visit Thursday.
Prior celebrity supporters have included rapper Talib Kweli, activist Jesse Jackson and singer, actor and civil-rights icon Harry Belafonte.
–News Service of Florida