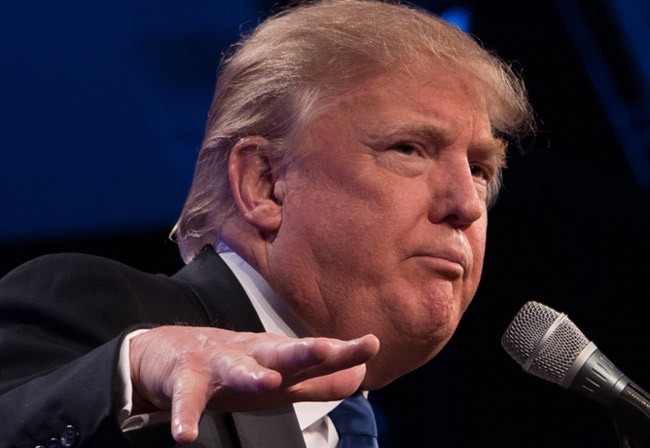 I told myself I wasn't going to write about Donald Trump again this year. I told myself he's plain not worth the attention, that he naturally carries enough snuff in his candle to blow himself out of the presidential race somewhere on the road to Iowa. And besides, if I write about him, it means at least on some level, I take him seriously.
Then all of a sudden I look up and Trump is at 12 percent in Republican presidential polls. Twelve percent. That's more than it looks, when you consider the Republicans have a round dozen announced primary candidates. Twelve percent puts Trump second to Jeb Bush.
It means conservatives in some states actually pick Donald Trump over Marco Rubio, Rand Paul, Mike Huckabee, every GOP candidate running for the White House.
Why? What is the Donald's mystique? Frankly, I don't think there is one.
In a Sunday commentary, "Republicans have a Donald Trump problem," Tim Stanley of The Telegraph writes, "That early polling bump is down to name recognition, amusement and uncertainty about the present field."
I know. I realize his political celebrity won't last.
But in the meantime, I think historian and columnist Stanley is 100 percent correct: Trump is going to do no end of harm to GOP presidential election chances as long as he stays in the race.

"The campaign is only two weeks old and already (Trump) has declared war on Mexican immigrants," writes Stanley. "In his announcement speech Trump said, 'When Mexico sends its people, they're not sending their best. They're bringing drugs. They're bringing crime. They're rapists.'"
When a CNN reporter asked him how he knew it was Mexicans "doing the crime," he never backed down but never answered the question either: "Well, somebody's doing the raping. I mean somebody's doing it. Who's doing the raping? Who's doing the raping?"
My point is, Republicans are regarded poorly enough among Hispanics as it is. Hispanics represent a growing demographic, yet the GOP is falling further behind in winning their vote.
Why? Because the party has an image problem. And it gets worse when somebody like Trump exacerbates the problem, as he did when he called Mexicans rapists.
Said Stanley, "… By shouting so loudly about issues that the Left presumes the Right is obsessed with, Trump becomes a stick with which Democrats can hit Republicans. He is a very useful idiot."
While he stays in the race, Trump will drag the Republican brand down with him, Stanley opines. "It's harder to have a serious conversation about immigration minus the charge of racism. That's a tragedy because, in the wake of Ferguson and Charleston, the Right was starting to outflank the Left in its display of concern about race relations."
Trying to smear his way into office is bad enough. But in other ways, the billionaire TV personality and real estate mogul is about as presidential as Fred Flintstone.
Does America want a president who has filed for corporate bankruptcy four times, in 1991, 1992, 2004 and 2009? True, all of these bankruptcies were connected to over-leveraged casino and hotel properties in Atlantic City and were completed according to the law. And each time he came out smelling like a rose, financially unscathed, because none of these was a personal bankruptcy.
The problem is, it still feels unwholesome — four is a lot of bankruptcies. Don't think because Trump didn't lose, no one lost. American businesses and investors large and small were screwed — gouged — each of the four times.
Trump's serial Chapter 11 filings may be perfectly acceptable in the wheeler-dealer world of big business, but how many voters would want to see their like in the White House, in the mindset of the leader of the Free World?
"Basically," explained Trump, "I've used the laws of the country to my advantage and to other people's advantage just as Leon Black has, Carl Icahn, Henry Kravis has, just as many, many others on top of the business world have."
Conservatives have other choices in 2016. The sooner Donald Trump gets out of the race, out of the spotlight, and back to flogging his new line of menswear and next reality show, the better for the GOP.


Nancy Smith is the editor of Sunshine State News. She started her career at the Daily Mirror and The Observer in London before spending 28 years at The Stuart News/Port St. Lucie News as managing editor and associate editor. She was president of the Florida Society of Newspaper Editors in the mid-1990s. Reach her by email here, or follow her on twitter at @NancyLBSmith.