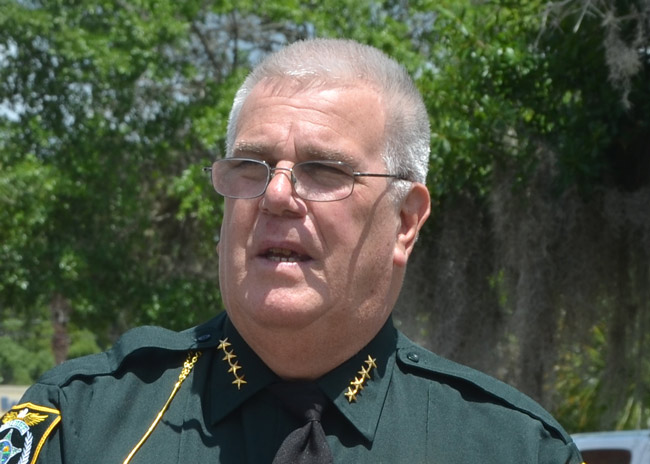 Don Fleming is the incumbent candidate for Flagler County Sheriff, running in the Aug. 14 primary election. He's been sheriff for eight years.
Three Republicans, including incumbent Fleming, and two Democrats, are in the running. The winner of each primary will face off in the general election on Nov. 6.
In these races, only registered Republicans may vote in the Republican primary, and only Democrats may vote in the Democratic primary. Independent voters may not cast a ballot in either.
The sheriff was paid $120,253 in 2011, a salary set by state law but paid out of local dollars.
FlaglerLive submitted 15 identical questions to the five candidates, who replied in writing, with the understanding that some follow-up questions may be asked, and that all exchanges would be on the record. Follow-up questions, when necessary, appear in italics, and may be awaiting answers.

The Questions in Summary: Quick Links

Place and Date of Birth: New York City, 31 May 1945.
Current job: Sheriff of Flagler County.
Political Affiliation: Republican.
Website: reelectdonfleming2012.com
1. It's a very busy field. What makes you the best qualified candidate for Flagler County Sheriff?
With twenty-three years of executive experience within a law enforcement agency, no other candidate can compare. My time-tested leadership has carried the Flagler County Sheriff's Office through difficult times of which we have emerged stronger and improved.

2. What specifically makes your case for unseating Sheriff Fleming? He's been in office eight years. If you're challenging him, you must think he's not doing the job as well as you could, or that he's failed along lines you wouldn't. Please be specific with regards to both.
In choosing who will be Sheriff or fill any public office, voters should be cognizant of the many promises that candidates make—many of which are empty promises. While it is difficult not to make promises to citizens offering support during a political campaign, support me for what I have accomplished and what I have brought to the entire community.
Since you raise the issue, what are some empty promises being made, and by which candidates?
All candidates have promised to reduce crime—under my administration I have.  All candidates have promised to reduce the budget—yet, they promise to implement programs and initiatives that are man-power intensive.  Promises by Mr. Manfre to put video cameras in cars would cost the taxpayers over $300,000, for equipment alone.  Mr. Pollinger has stated that he will re-direct the Crime Suppression Team to handle juvenile problems.  The Crime Suppression Team has been a valuable asset to the community as they work collaboratively with the Criminal Investigations Division.  The Crime Suppression Team is responsible for criminal patrol and proactive law enforcement within high crime areas of Flagler County, specializing in problem solving in neighborhoods where normal patrol is sometimes restrained by the mere volume of calls for service or the length of time needed to resolve the problem.  The Crime Suppression Team conducts targeted and mission oriented police activities which includes working with both adult and juvenile probation officers enforcing probation violations.  The assignments are time-consuming and assigning a detective would remove that detective from follow-up on criminal cases that have been reported. The Crime Suppression Team identifies a pattern of crime utilizing intelligence led policing, develops suspects and works the case.
While Mr. Pollinger zealously boasts that the men and women of the Agency have lost confidence in my ability as a leader, as demonstrated by the "overwhelming endorsement" of the Coastal Florida Police Benevolent Association and Public Employee Associations, consider the fact that only thirty-eight members voted for Mr. Pollinger—out of approximately 200 possible votes from union members.
Mr. Manfre contends that I have failed "to be fair and apolitical in decisions that affect both the employees of the Sheriff's Office and the public."  However, Mr. Manfre seems to have forgotten the antagonistic relationship he "built" with the county commissioners and the judiciary during his tenure as sheriff.  Being a "legend in his own mind" has also caused Mr. Manfre to forget his Chief Deputy resigning after a tempestuous relationship with him; demotion of his highly respected major to deputy first class after losing the primary election in 2004; and his loss at re-election—not once, but twice.  Mr. Manfre has a proven track record for developing antagonistic relationships during his career—anyone familiar with the shenanigans surrounding his tenure with the City of Babylon and why is it conspicuously absent from his biography?

3. What is the most dangerous thing or temptation about a sheriff's power, and how do you intend to control it?
The position of Sheriff carries immense power that should be taken with due consideration. I have spent my life serving my country as well as the communities in which I have lived. Being vigilant in keeping that power in a clear perspective is paramount as Sheriff so the needs of Flagler County remain in focus.
Having been in office eight years, surely you can be more specific about the dangers and temptations of a sheriff's power? What do your opponents not know that you now do?
By virtue of the position as a law enforcement officer, we are all placed in situations where a weak, unscrupulous person might be tempted.  That is the fundamental principles of the Oath of Office and living by the Code of Ethics.
During Mr. Manfre's term as sheriff, his unstable relationship with the County Attorney led him to want to arrest the County Attorney; Mr. Manfre also demanded an apology from the then-County Administrator, David Haas, for failing to acknowledge Mr. Manfre while using the restroom.  This is an example of the blatant exploitation his position.

4. What is your greatest weakness in so far as the scope of your leadership is concerned? How has it shown itself? What have you done to address it?
Many citizens have told me that my greatest weakness is my unwavering disposition to do the right and honorable thing. On more than one occasion, it would have been much easier to compromise ethics, to take the easy way out; to not back wrongly accused hard working Deputies, to cave in to political pressure. As Sheriff I have lead the agency through challenging situations. I believe deputies come to do a difficult job each day. It is my job to make sure they have the resources to go home safely to their families at the end of their shifts. I truly care for the members of the agency. Wanting to make everyone happy has resulted in upsetting others who do not have all the facts that were considered when making difficult decisions.

5. As sheriff, what would be your top three priorities for the agency?
My primary focus as your sheriff is crime prevention; communication; and fiscal conservatism.
Crime Prevention: Crime in Flagler County has decreased in four of the last five years—and is down again in 2012, thus far, by 8.9 percent in Index Crimes and 6.9 percent in Violent Crimes (UCR). The programs implemented during my administration are working which is clearly evident by the decrease in crime. We have grown our Neighborhood Watch programs to 44; the Women's Self Defense Program is continuously offered to help teach personal safety and defense.
Communication: Under my administration I have continuously strived to maintain the open door policy. I have made myself available to not only government representatives but citizens as well. When I assumed command of the Sheriff's Office in 2005, the bridges were burnt with the County Commission and other governing boards. I have worked diligently to rebuild those bridges based on mutual respect and trust.
Cost: As your Sheriff I have increased services to the citizens while decreasing the budget. I have reduced the budget by $2.2 million in the last four years and submitted a zero-based budget in three of the last five years, all the while improving the level of service to our citizens. I have accomplished this by working closely within the Sheriffs Agency, working with the County Commission, and the Cities by identifying and removing waste along with tapping other funding streams, like grants. When the County decreased our staffing I obtained grant funding for six deputies for three years to help get us through these difficult economic times and insure we have appropriate levels of staffing.

6. In your view, what are the three most pressing problems with regards to public safety in the county? Please be specific: for example, if you cite such things as drugs or gangs, please cite documented numbers that show why this is a more pressing problem today than previously.
• While gangs may be a concern, under my administration we investigated, arrested and successfully dismantled several criminal enterprises which included Operation Blood Out, involving gang member Brandon Washington, and Operation Morse Code, with Grant Morse as the organized leader. Both enterprises were prosecuted under RICO as well as violent crimes such as home invasion, burglary and robbery. I believe today's society has been denigrated by the abuse of prescription pills. Nearly 3 million teenagers and young adults (aged 12-25) become "new abusers" of prescription drugs. Fifty-six percent of the six million new prescription drug abusers were over the age of 18. Even though those classified as elderly make up only 13 percent of the American population, they account for 33 percent of all prescription. Prescription drug abuse is trans-generational (US Department of Health and Human Services). The Narcotics Enforcement Team has worked diligently to investigate and arrest those using, purchasing or selling pharmaceutical drugs illegally. During Operation Pain Management we seized 1541 prescription pills such as Oxycontin, Percocet and Xanax. This multi-jurisdictional investigation resulted in the arrest of 103 offenders—offenders that were not only committing crimes of illegal prescription pills but also, thefts, burglaries and robberies to support their addiction.
• With the entire nation struggling with economic issues, law enforcement is not only having to do more with less, for less, we are also having unfunded mandates placed on us. Mandates such as housing our juveniles in our jails, service of additional civil process; and Baker Act transportation to out of county facilities all remove deputies from patrolling our neighborhoods.
• Increase in population there will naturally be an increase in crime. It is imperative that we plan and are prepared by increasing resources as well as staffing aggressively through grant funding. Working closely with the Board of County Commissioners and the municipalities is essential as we transition from a rural to suburban community.

7. Assess, from your vantage point, the state of race relations between law enforcement and the public, and how you think minorities are treated (as opposed to the way minorities ought to be treated), generally, by police in Flagler County.
As a human being with compassion I will not tolerate racial profiling or bias. Each individual is treated fairly and equitably. I strongly believe in the positive power of diversity.
No doubt. But how do you explain this anonymous letter we just received from the Mondex, which cites the name of one of your deputies, here withheld: "I am writing this letter fearing for my family and me. I am a resident of The Mondex, otherwise known as Daytona North. I am one of only a few Black families here. I have lived here for many years and have spent many years being ridiculed by the local law enforcement. In the beginning I felt that it was just part of fitting in. I have had my house broken into, my kids beaten, and my dogs shot. I made numberous complaints to the local deputy [name withheld]. Needless to say nothing was ever done. I spoke with several neighbors who told to me that the local cops were active in my area were active members in such groups the KKK. They even told of two situations a few years back were the local cops was involved in distributing flyers and racially motivated material to minorities in the area. it was even on the news. With things like Travon getting shot, I am afraid for my children and have planned to move. Please help us I fear if Deputy [] does find out I have sent this letter to you he will have his peoples do bad stuff to us."
I cannot explain the intentions of the anonymous author of the letter you have received. I would encourage the writer to contact my office so the matter can be properly investigated. This can be done in person or via an on-line Citizen's Complaint form.

8. Do you support the restoration of dashboard video cameras in sheriff's cruisers?
In a limited capacity, for evidentiary purposes, I do support the use of dashboard video cameras. The value of a video in the prosecution of a Driving Under the Influence case is beneficial to the judiciary as it is difficult to refute the level of intoxication when it is visually evident.
9. Explain your stance on civilian review boards in general, whether you would institute one at the sheriff's office, and why—or why not.
While I welcome comments of concern and commendation from our citizens, I am not in favor of Civilian Review Boards. The judiciary and legislature have placed more than enough constraints on law enforcement officers that make doing our job more difficult with each day.
Can you be more specific about such constraints, and explain how, or why, you see a civilian review board as a constraint–and how that squares with the open door policy you referred to above.
A Community Review Board is best utilized when there is lack of public trust. I do not believe that is the where we are at in Flagler County. We maintain an avenue in which citizen complaints are received and investigated.
Citizens are encouraged to bring matters of concern my attention—I have returned phone calls and personally met with many citizens to discuss problems, ideas and concerns.

10. Florida became the focus of national attention after the shooting death of Trevon Martin. His death has resulted in renewed discussion of Florida's stand-your-ground law. Do you support the stand-your-ground legislation? If not, what would you do to support its repeal?
People have the right to not be in fear and the right to defend themselves if threatened. I do not agree with a Neighborhood Watch member being armed while actively patrolling the streets of his neighborhood. Our Neighborhood Watch indoctrination and training emphasizes observing and reporting.
But would you repeal or amend the stand your ground law?
The Stand your Ground law should be amended to include prohibitive language that would cover incident similar in nature to the tragic event that took the life of Trayvon Martin.

11. Sheriff's offices experience an election cycle every four years where a new candidate will appear who promises to do the job better. Often a candidate's decision to seek office is the result of conversations with agency employees and their unions. This can often result in a quid pro quo relationship developing between some employees and their unions. Explain your current relationship or opinion of local law enforcement unions. And should you be elected (or re-elected), how will you handle these types of relationships?
As hard as I have tried over my tenure as a law enforcement executive, it is humanly impossible to make everyone happy. Those members of the agency, current or past, who have developed relationships with other candidates, are obviously not happy with some decisions that have been made under my administration. I have worked persistently to provide a healthy work environment. Over my eight year term, members of the agency have enjoyed 10% pay raises for three consecutive years, health care at no expense to the member, take home cars, tactical uniforms, training, permanent shifts, and tuition reimbursement. I have worked closely with union representatives. The Corrections and Civilian contracts have been mutually agreed upon and are pending ratification. The Law Enforcement contract has open articles that have we have not finalized as they are ones that are tied to budgetary increases. I am not in a position to provide salary increases for the deputies without lay-offs—of some of those deputies that are demanding a pay increase. Surrounding agencies have laid-off deputies and civilians. Citizens have lost their homes and jobs. Considering the many issues facing Flagler County I cannot, in good conscience, raise the pay of some deputies at the expense of the jobs of others.

12. Describe how you would have handled the Francoise Péqueur matter differently than Fleming and his agency did, from the ground-level response of officers to the sheriff's fielding calls from the husband of the woman who killed Pécqueur (a school board member friend of the sheriff). In your case Sheriff Fleming, explain how, having gone through the matter, you might have done things differently.
The policy that was in place at the time I became sheriff has been reviewed. We have reviewed policies from other agencies. We have studied the facts surrounding this tragic event. Dispatchers made their decision and responded according to the information that was provided by the reporting party—as we do with all calls for service. It has been said by other candidates that they would send deputies to all medical calls. To do this we would have to add 12-15 road patrol positions to handle the nearly 20,000 medical calls we received in 2011.
I maintain an "open door" philosophy. This means I am available to anyone who calls my cell phone. As many people call my cell phone asking for direction to a law enforcement related issue, I direct them to the appropriate area to address their concern. Mr. Fischer called my cell phone and asked for direction. I directed him to Communications. I followed up with the Operations Division. We conducted an internal review in the weeks after the incident and believe the agency responded appropriately.

13. Deputy Roster was found by an internal investigation to have stolen at least $8,000 by falsifying time sheets, yet he was only demoted, without losing his pay rank, and kept on the force, while in two other deputies' cases involving smaller thefts, they were fired. What message does that send to the rest of the deputies, and what message does that project to the community? How would you have handled the Roster matter based on the results of the investigation, and how will you ensure that deputies are held accountable? (In your case Sheriff Fleming, please explain why Roster was not fired.)
Sgt. Roster is a veteran law enforcement officer with an impeccable record. Prior to being hired full-time, he volunteered for eight years with his personal blood hounds, assisting the citizens of Flagler County in many searches resulting in the location of missing or lost people as well as the apprehension of violent criminals. As the agency's only certified canine trainer, terminating Sgt. Roster would be detrimental to the highly recognized K-9 Unit. Units he has supervised have been recognized for their outstanding achievement in two of the last three years. He coordinated and supervised Operation Morse Code which culminated in the recovery of over $200,000 in stolen property, and the arrest of several offenders that had been committing felonies throughout Florida. As with all internal investigations, Sgt. Roster is afforded due process. Pursuant to the Police Officer's Bill of Rights and the contract with the Police Benevolent Association, any discipline cannot be imposed until the grievance process is completed. As it is not completed, no disciplinary action can be issued. There are questions that have arisen as a result of this investigation and they will be addressed—when the grievance process is has concluded.
Your answer is in many ways stunning. If no discipline can be imposed until the grievance process is completed, why has Roster been demoted? And are you suggesting that a deputy who abuses sheriff's office policy, or breaks laws, is above being disciplined because of past commendations or good works? Would you tell the state attorney, or one of your own deputies filling out a charging affidavit, to let a first-time thief off the hook because he spent years doing good deeds?
Sgt. Roster's issued discipline is in the grievance process. He is still receiving his sergeant's pay pursuant to the Collective Bargaining Agreement, Article 5, Section 8: "Proposed penalties resulting from an internal investigation may not be implemented until the member has exhausted his/her administrative remedies…" (Emphasis added.). The same rights that protect all law enforcement officers during an internal investigation have been afforded to Sgt. Roster. The cases involving the two other deputies that had been terminated for theft were reviewed by the Office of the State Attorney who brought forth criminal charges. That is not the case with Sgt. Roster—the State Attorney declined to prosecute. Sgt. Roster's case was also sent for review to Florida Department of Law Enforcement—they declined to pursue administrative action. As stated in my initial response, "there are questions (in regards to internal processes) that have arisen as a result of this investigation and they will be addressed—when the grievance process has concluded."

14. Where are the weaknesses of law enforcement in Palm Coast, and how can law enforcement in Palm Coast be improved?
The Sheriff's Office handles all law enforcement within the City of Palm Coast. The high level of services provided include not only road patrol but also, criminal investigators, traffic/motor, victim advocates, school resource, marine and dive, K-9, narcotics enforcement. We have placed bike patrol deputies in shopping centers, deputies are conducting walk-throughs of our businesses; School Resource Deputies are in Ralph Carter Park for Twilight Ball. We have an excellent relationship with the City of Palm Coast. Any issues or concerns that the City Manager, the City Council, or the citizens have raised have been addressed by working together.

15. Do you consider policing in Bunnell and Flagler Beach what it should be, and would you be supportive of a sheriff's take-over of either?
I strongly support both the Bunnell Police Department and the Flagler Beach Police Department and will continue to do so. We provide support services as needed such as criminal investigations, victim advocacy, and patrol support to both municipalities. Information Technology and patrolling the unincorporated areas of the City of Bunnell is also provided. We provide manpower to special events within both cities as well.