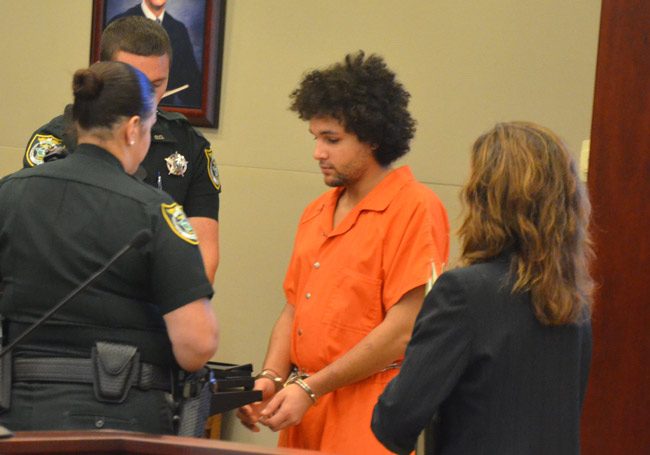 D'Marcus Boyd, a 23-year-old Palm Coast resident released from state prison two and a half years ago after a three-year sentence, was sentenced to prison again this afternoon, this time for seven and a half years followed by five years' sex-offender probation, when he will also be designated a sex offender for life.
Boyd pleaded guilty to a count of rape and a count of burglary before Circuit Court Judge Terence Perkins, who sentenced him to terms defense and prosecution attorneys had agreed to: Boyd himself had been eager to plead and get the case over with soon after he was charged last June. Because he is a "prison-releasee reoffender," meaning that he was convicted to a felony within three years of being released from state prison, he was facing a much stiffer penalty if he disputed the charges and lost at trial: he would have been sentenced to 15 years in prison, and required to serve the term day for day, without chance of early release after serving 85 percent of his sentence, as is otherwise the case.
Boyd has already served four months at the Flagler County jail, time that will be credited to his prison sentence. He could be out and on probation in about six years, assuming good behavior. His previous sentence had been for a burglary: he'd gone into a vacant house at 9 Pine Ash Lane in Palm Coast to smoke weed with friends. He was 18 at the time. So by the time he's released from prison when he's nearing 30, he'll have spent almost all his adult life in prison.
His guilty pleas today were for a more lurid reason than his earlier conviction: he was upset that his fiancee might have been cheating on him. On June 26, he'd been dropped off by his friend "Chico" at the Flagler County Public Library on Palm Coast Parkway, only to later be told by other friends that "Chico" had a tryst with Boyd's fiancee–and had a video recording of the act.
Boyd confronted his 22-year-old fiancee at the house on Pepper Lane–his father's house, where he used to live, and from where his father had kicked him out, according to what he told sheriff's deputies. He initially broke into the house to get into the refurbished garage, where his fiancee had been sleeping, assaulted her, and forced his fingers into her vagina to–as he put it to her–"test" if she was cheating on him. He then dragged her outside and was caught in the act by his brother, who was returning from work.
Boyd was initially arrested on the burglary charge. It was only later that the rape charge, a second degree felony in this case, was added, along with a domestic violence battery charge. His father would later tell detectives that Boyd was not allowed at the P-Section house.
"This is a little bit of downward departure with regards to the incarcerative portion" of the sentence, Perkins said today just before imposing sentence, meaning that going by Boyd's scoresheet, he was eligible for more prison time. But adding the probation term, the judge said, brought the sentence closer to the scoresheet. Once released, the probation terms are not slight: he will have to abide by a mandatory 10 p.m. to 6 a.m. curfew, staying off the internet, complying with random polygraph tests, complying with registration requirements, submission to warrantless searches, maintenance of as driving log and prior permission from his probation officer to drive anywhere, and several other restrictions.
Boyd, in wrist and leg shackles and the orange jail garb he's worn for the past four months, said little other than to acknowledge the judge's questions with "yes" or "no." He had no family, no friends in the courtroom, which was empty but for courtroom personnel and the lawyers. Boyd was defended by Assistant Public Defender Bill Bookhammer. The case was prosecuted by Assistant State Attorney Melissa Clark.