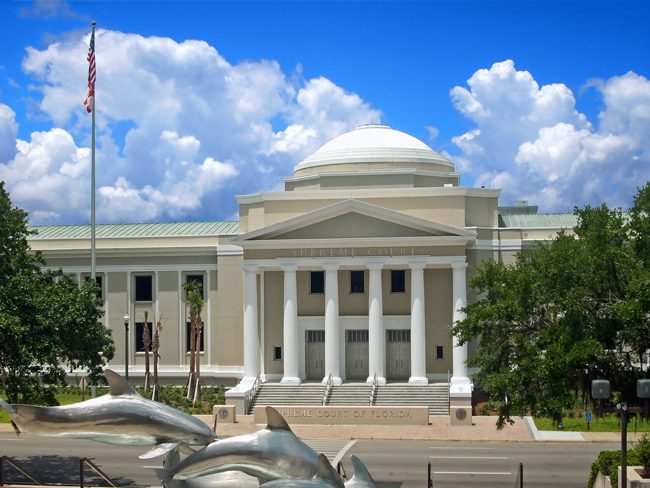 Ron DeSantis' narrow win in Tuesday's election for governor will bring an unprecedented expansion of conservative Republican power in Tallahassee.
Democrats haven't won a governor's race since 1994. They haven't controlled the state House or Senate since the mid-1990s. They lost their last Cabinet member in 2010.
Now, with DeSantis' election, that conservative Republican influence will extend to the Florida Supreme Court, which has a 4-3 liberal majority that has blocked many initiatives advanced by the Republican-led Legislature and Gov. Rick Scott.
As he takes office on Jan. 8, DeSantis, a 40-year-old former congressman from Ponte Vedra Beach, will have the power to appoint three new members of the state's highest court, replacing three justices who are part of the liberal bloc and who have reached a mandatory retirement age.
DeSantis, a Harvard-educated lawyer, has said that he will appoint conservative justices who are "solid constitutionalists."
Talking to reporters Tuesday night in Orlando, DeSantis said his court appointees "will be very, very smart, very principled people, but they're going to understand that their role is to apply the law and not rewrite the law." He said the appointments will bring an end to "judicial activism" on the court.
The appointments may also have a lasting impact since voters approved a constitutional amendment Tuesday that will allow the new justices, as well as other judges throughout the state, to serve until they are 75 years old, up from the current mandatory retirement age of 70.
A conservative majority on the Supreme Court is likely to be more deferential to initiatives advanced by DeSantis and the Legislature, where the GOP on Tuesday maintained a solid majority in the House and at least 23 seats in the 40-member Senate.
But in his victory speech, DeSantis talked little about partisan politics and emphasized the need as the state's next governor to work with all Floridians, including those who opposed him.
"Political campaigns are a rough business and often about highlighting our differences. And, unfortunately, in this day and age they often spiral into outright demagoguery," DeSantis said. "But governing is different. Governing is about getting things done on behalf of the people of Florida, keeping our economy going, improving our water quality and environment, promoting public safety and expanding educational opportunities.
"We need to build a Florida that is cleaner, safer, stronger and that will be my guiding light as governor," he said.
DeSantis said one area where he might unite Floridians will be behind an effort to address the problems of toxic algae and red tide and on moving forward with plans to restore the Florida Everglades.
"I think the first priority in terms of what is really urgent for Florida is really getting us on a strong track on water quality and the environment," he said.
DeSantis said he would use his relationship with President Donald Trump, who held campaign rallies for him, to advance the federal portions of the effort, including the creation of a reservoir near Lake Okeechobee to help divert and treat polluted water.
"I think you're going to get tired of me calling you, asking you for things for Florida," DeSantis said about Trump. "But I look forward to that. I think we'll have a great partnership."
DeSantis will also have willing partners in the Florida House and Senate. Incoming House Speaker Jose Oliva, R-Miami Lakes, was an early supporter of DeSantis. The newly elected lieutenant governor, state Rep. Jeanette Nunez, R-Miami, will also help DeSantis navigate the legislative process.
Lawmakers and the new governor are likely to find common ground on issues such as tax cuts, opposition to expanding Medicaid and the creation of more educational "choice" programs like charter schools and scholarships to send students to private schools.
DeSantis is also a strong supporter of gun rights, meaning any gun-control efforts are not likely to advance, and is open to restrictions on abortions. In the Republican primary, he voiced support for a "heartbeat bill," which would prohibit doctors from providing abortions if fetal heartbeats can be detected.
As U.S. Navy veteran who served in the Iraq war, DeSantis will also find legislative support for his efforts to support active military members and veterans in the state.
One of DeSantis' biggest challenges will be moving from a legislative branch, where he served nearly three terms in Congress, to the chief executive of the nation's third-largest state.
DeSantis is taking over a huge enterprise, and one of his first tasks will be shaping a state budget proposal for 2019-2020 that is likely to be in excess of $89 billion.
He also must appoint a host of state agency heads overseeing areas such as education, health care, transportation and prisons.
Even prior to Tuesday's election, DeSantis said he was putting together a transition plan for taking over from Scott, who leads in a U.S. Senate race that is expected to require a recount.
"You have to put together a government. I mean that's a lot of work," DeSantis said. "We have been doing this quietly behind the scenes, not to be presumptuous, but just because you don't have enough time. You have to start doing it."
–Lloyd Dunkleberger, News Service of Florida