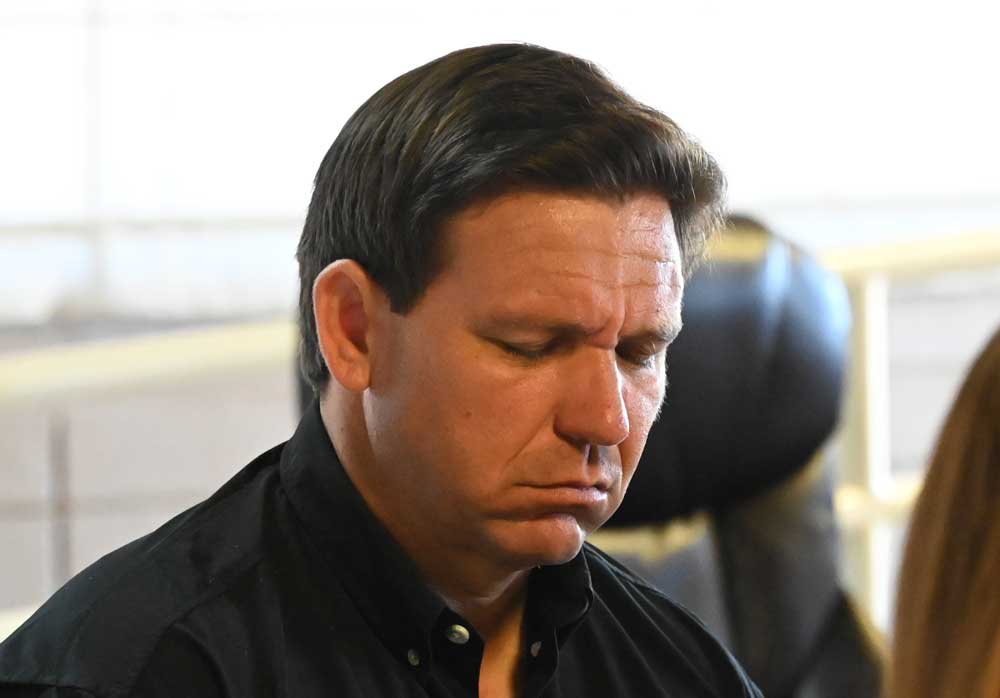 Now that Gov. Ron DeSantis has filled out the federal paperwork to officially become a 2024 candidate for president of the United States, the Florida Phoenix has compiled a chronicle of the trajectory of DeSantis' tenure, from moving into the governor's mansion on Jan. 8, 2019, to a presidential run.
The Phoenix, which launched on July 5, 2018, was able to follow DeSantis from his 2018 campaign; his first term in office, and his second term, which remains current. (The governor is not expected to leave his post during his presidential campaign.)




The Phoenix perused its entire library of stories and photos over nearly five years, to show how DeSantis has navigated his political career.
We hope to give a sense about what DeSantis has been doing since he entered office.
2019
January: Ron DeSantis is sworn in as Florida's 46th governor on Jan. 8, 2019, using the theme of a "Bold Vision for a Brighter Future."  At 40, the Harvard-trained attorney, Navy veteran and former Congressman brought political youthfulness to the state Capitol and the Florida Governor's Mansion, with his wife, Casey, the new First Lady, and their small children. Whether voters supported or opposed his candidacy and praised or bashed his ideology, DeSantis took on the work of managing a state of more than 20 million people.
January: Solidifying a conservative majority, Gov. Ron DeSantis makes his third appointment to the Florida Supreme Court, tapping Carlos Genaro Muñiz, 49, as the third justice he has appointed since he took office earlier this month. DeSantis got the opportunity to name new justices because mandatory retirement forced out three long-serving members of the high court. (Muñiz would later become the chief justice in 2022.)
January: In a travesty of justice that has marred Florida's history, Gov. Ron DeSantis and the state's clemency board gave pardons to the "Groveland Four" –Black men wrongly accused of raping a 17-year-old white woman in Lake County in 1949.
January: Saying "We need to have the people's will represented," Gov. Ron DeSantis pushes the Florida Legislature to quickly fix the state's medical marijuana law to allow smokable pot for sick people.
February: The mass shooting a year ago at Marjory Stoneman Douglas High School has now escalated to the level of a large-scale criminal investigation, with Gov. Ron DeSantis petitioning the Florida Supreme Court to impanel a statewide grand jury.




May: Ensconced among the travel party accompanying Gov. Ron DeSantis to Israel this week is a cadre of lobbyists – people who make their living influencing the executive and legislative branches and whose careers rise and fall according to their proximity to power. The 98 people making the trip include the governor and Cabinet members, state legislators and mayors, agency chiefs, business and political types, academics, and religious figures. They include some of Florida's best-connected lobbyists.
May: With a Republican majority in the Legislature, Gov. Ron DeSantis pulled the 2019 regular session sharply to the right, keeping his party in line behind a red-meat conservative agenda that included a hardline new immigration law and measures favoring big business.
June: Waiting until virtually the last day to act, Gov. Ron DeSantis signed controversial legislation that narrows the field of felons who can now vote following the passage of Amendment 4 last November. The American Civil Liberties Union, ACLU of Florida, NAACP Legal Defense and Educational Fund, the Brennan Center for Justice at NYU Law and the League of Women Voters of Florida filed a lawsuit in the U.S. District Court of the Northern District of Florida.
October: Gov. Ron DeSantis said he hopes the 2020 legislative session will open a "year of the teacher" in Florida, centered on his proposal to raise first-year teacher pay to $47,500 per year. That would be one of the highest figures in the country for starting pay, national data show.
2020
February: Republican Gov. Ron DeSantis told reporters Thursday that the state is taking all precautions and working with local health departments to prepare for a potential coronavirus outbreak. But reporters questioned DeSantis about why the Florida Department of Health has not been transparent. And Democratic lawmakers and others have continued to ask why the state is not disclosing who is being tested for the disease.
March: Gov. Ron DeSantis announced Sunday evening, March 1, that "two individuals" in Florida tested positive for the deadly coronavirus that has become a global epidemic, with United States cases on the rise. The two people who "tested presumptively positive" are residents of west- central Florida's Manatee County and Hillsborough County.




March: Impeding travelers coming to Florida from areas highly infected with coronavirus may or may not be good public health policy, but its constitutionality and fairness likely will be challenged. That was a reaction to Gov. Ron DeSantis halting motorists traveling into Florida from points west, particularly from Louisiana, and subject them to 14-day quarantine in hopes of slowing the migration of COVID-19 infections from areas under lockdown orders.
April: Under growing pressure from critics and a rising number of coronavirus infections and deaths, Gov. Ron DeSantis issues a statewide stay-at-home order that directs everybody in Florida to remain in their homes for the next 30 days — with some exceptions.
April: Restaurants in Florida can re-open for outdoor service and at 25 percent capacity inside under Gov. Ron DeSantis' plan to get the state economy moving again. But restrictions on entering nursing homes will remain and movie theaters, bars, gyms, and hair salons will remain closed, DeSantis announced in the state capitol. Additionally, elective surgeries may resume.
April: Florida Gov. Ron DeSantis announces that brick-and-mortar public schools will be closed for the remainder of the 2019-20 school year, with K-12 students continuing distance learning at home.
May: Gov. Ron DeSantis traveled to Little Talbot Island State Park to announce that he will reopen Florida's state parks Monday as part of his broader loosening of COVID-19 rules, and took the opportunity to bash critics including the national news media.
June: Gov. Ron DeSantis has yet to comment publicly about the unrest that's broken out across Florida and the rest of the country over the police-brutality death of George Floyd in Minneapolis.
June: Gov. Ron DeSantis quietly signed legislation that requires parental consent for a pregnant minor to get an abortion. Critics say it's unconstitutional, and the ACLU of Florida called the law a "sham."
August: Most of Florida's 67 school districts opened for in-person instruction heading into an uncertain school year amid the COVID-19 pandemic and against the backdrop of a lawsuit that has national implications.




August: Overall, 1.1-million students attended in-person instruction in traditional classroom settings, according to the Department of Education. Meanwhile, students of families that opted for online learning are now in virtual school. "Today is the first day where we can literally say 'we're fully open,'" said Education Commissioner Richard Corcoran at a Monday roundtable discussion with Gov. Ron DeSantis and other participants.
September: Following protests around the country over racial unrest and police brutality, Gov. Ron DeSantis said he will push legislation this coming spring to curb actions of protesters who are considered disorderly. The bottom line: If someone is judged unruly they could face more criminal penalties than in the past.

October: Gov. Ron DeSantis joined President Trump in Fort Myers to participate in a "Protecting America's Seniors" rally and was rewarded by being compared to Elvis. Trump told a lively crowd that while waiting backstage he heard a large cheer from the audience. "I thought Elvis had entered the room," Trump said. "It was your governor, Ron DeSantis."
December: The day after the Electoral College voted to make Joe Biden the president-elect, Gov. Ron DeSantis on Tuesday declined to congratulate the Democrat who defeated his political patron, Donald Trump.
2021
January: With the first coveted COVID-19 vaccines introduced in December of 2020, demand was high.  Democrats hammered the governor for his handling of the initial rollout, with then St. Petersburg Democratic U.S. Rep. Charlie Crist requested that the Department of Justice look into DeSantis' decisions that raised questions about special treatment and political connections in securing vaccine doses.
March: DeSantis signed legislation that would make it harder for working Floridians and consumers to sue businesses, medical providers and other entities that they believe exposed them or family members to sickness and death through COVID-19. It was the first bill passed by the Legislature in that session.
April:  The governor then issued an executive order barring any state or local agency from issuing, or any private business from requiring any "vaccine passport" – documentation of an individuals' COVID status — and urged the Legislature to ban the documents by law.




April: Although there were relatively few violent protests that took place in Florida following the summer of 2020 protests over the death of George Floyd, DeSantis took a hardline on such protests and called in the fall of that year for the state to establish a definition for rioting in the state and increase the penalties against those convicted of the crime. The so-called "anti-riot" law (officially called the "Combating Public Disorder Act") was signed in April of 2021, but a federal judge blocked its enforcement that September, as critics contended that it chilled Floridians' right to peacefully protest. Litigation continues in the case.
May: DeSantis came to St. Petersburg in early May and signed an executive order suspending all local COVID-19 orders and signed legislation that allowed the state to override local emergency orders like the ones passed throughout the state after the pandemic began. The measure banned the enforcement of "vaccine passports" and ended mask mandates.
June: Legislation pushing back on transgender rights began that year as well. On the first day of Pride Month, DeSantis signed legislation that would bar transgender women from participating in women's sports teams at public schools and universities. The Fairness in Women's Sports Act barred girls and women from participating in women's sports teams if their original birth certificates categorized them as males. "In Florida, girls are going to play girls sports and boys are going to play boys sports," he said as he signed the bill into law at a private Christian academy in Jacksonville.
July: DeSantis won a month's long legal battle with federal public health authorities over whether to require cruise ship passengers and crew to be vaccinated against COVID-19 to board and sail. The governor won a federal trial court ruling about the topic when a three-judge 11th Circuit panel reversed an earlier decision and accepted the trial judge's injunction preventing the feds from enforcing CDC rules. DeSantis celebrated the decision, saying it went beyond the cruise industry. "From here on out a federal bureau will be on thin legal and constitutional ice if and when it attempts to exercise such sweeping authority that is not explicitly delineated by law."
July: Although weather events are the usual natural disasters that Florida governors must contend with, DeSantis had a completely different tragedy to handle after a condominium tower collapsed in Surfside Florida in July that killed 98 people. It was also the first time that President Joe Biden traveled to Florida, where he met up with the governor to console family members and announce that the federal government would pick up 100% of the costs associated with the building collapse.




July: DeSantis flew to Texas to discuss border security with Gov. Greg Abbott, where he brought along 50 state officers in response to Abbott's request for help to deal with a surge of undocumented immigrants.
November: DeSantis signed a package of bills designed to countermand President Biden's vaccine mandates, a day after the Legislature approved the package during a hastily organized special session. He did so at a car dealership in Brandon in Hillsborough County – a locale seemingly calculated to needle the president who had become the target of a right-wing cheer "Let's go Brandon." "I think Brandon, Florida is a great American city," the governor announced at the press conference. "We're proud to be able to make a stand for freedom in Brandon, Florida."
The legislation he signed forbid public employers from requiring vaccinations for workers; required private businesses that require vaccines to allow exemptions for health and religious reasons, or for people who acquire immunity through infection with the coronarius, agree to submit to regular testing or wear personal protective equipment on the job.  And it clarified that parents decide whether public schoolchildren wear masks in class or get vaccinated against COVID-19.
2022
April: One day after the Florida Legislature approved DeSantis' highly contested congressional redistricting plan, a legal challenge landed in state trial court in Tallahassee. DeSantis signed the plan into law privately. The plan, which DeSantis forced upon the Legislature, gives Republicans a 20-8 advantage in Florida congressional races and destroys or diminishes Black-access seats in North and Central Florida.
June: DeSantis welcomes the Supreme Court's ruling in Dobbs via a tweet: "By properly interpreting the Constitution, the Supreme Court has answered the prayers of millions upon millions of Americans."
August: DeSantis suspends elected Hillsborough County State Attorney Andrew Warren, accusing him of nullifying state laws through refusal to prosecute violent offenders and to enforce criminal penalties against doctors providing abortions or gender-affirming care. The governor's executive order suspending Warren cites his signature on a letter in June 2021 along with other elected prosecutors across the country "to use our discretion and not promote the criminalization of gender-affirming healthcare or transgender people." The case is now pending before the Florida Supreme Court and the U.S. Court of Appeals for the Eleventh Circuit.




September: DeSantis orders the airlifting of some 50 asylum seekers to Martha's Vineyard in Massachusetts. The move triggered a furious response from Florida Democrats, immigrant advocacy groups, and members of Florida's Hispanic community, but that reaction was the intention, the governor signaled. "It's better to go to a sanctuary jurisdiction — and yes, we will help facilitate that transport for you to be able to go to greener pastures," he said.
November: DeSantis wins reelection by 19 points over Democrat Charlie Crist, and takes the win as vindication of his policies. "We faced the tasks, we took the hits, we weathered the storms, and we stood our ground. We did not back down. We had the conviction to guide us, and we had the courage to lead. We made promises to the people of Florida, and we have delivered on those promises. After four years the people have delivered their verdict. Freedom is here to stay!"
November: DeSantis offers a subdued reaction to Donald Trump's announcement that he's running for president again. "People just need to chill out a little bit on some of this stuff, I mean seriously. We just ran an election," the governor said.
2023
January: DeSantis takes the oath of office for his second term with a speech tailored toward his ardently conservative base. "From the Space Coast to the Sun Coast, from St. Johns to St. Lucie, from the streets of Hialeah to the speedway in Daytona, from the Okeechobee all the way up to Micanopy, freedom lives here in our great Sunshine State of Florida," he said. "It lives in the courage of those who patrol the streets and who keep our communities safe. It lives in the industry of those who work long hours to earn a living and raise their families. It lives in the dedication of those who teach our children. It lives in the determination of those who raise our food. It lives in the wisdom of our senior citizens. It lives in the dreams of the historic number of families who have moved from states across this country because they saw Florida as the land of liberty and the land of sanity."
February: DeSantis signs legislation ending The Walt Disney Co's control over a special districting covering its Central Florida properties and installing a new board that answers to him. The governor and his supporters attempt to play down any retaliatory intent against the company for opposing his Parental Rights in Education law passed the year before, also known as "Don't Say Gay."
February: DeSantis releases his campaign book, "The Courage to Be Free: Florida's Blueprint for America's Revival." The hardcover book went for $23.46 at Amazon and $28 at Barnes & Noble. The first 15 global Amazon rating reviews are far from one-sided, in fact, they're all polar opposites consisting of either one or five-star critiques. "Pure Deathsantis Propaganda," one user writes. "Don't be fooled. This is as 'truthful' as Fox 'News.' Luckily I didn't buy it but borrowed a copy. If I could give it 0 stars I would."
April: DeSantis quietly signs Florida's new six-week abortion ban into law, continuing his trend of approving controversial new laws outside the limelight. Aides said in a news release at 11:26 p.m. Thursday that he'd signed SB 300, the so-called Heartbeat Protection Act, mere hours after the GOP-dominated Florida House voted on final passage.




April: DeSantis launches an international trade mission taking him to Japan, South Korea, Israel, and the U.K. Meanwhile, the number of Florida congressional members ditching him and endorsing Donald Trump for president rose to 11 while his poll numbers continued to plummet in one-on-one matchups with the former president. The trip allows DeSantis to reestablish himself in international affairs after calling the Russian invasion of Ukraine a "territorial dispute."
May: DeSantis signs what both he and his critics agree is the strongest anti-illegal immigration bill passed by any state legislature in the country. He initially called for a major immigration package in a speech weeks delivered in February but one of the proposals in that speech — repealing the 2014 law allowing undocumented students to qualify for in-state tuition rates for Florida colleges and universities — never made it into the final bill.
May: DeSantis signs legislation forbidding public colleges and universities to run diversity, equity and inclusion programs that have been used in the past in universities, calling them "a veneer to impose an ideological agenda." He does so at the New College of Florida, which is he converting into a conservative bastion.
May: DeSantis travels to a Christian evangelical school in Tampa to sign legislation banning transgender minors from receiving gender-affirming care such as puberty blockers and expanding a law to prohibit classroom instruction on sexual orientation and gender identity through the 8th grade.
–Diane Rado, Mitch Perry, Michael Moline, The Florida Phoenix