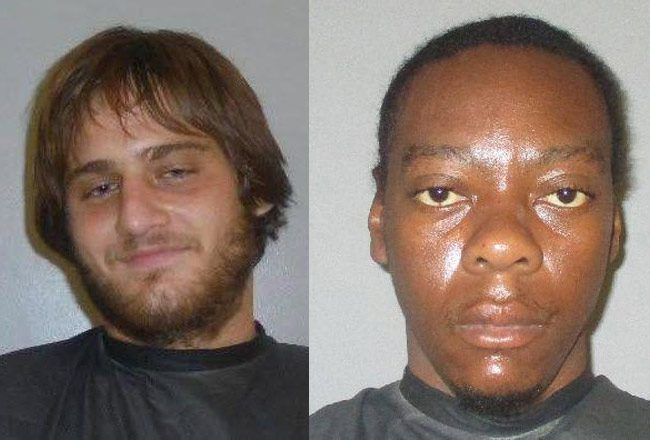 Neither cops nor the court system indulge those who are violent against law enforcement personnel: In two unrelated domestic-violence incidents within hours last July, five Flagler County Sheriff's deputies who were responding to the incidents were assaulted and four of them injured. The three people responsible are all currently serving probation terms of three to four years.
That 24-hour period was out of the ordinary: violence against local deputies or police happens, but it isn't endemic. And for whatever reason in the past year or so, it has happened in spurts.
Three more incidents resulting in injuries to Flagler County Sheriff's deputies took place between March 3 and March 5, two of them at the county jail, the third in Palm Coast's R-Section during a domestic-violence investigation. The spate prompted the sheriff's office to issue a release topped by an unusually bold and misleading headline: "3 Deputies Attacked by Suspects in Separate Incidents; Sheriff Staly Vows to Prosecute."
In fact, one of the three deputies was allegedly attacked when he was bitten outright by an inmate. Another deputy was injured when an inmate at the jail "dropped to the floor, twisting, kicking and pulling," and landing on the deputy's arm. The report on that incident was not provided yet. The third deputy was injured when he fell as he pursued a suspect, who did not actually attack the deputy. It is also inaccurate for the sheriff to claim that he will "prosecute." Only prosecutors may prosecute once the state attorney determines that a charge will be filed.
The body of the release was more accurate. "We will not tolerate abuse of our deputies in the course of doing their jobs," Staly is quoted as saying. "If you injure our deputies, you will go to jail or have charges added." He is then quoted as saying that "we will urge the state attorney to prosecute you to the full extent of the law. Every deputy knows there are risks while serving our community. We want to bring awareness, in addition to our training to minimize those risks."
The deputies injured over the weekend are detention Sgt. Manuel Sa, detention deputy Jonathan Vitale, and deputy Daniel Parthemore. One incident took place on March 3, two on March 5.
The March 3 incident involving Sa had to do with Zachary Zanghi, a 22-year-old resident of Buffalo Lane in Palm Coast with a long record of arrests. He was already at the Flagler County jail, and charges had been piling up while he was in there, with one felony charge of assaulting a deputy added on Jan. 24 when he spat in the face of detention services deputy Kemp after kicking him in the leg. Zanghi had been dissatisfied with his meal, and matters escalated from there. During the struggle, one of his tactics, according to the arrest report at the time, was to drop to the ground—the same tactic he used on March 3 when he dropped onto Sa's arm.
---
"We will not tolerate abuse of our deputies in the course of doing their jobs," the sheriff said.
---
Zanghi has been at the jail since his September 16 arrest on charges of burglary involving a an elderly couple in their 70s. He appeared to have been under the influence of a hallucinogen at the time of that arrest, according to the arrest report. He'd broken the sliding glass door to the house even as its occupants were urging him to leave (and as they called 911) before they barricaded themselves in their bedroom. He broke down their door. Cops arrived soon after that.
After the March 3 incident, yet another pair of battery on a law enforcement officer were added to his lengthening list of current charges.
The second jail incident that resulted in an injury to a deputy took place around 3 a.m. on March 5, involving Stephen A. Notice, who also has a very long arrest record—with numerous felony and misdemeanor charges going back to 2005.
Notice, 32, a resident of Renn Lane in Palm Coast, was at the jail on a trespassing charge after he went to Winn Dixie to pick up medication. He had previously been trespassed from the store, and told deputies he thought the trespass had been removed. That was on Feb. 22. Trespassing makes up the bulk of his numerous previous charges, though those charges also include battery on a law enforcement officer in 2016 and 2011, burglary and theft in 2014, and violating probation.
On March 3, three detention deputies were changing his clothing, according to the charging affidavit. Notice became irate. Deputies attempted to restrain him. As Vitale put his hand on Notice's shoulder, Notice, according to the affidavit., bit the deputy's middle finger and drew blood, leaving a tooth mark there. A charge of battery on a law enforcement officer was added to Notice's other charge.
That evening at 8 p.m., deputies Daniel Malta and Parthemore had responded to an address on Reidsville Road in Palm Coast after a woman had posted a reference to domestic violence on Facebook, asking that someone call the police. She had been referring to Axel Ortega, 23, who was dating the woman's daughter. When the cops showed up at the door the woman said there'd been no actual violence, but that Ortega had been verbally aggressive. He had gone outside in the yard and was hiding in the bushes when deputies arrived.
When deputies went outside, he did not follow their commands and instead walked and ran past them, through the front door and out of the house, prompting the chase during which Malta took him down in the swale. Ortega, who had been barefoot, sustained a laceration on his toes. Asked why he ran, he told Malta that he was on probation for drunk driving and had been told by his probation officer that he was not allowed to have contact with cops. (That's not the case with individuals on probation.) During that incident, Parthemore fell on the pavement, injuring his arm, hip and back.
Ortega himself was not charged with battery on a law enforcement officer, but with resisting arrest without violence, a first-degree misdemeanor. He was still at the county jail Monday evening, without bond, because later a probation-violation charge was added: while he was wrong to claim that he was not allowed to have contact with cops under the terms of his probation, he had been drinking, according to his arrest report, and that was a violation of the probation terms.
The three individuals arrested for violence on cops in July all ended up with a sentence.
Randy Blyth, a 23-year-old Palm Coast resident, was eventually found guilty on a domestic assault charge, with adjudication withheld on his felony charge of battery on a law enforcement officer and other related charges. He is currently serving four years' drug-offender probation.
John Kodack, 32, ended with a similar sentence: adjudication was withheld on his felony charge of assaulting a deputy, and he was placed on four years' probation. Jennifer Caufield, 40, who'd had numerous previous felony and misdemeanor charges, was found guilty of battery on a law enforcement officer, but sentenced to just three years' probation.
The deputies injured in those incidents were Paula Priester and Chris Santoianni in one incident, and Jesse Kocorowki and James Gore in another.