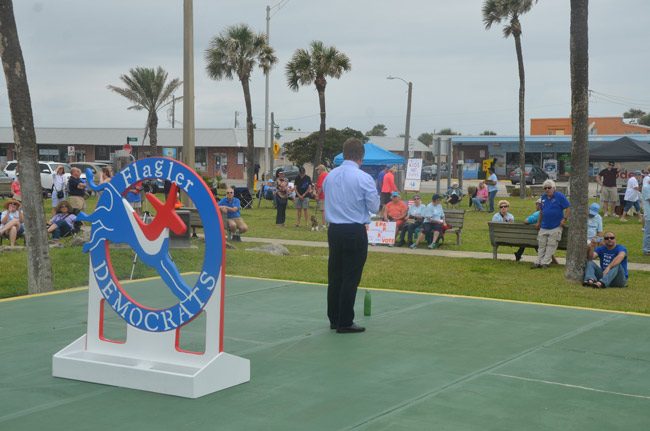 Since their high water mark in 2008, when they led in voter registrations thanks to the Obama wave, Democrats in Flagler County have had no answer for a Republican surge that has decisively turned the county red and made it part of a forward-operating base for the likes of Paul Renner and Ron DeSantis. Renner is in line to be Speaker of the Florida House in 2022. DeSantis, who barely made a pretense of representing the 6th Congressional District that includes Flagler in the past five years, is running for governor.
Flagler Democrats have seen their proportional hold on registrations fall every year. They've had trouble fielding candidates. Some of the candidates they would field lacked either seriousness or viability, sometimes both. They've lost Democrats to Republicans, among them Milissa Holland and Nick Klufas, who both serve on the Palm Coast City Council. The local party structure was moribund, especially compared to Republican activism. And in November 2016, after projecting bullish times ahead, Democrats were swept out of every county and constitutional office, with one exception on the school board—Colleen Conklin, whose attachment to Democrats is tenuous anymore–and one on a city board.
Democratic registrations are still a problem: Independents are just 2,400 registrations away from overtaking Democrats in Flagler, whose proportion of voters is down to just 31percent, compared to Republicans' 41 percent (Democrats had a 38-36 percent advantage at the beginning of the Obama administration in January 2009). But party slumber is giving way to renewed militancy, with a willing insurgent like Mike Cocchiola at the helm of the Palm Coast Democratic Party, the Indivisible movement making its street presence felt, however modestly, and the activist Coquina Coast Democratic Caucus organizing rallies and demonstrations that have drawn more than modest crowds, and is now drawing the attention of candidates.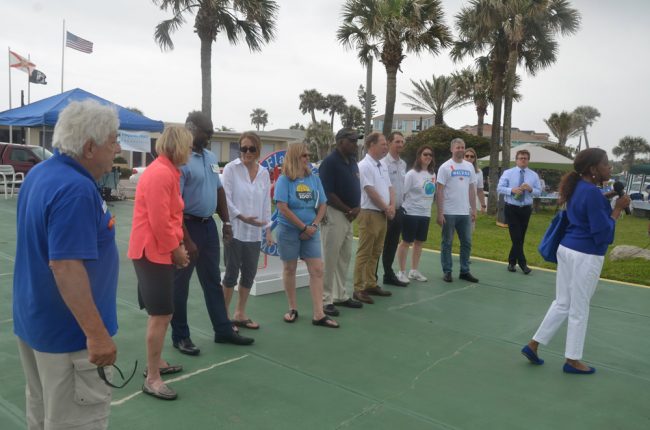 All three Democratic candidates for the 6th Congressional District showed up at the caucus's second annual Rally By the Sea Sunday at Flagler Beach's Veterans Park—Nancy Soderberg, John Upchurch and Stephen Sevigny. They're running for the open seat DeSantis is resigning. In contrast with previous Democrats running for Congress, every one of them is serious, well-funded—in Soderberg's case, funded to an unprecedented level for any Democrat in the region—intelligent and seemingly more interested in governance than ideological bromides. R. David Walker, the Democrat and a scientist running for Commissioner of Agriculture, was also among the speakers.
Democrats are still having trouble fielding candidates for more local races: they have none running for the two open county commission races, only one running for school board, where three seats are up, and none running for two Palm Coast City Council seats. School board and city council are ostensibly non-partisan, but both parties have completely abandoned the pretense, fielding, endorsing and featuring their registered candidates at every opportunity. Carl Jones is the lone Democrat running for school board. He was among those speaking at Sunday's rally, focusing on his discipline-inducing military career and Earth Day themes of environmental stewardship.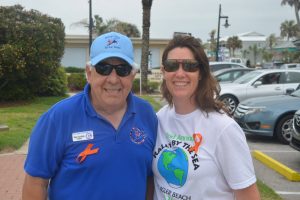 "We've got our ground game. We're set," says Stephanie Capehart, who founded the caucus and two months ago was elected chairman of the Flagler Democratic Party, replacing Ralph Lightfoot. "We've been organizing, we've been recruiting volunteers, we've been getting them trained, we've been printing materials. We're sitting on go. Really, right now, we're just waiting for the qualifying period to hit, and then we're out."
"And our message in that ground game is, whoever comes out the strongest, that's our person, and we're doing that voter by voter," Cocchiola said.
But if it wasn't as clear before, Sunday's rally made it clear: the focus is not so much on local races, given the dearth of candidates, but on flipping the congressional seat blue, which can happen only if Republican turnout is depressed and Democratic turnout is extraordinarily strong—a very tall order in a mid-term election featuring so few Democratic candidates and few ballot proposals naturally alluring to young or liberal voters. The ballot shaping up is leaden with the Florida Constitutional Revision Commission's 13 proposed constitutional amendments. It includes a proposal to ban off-shore drilling, but most of the other proposals are catnip to conservatives, from term limits for school board members to further privatizing charter schools (with public money), providing for crime victims' rights, death benefits for emergency responders, and so on.
That may have been one reason Sunday's rally drew a smaller crowd than last year's: it was measured in dozens rather than last year's hundreds, many of them wearing blue-wave t-shirts in sanguine anticipation of November.
"I like to think that the weather had a big impact on the turnout," Capehart said, pointing west to a dark gray pall bearing down on Palm Coast with what looked like (and what proved to be) heavy rain. It never reached Flagler Beach during the rally, but it likely discouraged Palm Coasters from crossing the bridge. "But the focus was really for our candidates, it's midterm elections, they're critical, and we got all the candidates that have any impact on Flagler County to come speak. So they seemed to resonate well with the crowd and we're hoping to have some blue seats in the fall."
Adam Morley, owner of a small outdoors business who's again challenging Renner for the House District 24 seat, said he was "acutely aware of the impacts weather reports can have on people's outdoor plans," but was nevertheless impressed with the turnout: it was enough to get his qualifying petition cards almost all signed. "As for my race," he said in a nod to the David-and-Goliath nature of his recurring challenges of Renner, "I'm an optimist without illusions. It will be a long road. But I have always viewed my candidacy like a marathon; with my focus on the seat, improving my numbers with each run and not giving up because that is the only true defeat in politics. As the general public becomes more aware of my opponent and his record I'm confident that they will be interested in an alternative that would more accurately represent them -not the establishment – in Tallahassee, I'll be on the ballot when they're ready. Until then I'll be working to get my name and message out as far as my resources will allow."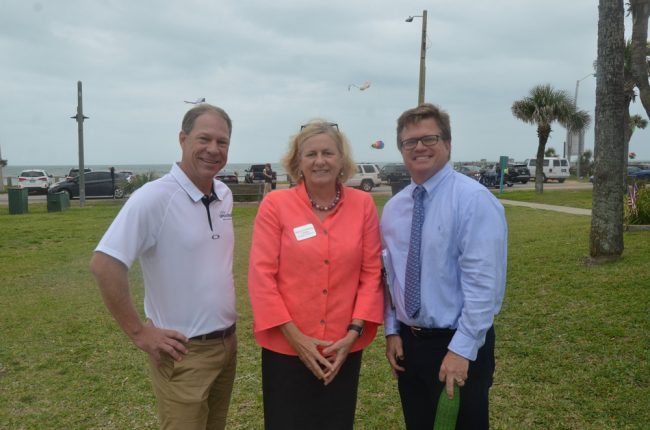 It was apparent when Soderberg, Upchurch and Sevigny spoke to the crowd who had been on the campaign trail the longest, and who was the more polished candidate: Soderberg draws from a long career in policy-making (rather than in politics) going back to her days on Teddy Kennedy's senate staff and through her years with the Clinton administration, where she a primary negotiating force behind the peace deal in Northern Ireland that ended the IRA's insurgency. She's a regular on the TV networks' circuit, at ease in front of a crowd and with almost any matter of public policy—if less so the more localized the issues get. Upchurch and Sevigny in contrast looked less comfortable: Sevigny spoke from behind a thicket of papers snarling his clipboard while Upchurch seemed to be checking off all the boxes his audience wanted to hear but without getting past listless list-making, though in interviews both handled issues with more ease approaching mastery.
"We're toughening up these candidates," Cocchiola said. "I went around to all the candidates and said, You did a great job, but! It's not good enough. You've got to sharpen messages, you have to use fewer words and more unifying concepts, you've got to make it quicker, you've got to make it more powerful and so they've got to stand there and look voters in the eyes and say I stand for this, this and this., Forget about reading a speech, forget about all those words. Hit them right between the eyes with what you stand for."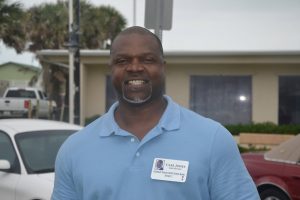 The congressional candidates also have this going for them: Soderberg's fund-raising is approaching the $1 million mark (the only reason John Ward, the Republicans' leading contender, is keeping up, with almost as much raised, is because he lent himself half a million dollars). Upchurch raised $149,000, also mostly from local donors, including Republicans. Sevigny raised $250,000 in his first quarter on the trail, drawing heavily on local donors and the medical community, including Republicans (he was himself a Republican until the second Bush: 'I didn't like the way the Republicans handled the Iraq war," he says).
Bob Coffman watched it all Sunday and spoke with the congressional candidates: the American Airlines pilot and Palm Coast resident had been in the running for a few months but dropped out when he couldn't make the cut financially. At the end of the rally, he analyzed all three candidates.
"Each of them offers strengths and weaknesses in different areas," Coffman said, noting that all three had contacted him for an endorsement. He's not leaning toward any of them at this point. Soderberg "comes from more D-Triple-C-blessed with big, out of district money and is kind of a front runner because of how long she's been in it and because of that D-Triple-C help," he said, referring to the Democratic Congressional Campaign Committee. "Her familiarity with the district is certainly less than with either of the two other candidates." Overall though, he said, Soderberg "is a very good candidate" who has "a good head on her shoulder, her public speaking is getting better, and in terms of the campaign format she's a frequent visitor on CNN, she's wonderfully credentialed and recognized."
Upchurch's involvement with local public education and leadership has been "remarkable," Coffman said, but he lacks in charismatic leadership: "That's yet to be proven. He's young in the campaign." Sevigny's "strong, strong science education" would be particularly valuable in a Congress with some 300 attorneys, he said, and his staff selection reflects "good counsel and advice, and that tells me something about how Sevigny would handle himself in Washington, D.C." Sevigny's lack of political experience and his past as a Republican "could hurt him a little bit," Coffman said, though it could also generate votes from Republicans. Both Sevigny and Upchurch, Coffman projects, would hire staffers more reflective of their own criteria than those of the Democratic "party-line box."
There may be a dearth of Democratic candidates locally this time around, but Coffman said he was likely to run in 2020 for a local office. Which one is yet to be determined.
So it was clearly with the congressional candidates in mind that Cocchiola predicted: "We are confident that come August whatever candidate emerges we will have a powerful, powerful voice in this community. You will see it. All that ground game will come to a volcano eruption. All our voters are there. Our people are there."
Well after the rally had ended the last group of blue-wave-clad Democrats folding table and wares was putting away a large matted American Flag that, on closer inspection, was lined with a series of phrases in the alternating white stripes: it was a list of the Four Freedoms, Franklin Roosevelt's once celebrated clarion call for liberals–freedom of speech and freedom to worship one's own way, freedom from want, and freedom from fear. They'd also added a few more recent variations.