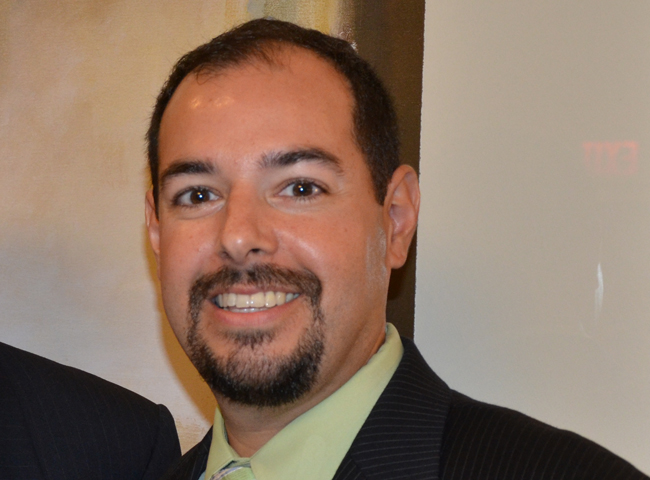 [Note: Be sure to participate in the election survey if you haven't already.]
Nov. 3 update: Jason DeLorenzo said today that he will return the $500 donation to Waste Pro, whatever the conditions of his campaign treasury. He said he would put in the money himself if necessary.

In July, Palm Coast City Manager Jim Landon told the city council he would not put the city's expiring, $7-million-a-year garbage contract out to bid, but instead solicit "information" from haulers interested in challenging Waste Pro's existing contract. A public outcry forced the manager and the council to backtrack in mid-August, though Landon again balked over putting the contract out to bid. It would be a "request for proposal," leaving it to him and his administration to judge the applicants and make a recommendation to the council.
Meanwhile, Landon urged council members not only to avoid all contact with haulers, once the RFP goes out, but to let him know if any contact is attempted so he can disqualify that applicant. Nothing was said about Waste Pro's existing relationship, which involves routine contact between hauler and city officials, giving Waste Pro one of many insider advantages. The proposed RFP is being written specifically to favor Waste Pro as well, guaranteeing it, for example, 10 percent of the points that'll determine the winner just because it's the current hauler.
Jason DeLorenzo is one of four candidates for two seats in the Nov. 8 Palm Coast City Council election. He's running from District 3. His opponent is Dennis Cross. DeLorenzo had objected to the no-bid process, as had Cross. DeLorenzo says he is the only one of the candidates to have done so before the council. That was before the council reversed course on skipping bids or RFPs altogether.
Sometime in early October, DeLorenzo accepted $500 from Waste Pro as a political contribution to his campaign. It is one the three largest single monetary contribution to any of the four candidates in the race. DeLorenzo also accepted $500 from Stephen Barnier, the accounting firm. A $500 donation went to incumbent Holsey Moorman, from Barbara Holley. Moorman is running against Bill McGuire in the District 1 race. (All campaign finance reports in all city council races are posted below.)
In a 16-minute phone interview, DeLorenzo at first appeared unaware that the contribution would raise questions of ethics or judgment, defending the contribution as one of many from members of the Home Builders Association, for which DeLorenzo works as its legislative director and lobbyist, and hedging on whether he would give back the contribution.
"Maybe it wasn't the smartest thing. I really didn't think about it, because I know them, I know the local manager well because she's an active participant," DeLorenzo said of Nancy Finley, the Waste Pro manager. "I haven't really thought about it. I could give it back. I actually don't think I need the money. But I'll tell you, you know, I was the only one that stood up at the city council and asked them to go out to bid. I wrote a letter to the editor that was published suggesting that we need to go out to bid."
City Council Candidates' Campaign Finance Reports
---
Asked point-blank whether the contribution might look like Waste Pro was buying his vote, DeLorenzo said: "Why is everything like that? It doesn't look like they're buying a vote. It looks like they're interested in the candidate that wants to make our economy better." Should DeLorenzo be elected, he will be voting on the city's new garbage contract come January, most likely. Pressed about why he would accept a contribution from the company, given the sensitivity of the issue and the timing, he said: "You know why? Because I don't think that way. That's why. I didn't even think about it." He added: "I would relate it to racism. I don't see it. I don't think about it. It didn't even cross my mind," saying he would be able to maintain an objective approach to decision-making on the council regardless of his relationship with Waste Pro or any of the 160-odd members of the association, several of whom have been among his contributors, and many of whom have business before the council.
Cross addressed the matter of the Waste Pro donation in answer to questions to be published on FlaglerLive later this week. "I have not accepted, nor would I accept a waste company contribution knowing that a five-year contract for $7 million per year is going out for competitive bid.  The acceptance of a $500 contribution from Waste Pro by my opponent displays a serious lack of ethics in my opinion," Cross said, calling the contribution a conflict of interest.
Political candidates at every level routinely take money from special interests, including groups or individuals looking to curry favor with the politician once he or she is in office. That's why incumbents' coffers are usually much fatter than challengers' coffers (Moorman's, for example, is leading the money race with $8,395 in contributions, at last count). Locally, however, candidates frequently make a point of distancing themselves from contributors whose donations raise the most glaring questions of conflict.
DeLorenzo said he wasn't sure to what extent association members had contributed, saying he was not too familiar with the campaign finance forms that itemize donors. "I really don't see them. The stuff doesn't come to me," DeLorenzo said. "I'm not involved with the treasury. I'm not even a signer on it." That's inaccurate: DeLorenzo's signature is required and does appear on every one of the seven campaign finance report filed this year, under the line: "I certify that I have examined this report and it is true, correct and complete." The reports are also signed by his treasurer, Lauren Walsh. Walsh is the daughter of John Walsh, the Palm Coast Observer publisher, whose paper has endorsed DeLorenzo and hosted a social at Walsh's home on DeLorenzo's behalf. (DeLorenzo later said that he was referring to the campaign account's expenses when he said he wasn't a signer: he doesn't sign outgoing checks.)
Throughout the interview, DeLorenzo gave various responses to what he would do with the Waste Pro contribution. "I think we're done spending," he said toward the end of the 16 minutes, when asked again what would happen to the money. "Our excess campaign dollars are going to do to a charity." So you'd keep the money, he was asked? "I don't know." Why the uncertainty? Because there may still be outstanding bills. "I would like to give it back if we have it. I think we do." What if there is no surplus? "I don't know. But I think we do." Nevertheless, DeLorenzo conceded that accepting the check in the first place was "a bad decision."
DeLorenzo attributed the criticism of the Waste Pro contribution to his opponent's tactics, linking them to a pattern going back to Cross's issue with redistricting (when Cross was temporarily disqualified from the running, before a public outcry pushed the Palm Coast City Council to revise redistricting maps and ensure that the adopted plan enabled Cross to run from Grand Haven). Cross also had issues with the way the Chamber of Commerce-run  Creekside Festival, at Princess Place Preserve, a public park the chamber was rents for the occasion, was excluding candidates like him and McGuire from having their own political booths even though the Republican, Democratic and Tea parties were granted theirs. DeLorenzo's wife, Rebecca, is the vice president of the chamber, and though the rule had been set prior to this year's races, it gave the appearance of favoritism to DeLorenzo, who, though not planning on hosting a booth, was to be at the Home Builders Association's large Green Expo spread. In the event, two days of lashing rain made a muddy mess of the festival and limited attendance to 2,000, compared to 17,000 the year before.
Cross himself has acknowledged that the controversies have aided his visibility hugely: he has thrived on them, just as he raised the matter of what he called "inappropriate" campaign contributions.
As of the last campaign finance report, filed in mid-October, DeLorenzo had raised $7,410 and spent $4,079. The amount he'd raised was second to Moorman's. DeLorenzo's largest contributors, other than Waste Pro and Stephen Barnier, included Budd DeLorenzo of Lakewood, N.J. ($485), Chiumento and Associates (the law firm with the two Michaels; the firm contributed $305 in cash and $185 in-kind), and in-kind contributions of $400 each from an online marketing firm, for web advertising, and from GoToby.com, also for web advertising.
Cross has raised a total of $4,919, spending $4,532 so far. His largest contributors—besides a $1,000 loan from himself to his campaign account—is Lucy Crowley ($500). All other contributions are considerably smaller, with a few in the $100 range.
Moorman also loaned himself $1,000 for a campaign total of $8,395. He had spent $5,163 by mid-October. His largest contributors, other than Holley, are include David and Wendy Ottati ($400). David Ottati is the CEO of Florida Hospital Flagler. Moorman is a hospital board member. His contributors' list also includes $96, in kind, from the City of Palm Coast, reflecting an "election assessment fee," which his campaign later explained as not any kind of donation from the city, but Moorman's own decision not to be reimbursed for that fee (which entailed listing it as an in-kind contribution).
Bill McGuire continues to be the campaign's poorest candidate, with a total of $2,456 raised to date, almost all of it spent. He  raised most of his money with a fund-raiser at the Black Cloud Saloon early in his campaign, gathering a small pile of $24 contributions.