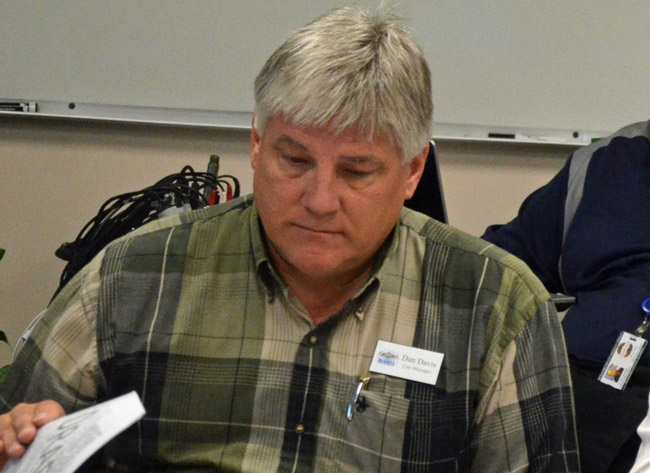 At the end of Monday evening's Bunnell Commission meeting, City Manager Dan Davis presented an apology.
"I'm sorry that our clerk Sandi is not here," he said, referring to City Clerk Sandra Bolser, "but I wanted to make a public apology because of a conversation I had with her, with our clerk. We had a heated exchange and I take full responsibility for that. Very sorry about it. I have apologized to her in private and I just wanted to say it publicly because as many of you know it kind of ended up creating a lot of issues and so I just want to say that, that I'm deeply sorry that I got upset with her, and I did not act professional, and as the manager I need to be above that. So I just needed to say that." (Hear the apology here.)
Davis may have gotten lucky to get to the point ion the meeting where he could proffer the apology: moments earlier, the commission had voted to table an item Commissioner Bill Baxley had wanted on the agenda: a discussion of Davis's job performance. That discussion may have led to Davis's firing over the very issue that Davis was apologizing for. Baxley would have moved to fire him, Baxley said, "if he was not willing to heed my recommendations."
Luckily for Davis, Commissioner John Sowell, who was traveling back from Las Vegas, where has family, was delayed 13 hours and didn't make it back in time for the meeting. According to Commissioner Elbert Tucker, he called the mayor and asked for the Baxley item to be tabled. Baxley himself, who wanted the commission at full strength to discuss Davis, moved to table it, and the commission agreed.
Davis's job is no longer in jeopardy, at least not for now. Baxley met with him for 30 to 40 minutes and laid out a set of conditions Davis had to meet in order to satisfy Baxley that a firing was not necessary. The item will not be back on the agenda in two weeks, he says.
"I have pulled it from the agenda because Mr. Davis has set aside all of my concerns," Baxley said today. "I was concerned about his anger management. I confronted him with it, I suggested to him to do certain things, he has promised to do or has accomplished some of those things and has promised to do the rest of them, and if he does those things. I'm satisfied that everything is handled properly."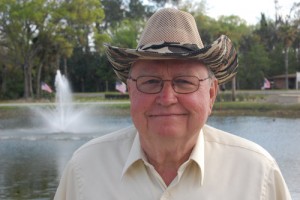 Sowell, in an interview today, said he, too, had concerns, but that he was meeting with Davis Thursday to discuss them and hear him out. "I don't want to disparage him and make things any worse," Sowell said. "There were a few critical incidents that were cause for concern, but I just want to give the opportunity for the whole process without my raising up a whole bunch of stuff, in fairness to Dan."
Among the concerns he cited were an email critical of Bolser that Davis had sent—apparently before Davis and Bolser raised their voices at each other in the office—and interaction between Davis and the city commission, "between him and citizens, and organizational issues as well, as far as the city goes that he manages," Sowell said.
Commissioners, including Mayor Catherine Robinson and Commissioner John Rogers, have long complained about Davis's dearth of communications, though more recently Robinson had said matters had improved. What led to the latest issue was related to communications, or lack of communications.
A few weeks ago residents had approached the commission at a meeting to complain about smoke from Environmental Land Services, which runs a landfill on county land but from where smoke wafts over Bunnell in certain circumstances. Commissioner John Rogers directed Davis to set up and publicly notice a meeting between the concerned residents, Environmental Land Services official, city commissioners and county officials, Davis said. (An earlier version of this story incorrectly stated that the commission had so directed Davis.) The meeting was to take place at the offices of Environmental Services. Several commissioners, including Baxley, Rogers and Sowell, turned up, but there was no meeting. It had been cancelled.
Sowell said it should have been a matter of someone picking up the phone and appropriately informing the commissioners about it. That didn't get done. "It didn't get coordinated, so I guess Dan thought Sandi was going to do it and Sandi thought Dan was going to do it," Sowell said, describing it as an innocent mix-up. Nevertheless Davis sent an email critical of Bolser, which then led to the confrontation between the city clerk and the city manager. "Sandi got pretty upset, because of an email that he sent, said it was her fault," Sowell said. (Neither Bolser nor Davis could be reached Wednesday afternoon.)
Baxley said he will not place the issue of Davis's job performance back on the agenda for now, but Commissioner John Rogers said the matter needs to be discussed regardless.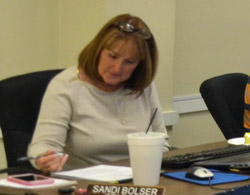 "The communication has been the worst under the three city managers I have worked with," Rogers said of Davis's communications. He's worked with Armando Martinez and Larry Williams before Davis. "His office didn't communicate with the ELS side to set this meeting up, there's my point again, his communication is terrible," Rogers said, referring to the meeting snafu with Environmental Land Services. Describing the confrontation between Davis and Bolser, he said: "I heard it was very heated and it was ugly. Them were words that a city employee articulated to me." The confrontation apparently took place within the hearing of other employees.
"I think the board probably needs to discuss this matter" whether Baxley brings it back on the agenda or not, Rogers said. "Absolutely. This commissioner is going to talk about it."
Commissioner Elbert Ticker described the matter as "an argument that got out of hand. I think they might have raised their voice to each other, you know, the way it happens between friends." But he was not dissatisfied with Davis's performance. "He's done a pretty good job. Nobody's perfect." Tucker is especially pleased with Davis for being the manager who managed to pull off what Tucker had tried but not been able to do with the previous manager previously: end the Bunnell Fire Department and have the county take over. The commission approved that plan, devised by Davis, last month.
Davis's temper issue is not new: Davis himself made it a key part of his job interview with the commission in December 2015, when he candidly spoke about it, said he'd worked on it and intended it not to be an issue. He referred to an incident when, during a commission meeting—when he was Bunnell's city clerk—he resigned and stormed out after criticizing commissioners and then-manager Martinez, and referred to alleged moral improprieties between top employees (who have since left). He spoke of his regret over that situation.