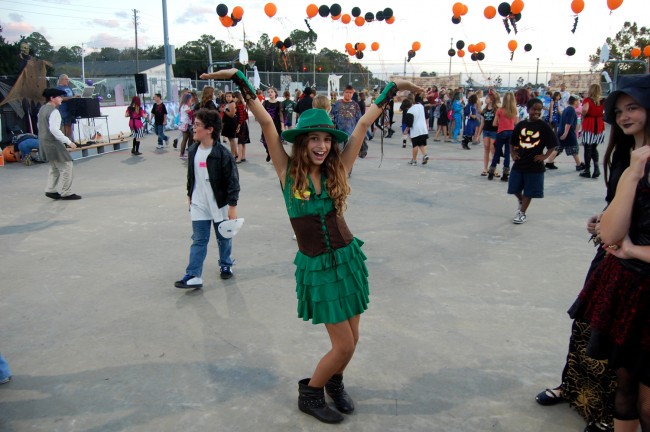 She pulled it off: Daviana Campbell, this year's 11-year-old Little Miss Flagler, along with Kiana Merceron and other friends' help, spent the last several weeks organizing a Halloween Monster Bash dance at the roller rink near the Youth Center. By the time it was over Friday night, she'd raised close to $900 and filled four shopping carts full of canned goods.
It wasn't a dance for the sake of a dance, but a fund-raiser for the Grace Tabernacle food pantry nearby.
The dance was open to just 5th and 6th graders. They had to register ahead of time by email or phone. They had to pay $5 or bring five cans of food. Daviana, who is home-schooled, made the rounds of businesses and civic groups to win over sponsors (Marineland, for example, gave away four sets of tickets to its dolphin attraction), arranged with the school board and other volunteers to ensure that the dance grounds were secure and well chaperoned (she had at least 25 school personnel volunteers), and let the rest happen as it may.
By 6 p.m. Friday evening, 275 students had registered, and another 50 or so turned up without registration. The crowd grew so large that after the first 300 or so students a few had to be turned away out of concern that the set up couldn't handle that many participants. In the rink, Mia Bella Dance Academy's competition team started things off with a couple of zombie-like dances, then it was off to the chow line, the contests and the dancing for the next three hours.
"This is really good because we're having fun and doing good at the same time," Daviana said in her costume–a costume she put as much thought into as she does and did everything else: Robin Hood.
The food-raising isn't over for her. Today she'll be trick or treating with volunteers, not for candy but for more canned goods. On Tuesday, she'll be rolling the carts over to the pantry, where Pastor Charles Silano will accept the donations.
Here's a photo gallery of the event.
[nggallery id=39]