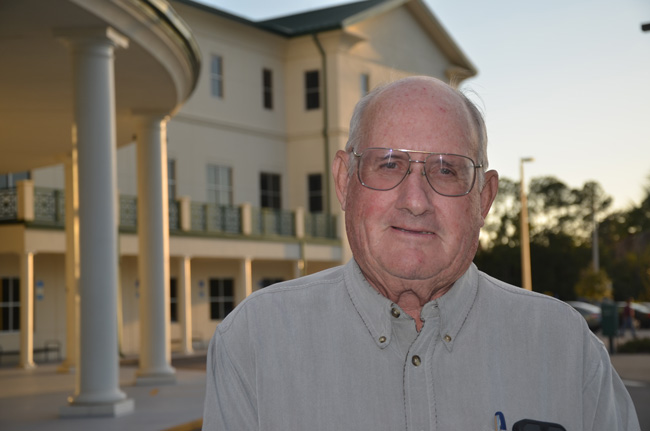 Flagler County may have at least one candidate in the running for the Florida House seat Travis Hutson is expected to vacate to run for the Florida Senate, and it won't be Milissa Holland.
Dave Sullivan, chairman of the Flagler County Republican Executive Committee, said he will make a run for the seat to ensure that it has a chance to be filled by someone from Flagler.
"My bottom line is, I want to make sure somebody doesn't come in from Jacksonville or something at the last minute and take our seat here in Flagler County," Sullivan said Monday evening. "And if nobody else was going to challenge me in Flagler County, I'll do it." If others challenge him from other counties—and others are planning to—he'll stay in the race. "I want the person who wins that race to be a Flagler County person," he said.
Holland, the former county commissioner, won the Flagler Vote by 10 points but fell 2 points short of defeating the better-funded Hutson, who has gone on to be a highly visible representative in Flagler since. He faced no opposition this election. Holland, who's worked with the Southern Strategy Group, a lobbying firm, for the past two years, said she got man inquiries about running, should Hutson's seat open. But she's been focused on her daughter's health struggles, about which "there are still too many unknowns," Holland said today, "and that is my priority right now."
There are many unknowns about the special election, too, should it become necessary.
Florida State University picked Thrasher as its next president last month after a fractious process that divided the university's administration, the faculty and the student body. Thrasher was finally picked on Sept. 23. Thrasher could have resigned his senate seat then, giving candidates plenty of time to run and fill the seat by Nov. 4. In the meantime, 12 Republican leaders—three from each of the counties Thrasher's district covers—would have chosen his replacement.
Thrasher was opposed to that plan. He decided to stay on the ballot and, assuming he wins, force a special election after Nov. 4, at a cost that may now exceed $1 million, because his resignation will trigger a domino effect: Hutson said he would run for Thrasher's seat. That opens Hutson's seat. And Rep. Ronald Renuart, who represents northern St. Johns County, is also planning a run for the Thrasher seat. That means there will be at least three special elections, not counting primaries.
All of this could be made unnecessary if either of the candidates now running against Thrasher wins tonight: Kathleen Trued, the Democratic candidate, or Greg Feldman, the Independent. But neither is expected to win, because the district leans heavily Republican. Republican voters want to keep the seat in their camp and are as willing as Thrasher to maneuver the election that way.
"My plans haven't changed," Hutson said Tuesday on his intentions to run for the Thrasher seat, should it open. But he's not announcing that formally until after the election. "Until I know that everything is going to fall in place I'm not going to say I'm running right now, but I'm strongly considering and weighing all options as of right now," Hutson said.
Renuart is termed out of his Hoiuse seat after this cycle. He has already filed to run for Senate in 2018, as has Republican Derek Hankerson, the tea party Republican who lost to Thrasher in the August primary, and who is expected to run either for the Senate seat again or for Hutson's House seat. Hutson said several St. Johns County commissioners and school board members haveshown some interest in either of the House seats, but nothing certain yet.
In Flagler, Donald O'Brian, the CFO at Hayward Brown Insurance, is also being mentioned as a possible Republican contender for the House seat, though O'Brian may be more interested in Commissioner George Hanns's seat when it's up in 2016. O'Brien briefly ran two years ago before abruptly pulling out.
Palm Coast Mayor Jon Netts, who cannot run again for a council seat, said he's not interested in a legislative seat. Nor is Frank Meeker, the ambitious county commissioner battling to keep his commission seat. "I'm a local guy," Meeker said today.
Sullivan, 72, a captain in the Navy who for 10 years of his 27 years there was a liaison with Congress, spent the last 11 years of his career with Hughes (as its government liaison on classified programs). He was president of the St. Augustine Navy League, giving him connections in St. Johns County.