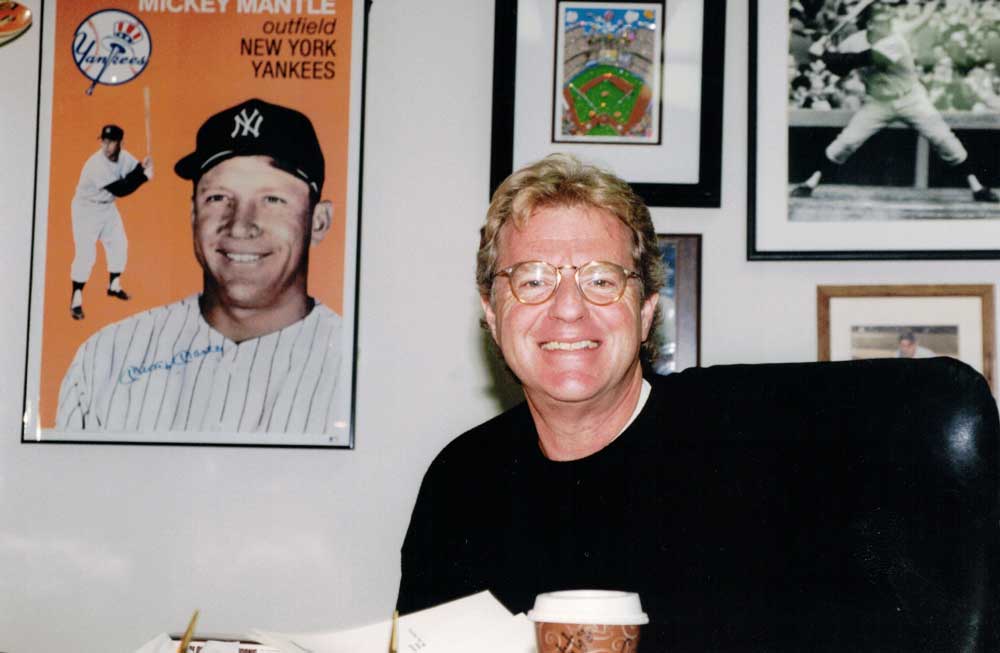 In November 1998 I was traveling the country on my year-long American Impressions series for The Ledger, and at that point working on a piece on American discourse. I'd chosen Illinois as a prism: the various grounds of the Lincoln Douglas debates at one end and the Chicago-based Jerry Springer Show at the other, with the thespians of the mid-term election then crisscrossing the state: Bob Dole, Hillary Rodham Clinton, Jesse Jackson.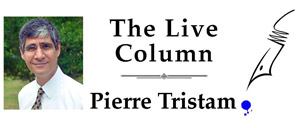 I asked Springer if I could hang out at his office for half a day, interview him and attend the show. He was all for it, having a book and a movie to sell. Of course it was more fun than treading through the fallen leaves at Galesburg, where Douglas and Lincoln had their fifth debate, or witnessing any of the campaign rallies I did in that season of prurience and sanctimony: the Starr Report on Bill Clinton's swaying mass playing Captain Her Captain to Monica Lewinsky had come out a few weeks earlier. Journalists, those professional voyeurs, couldn't get enough. American discourse seemed at a low point. Jerry Springer was a ray of hope. The piece below was not part of my series but a throw-away column that ran that November, and is disinterred here in Jerry's memory.

CHICAGO–Jerry Springer's publicist was photocopying something out of Penthouse when I entered what goes for "The Jerry Springer Show" offices — a cramped, unassuming arrangement of gray cubicles rimmed by cramped, unassuming small offices for whoever ranks as a higher-up on this staff of 35. Even Springer's office, no wider than a hallway, could be mistaken for an underling's with a vague crush on Mickey Mantle.




Studios USA, which owns the show, has no reason to upgrade the Motel 6-feel of the place at NBC Towers. It's doing fine as is. Springer has the Number 1-rated TV talk show in America, beating Oprah, Rosie, Montel and the rest of those oracles as viewers tune in about 25 million times a week to see the latest variation on "I Have Too Many Lovers,"  "My Pimp Runs My Family," "My Parrot Runs My Life" or — a personal favorite — "I Do Drugs At Church," a line more Marx than Springer.
"I remember the days when I used to call up radio stations and pitch Jerry," says Linda Shafran, his publicist. "I'd call and they'd say, 'Jerry who?'" Far gone, those days. Jerry's the current holder of fame's triple crown, when top ratings generate the obligatory book that generates the movie that finally degenerates into overexposure. It happens faster than a change of seasons but along the way the Chosen picks up the usual cover stories, the Letterman-Leno jokes, and of course the columns and editorials of cultural priesthood's judgments. Most of those, in Springer's case, have smelled of cordite. To the priesthood he's not there to be loved or admired but vilified. Isn't exploitation his trademark?
I visited the Springer show 24 hours before Election Day, my last stop along a trail of public events I'd picked for the spectacle of it — a Bob Dole rally for a Yogi Berra-quoting Republican congressional hopeful in western Illinois (he lost), a Jesse Jackson-Hillary Rodham Clinton rally for then-Senator Carol Mosley-Braun, and the Jerry Springer taping, for non-partisan balance in a political season more crass than any silicone pile-up on Springer's show.




Springer did not agree to see me out of sympathy for my years-ago coverage of local government in Florida, which was Springer before Springer was hip, but because he's meeting with media left and right to plug his first book ("Ringmaster") and his first movie ("Ringmaster"). Neither rings were on my list of questions. I wanted to talk cordite, which he didn't, much. He was very quickly into Apologia Pro Vita Sua mode, a mode I sensed was part of his autopilot when confronted with yet another inquisitor.
We warmed up by talking bleeps: "I would not go into temple or church and say fuck, so I wouldn't go into someone's home and necessarily say those words," he said, which is why he'd rather stick with bleeps than liberalize and let the seven dirty words fly on the air.
Demographics: "I can't think of another show on television that is as racially integrated and as demographically integrated as ours is."
And the Springer show as every kid's daily afterschool special: "There's nothing on our show that is made to look enticing. No one watches our show and says, tomorrow I'm going to become a transvestite."
Why, then, so much priestly moaning over the show? By then, Springer had drunk enough coffee to deliver his sermon:




"Four years ago we had genocide in Rwanda. Now we're starting to have perhaps some semblance of hopefully order in what used to be Yugoslavia," he said, also mentioning other bloody scenes. Clinton was bombing the Balkans just then to distract from his Springer episodes. "How self-absorbed we Americans must be that what makes our news is whether or not we have a good talk show, what Monica Lewinsky did with a cigar? It's almost a sacrilege in terms of what is important in life that Americans take our politics so trivially — and I blame that particularly on the media — they make a game out of this to justify their own job instead of saying, 'Excuse me, the cigar is not a big issue with Monica, let's talk about what's going on in the world and how we're going to make life better for human beings who can barely survive on this planet.' So I don't mean to be disrespectful, but I can't get real concerned about a stupid talk show."
Springer is such an easy target. His life sometimes parallels the plot of his shows, as the Penthouse piece Shafran was copying — another interview with Springer — reminds us: In 1974, "Springer had paid for sex in Kentucky with a check," or, more recently, "Springer was secretly videotaped in a hotel-room sex session with a blonde porno starlet and her 28-year-old stepmother." Not to mention those who-cares allegations of fake fights, staged drama, coached guests.
"There is nothing said on our show that you haven't heard in the school yard or in the subway going to work. But we've never seen it on television before, and that makes some people go crazy," he continued, completely at ease: the man had no hint of pretense. "It's the number one show in America. But critics, these writers whose job it is to criticize – – and I fully welcome that — that's what they pick on. They're amazed that this is on television. They say 'oh, this is horrible, horrible."




The day wouldn't have been complete without joining the audience for one of the day's two tapings (Springer tapes 200 shows a year). Shafran gently warned me that I had to stand up, cheer, clap, gasp, oooh and aaah just as the stage manager would instruct us to do at every bend in the show. So I did, thankful that a beard grown for the road makes me unrecognizable.
When the show airs in a few weeks I only hope the camera doesn't catch me oooing at the passionate kiss between Brandy and the cute blond girlfriend she's cheating on her two boyfriends with, or jeering Randall for unzipping his pants to let us see the reason for his bigamous needs, or — forgive me, Father –applauding Jerry's "Final Thoughts." I did not, however, chant Je-rry, Je-rry. There were a couple of fights but nothing spectacular, nothing too-well acted.
I don't know where I was more uncomfortable during my trail of discourse in Illinois–in the Knox College gymnasium when Dole cracked his cringe-worthy jokes, at the Push rally when Jackson midwifed Hillary Clinton's inner child, or on the Springer show when Randall bared his penis. The applause in every case sounded exactly alike. More to the point, the show was less contrived and more honest than all the Dole-Jackson-Rodham performances I'd witnessed in the previous two days. And more compelling. The bleeps, if anything, belong on C-Span.