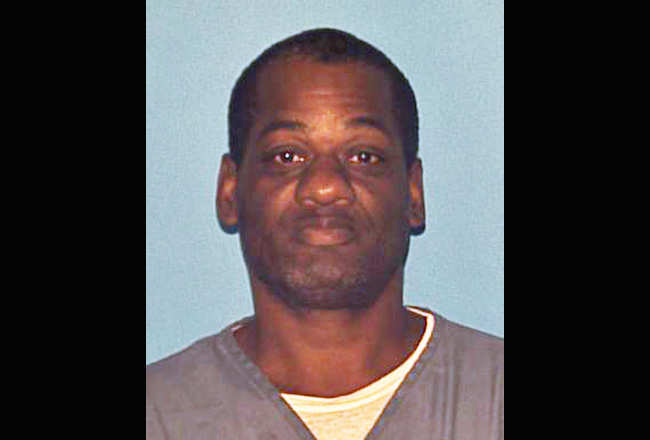 Last Updated: 9:03 a.m.
The man police agencies across the state had been placed on alert for following a murder in St. Petersburg this morning was found and arrested in the parking lot of the bowling alley on Old Kings Road in Palm Coast at dawn.
Darryl Warren, 46, is charged with first-degree murder of his wife, Barbara Warren, 57. She was found bludgeoned to death at the couple's home on Melrose Avenue in St. Petersburg at 1:54 a.m. today. A neighbor called police to report a domestic dispute. Warren then fled and was last seen driving a blue Chevy Cavalier less than an hour after his wife was found.
St. Petersburg Police tweeted at 7:27 this morning that Darryl Warren was found in Jacksonville. In fact, it was Flagler County Sheriff's deputies who located the car shortly after receiving the BOLO (be-on-the-lookout) and Warren.
"We have apprehended Darryl Warren, that's the same guy we're talking about," Paula Priester, a spokesperson for the Flagler County Sheriff's Office, said. "He was secured at 6:39."
Warren was booked at the Flagler County jail. "The call is still active, so that's all the sergeant was able to advise," Priester said. "This is not our case, Pinellas is coming in to take the vehicle."
Warren has a long prison record. In 1995, he was sentenced to 25 years for pre-meditated first-degree attempted murder, 15 years for aggravated child abuse and 10 years for vehicle theft. He was released just six months ago and was on probation.
The Tampa Bay Times reports that in 1993, "police told the Times that Warren stabbed a woman 14 times in the chest and back, then stabbed the woman's 10-year-old son once during a confrontation. The woman told police that she had told Warren, her former boyfriend, to move out, and he attacked her with a knife, according to a Times story from 1993."