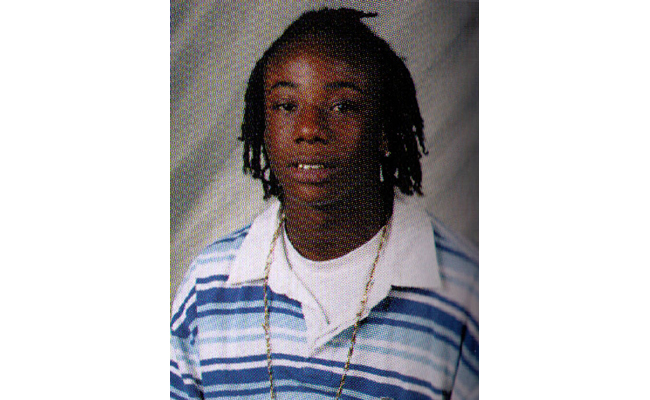 Last Updated: May 25, 9:03 a.m.
Darius Giddens, who would have turned 22 in two weeks, died on Monday (May 23), likely as a result of internal injuries he suffered after a fight at the Coliseum, a night club on Beach Street in Daytona Beach.
Giddens, a great nephew of Rev. Frank Giddens and a first cousin to Eddie Johnson, the Bunnell-born soccer star, was well known and, to many, well-liked in Bunnell, where he grew up–and where he was better known as Chilly Bad-Azz–though more recently he was living in a small home on Rose Drive in Palm Coast.
"One of the most saddest days n my life," Marshwan "Mardy" Gilyard, the Bunnell-born football star, wrote on his Facebook page Monday evening. "I lost one of my best friends RIP chilli damn we need to stop the violence."
"Goin through it bout my dog," Gilyard, who was in Bunnell on Saturday, wrote a few hours later.
On June 3rd, Gilyard and Johnson were scheduled to host a "Chilly Bad-Azz Birthday Spectacular" at Daytona Beach's Aqua Lounge, with a live performance by Blue Steel, the rapper known for "Broke Ho."
"We were just praying for him this morning, we thought he was all right," said Daisy Henry, the Bunnell city commissioner, who has a prayer partner with whom she prays every morning at 6.
The fight took place at the Coliseum late Wednesday night. Giddens was at the club with a group of friends from Bunnell. He was reportedly involved in a fight with a Daytona Beach man, and was struck in the head. Police was not involved. ("We have check our records and we did not respond to the coliseum for a fight," Daytona Beach Police Department spokesman Jimmie Flynt said.) Giddens went home that night, but complained of headaches and dizziness for the next couple of days until he was taken to Halifax Hospital, apparently with a blood clot and signs of a stroke. Matters then deteriorated.
Giddens died at 2 p.m on Monday (May 23), according to a Halifax Hospital spokeswoman.
Dave Byron, spokesman for Volusia County, said the Volusia County Medical Examiner determined that there was no cause for an autopsy–that there was no evidence of trauma.
Giddens has had a troubled few years. He's been jailed six times at the Flagler County jail since September 2009 on various charges, including robbery, grand theft, battery and drug possession. He was last jailed briefly three weeks ago.
He had just started a Facebook page–at least one under his actual name. He had four friends. His only two pictures showed him with a woman, both of them flipping the finger.
He had another, more authentic Facebook page, his Chilly BadAzz one, where he had 809 friends, and listed himself as part of the Daytona State College class of 2015. There, too, he is fond of posing while flipping the finger, with wads of cash or, on several occasions, with a toddler who appears to be his child. His philosophy: "Ball till Ya Fall..Let'em Have it..Fuck it." He had a wry sense of humor, too. In one picture, rich in all his usual themes, he brackets his street name between the Bunnell city logo.
Elijah Emanuel, who works at South Bunnell's Carver Gym and seen the neighborhood's children grow up, spoke fondly of Giddens on Tuesday. "I never had any problem with him, every time he came to the gym he always kept my attitude and all of that," Emanuel said. Giddens often frequented the gym, where he played basketball. "So outside of anything else, he was a good kid as far as I'm concerned, and it's a great loss that we lost him, and it kind of hit me pretty hard last night when I heard about it. It's going to to take a while to get over this. He had a lot of friends. All I can say is I respected the young man very much, I really did, because of the respect that he gave me."
News of Giddens's death had spread at Flagler Palm Coast High School during the day. "I dealt with a lot of students today–very upset, who either knew him or were related to him," Kevin McCarthy, an assistant principal at the school, said, describing Giddens as "very much loved." Giddens, he said, had been working at turning his life around, getting his GED and enrolling at Daytona State College.
"Obviously," McCarthy added, "he was not an angel, but a lot of young people make mistakes but have the opportunity to grow and be a better person. He'll never get that opportunity."

Darius Giddens: A Chilly BadAzz Gallery
[nggallery id=60]