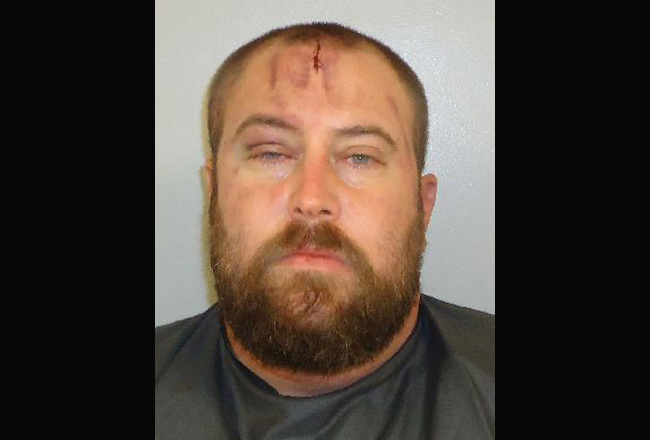 Note: For the first-person accounts of Vassili Mironov, who wrestled the gun from the suspect along with Roman Dubinschi and Joshua Auriemma, see their first interview hours after they were released from Halifax hospital here. Note as well: the three men were arrested four days later, on March 19, on disorderly conduct charges. The story here.
Daniel Noble, a 37-year-old Palm Coast resident, is at the Flagler County jail on an attempted first-degree charge and three aggravated battery charges after he walked into a restaurant at European Village with a rifle late Saturday night (March 15), where two patrons jumped on him, the Flagler County Sheriff's Office said this morning.
Noble fired "at least two shots" into the ground, the Sheriff's Office's Bob Weber said, after the patrons had managed to force the muzzle of the uzi-style assault weapon downward and grabbed the weapon from him. Noble then took out a knife and "slashed out" at two men, injuring both.
One man was injured in the eye, another had severe lacerations to both hands. One of the men was transported to Halifax hospital. The other refused treatment. Noble sustained minor lacerations to the face. Nobody else was hurt.
Noble had been drinking at the lounge earlier in the evening. He didn't appear to have had any issues either with staff or with patrons at the time, Weber said. He then left and returned, armed. "Looks like he went in through the kitchen of Mezzaluna, that back alley, in the back side of European village," Weber said, where Noble had some words or contact with staffers, Weber said, before emerging into the European Lounge.
The arrest report narrates the incident, based on witnesses, as follows: "Noble entered Europa dressed like 'Rambo; and confronted at least two men in front of Europa. Vassili Mironov (victim) and Roman [Dubinschi] (victim) made contact with Noble in an effort to stop Noble from whatever he was planning to do. Noble allegedly displayed the rifle at Mironov, [Dubinschi] and other patrons. Mironov and [Dubinschi] made an effort to disarm Noble by 'grabbbing the barrel of the rifle and point[ing] it toward the ground.' Based on witness statements, the rifle was fired one to two times striking the ground."
Europa owner Tiffany Burkhalter told police that Noble and Steven Hensel had been at her bar at about 7 p.m. They were friendly, having a good time and drinking. At 9:30 p.m., Noble's father showed up. The two men spoke outside. When Noble came back in, his demeanor had changed drastically, according to his arrest report. "Tiffany stated that his father just gave him horrible news and told her that his father just told him he is dying."
But police interviewed Noble's father. He told police that he'd said no such thing, that they'd rather had a pleasant conversation. At that point, Noble tried to start an argument with other patrons–among them Mironov–before leaving.
He returned at 11:30 p.m.
"Tiffany followed Noble outside where he confronted the subjects sitting at the table," the report states. "Tiffany observed Vassili grab the gun and that is when she stated a shot was fired and debris hit her legs from the sidewalk. Tiffany stated that several male subjects tackled Noble but before doing so she observed Noble pull a knife from his back area." That's when the owner said "she observed a lot of blood."
The weapon has been recovered. Noble, a resident of 4 White House Drive in Palm Coast, is being held on no bond on the attempted murder charge, and on $60,000 bond on the three aggravated battery with a weapon charges.