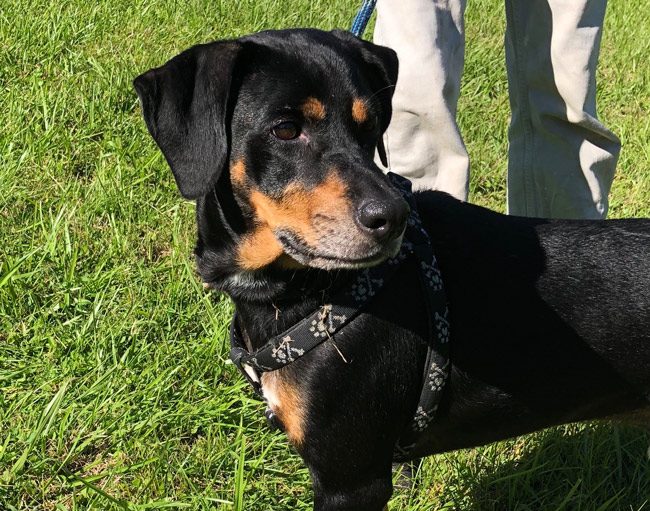 With the fate of a dangerous dog its administration condemned to death in February exposing it to recurring criticism, The Palm Coast City Council this morning got a legal primer on the dangerous-dog law and yet another confirmation from its attorney and its interim city manager that its role as a council is to have no role in such determinations.
The workshop discussion, led by Bill Reischmann, the city attorney, did not offer information the council didn't already know or provide analysis Reischmann hadn't already presented in one form or another in one of innumerable discussions centering on Cooper, the 6-year-old hound currently awaiting execution–or a reprieve, if a Nov. 5 hearing in circuit court goes his way. The presentation was a more formal way of assuring the council that it had immunity in dangerous-dog decisions–as long as it remained on the sidelines.
But the workshop discussion did not answer two questions the council wanted answers to: whether a refuge for dangerous dogs in west Florida included dogs that had severely bitten human beings more than once, and whether Cooper's confinement at the Flagler Humane Society was affecting his health.
Advocates for Cooper say the dog should not be killed, but rather exiled to that refuge, where Cooper could live out the rest of his days. The council has repeatedly said it is not legally in a position to interfere with its animal control officers' determination, which was upheld by a city-appointed hearing officer. Council members also questioned, and doubted, whether dogs sent to that refuge could be dogs that have bitten people more than once. The law is explicit regarding such dogs: they are to be executed. The law is more permissive with a dog's initial determination of being dangerous: in such cases there's more lee-way between execution or continued life within severe restrictions.
As to the second question the council had about Cooper's health, Amy Wade-Carotenuto, executive director of the Flagler Humane Society, said that while the dog had a brief health issue last week, he's fine now.
"Last week he gave us a little scare," Wade-Carotenuto said in an interview this afternoon. "We thought he may have pancreatitis. We put him on medication and he turned around." It was more like a 24-hour bug. "I was little bit worried about him, but he's fine now." (See the video to the right, taken by the Humane Society this afternoon.)
"I'm sure he'd rather be at home but that's not an option," Wade-Carotenuto continued. The dog gets out of his cage generally twice a day, but at worst at least once a day for an hour. "He gets out as much as the other shelter dogs, though it's more supervised," the director said. As she spoke, she walked back to Cooper's cage. The dogs had just had their lunch and were mostly calm. Cooper had been resting. He got up, wagged his tail. Some council members had been getting word that Cooper's health was failing. That has not been the case.
The city of Port Orange declared Cooper dangerous in January after he bit a woman there without provocation. The dog's owner passed the dog to her mother, who lives in Palm Coast. In February, Cooper bit a man there, following which Palm Coast Animal Control determined that since it was the second bite, the dog had to be killed.
Previous articles incorrectly reported that Palm Coast determined the dog dangerous a second time: that's not the case, as Council member Vincent Lyon, an attorney who's handled dangerous-dog cases before, said. A dog is determined dangerous just once. That designation is immutable for the rest of the dog's life. What Palm Coast Animal Control had to determine in February was whether the criteria of a second bite against a human being, resulting in severe injury, had been met. It had. And since it had, the portion of Florida law that requires the dog to be killed kicked in.
The dog's owner, Dottye Benton, appealed the decision to circuit court. But the court will not hear more testimony at the Nov. 5 hearing before Circuit Judge Terence Perkins, Reischmann said. It will only examine the facts already presented and determine whether the city's hearing officer applied the rules and definitions of "dangerous dog" properly, and whether there were sufficient facts to support the determination of death. It cannot simply reverse the determination outside those parameters, or even send the dog to a refuge just because advocates are calling for it (or even if the city council would prefer it).
"I think there's a misunderstanding out there for what the appellate process is for these dangerous dog situations," Reischmann said.
Beau Falgout, the city's interim manager, said animal control takes its responsibilities very seriously when it comes to determining whether dogs should be declared dangerous or not, with each set of facts different one from the other. "For better or for worse, you don't have a role in this process and neither do I," he told the council.