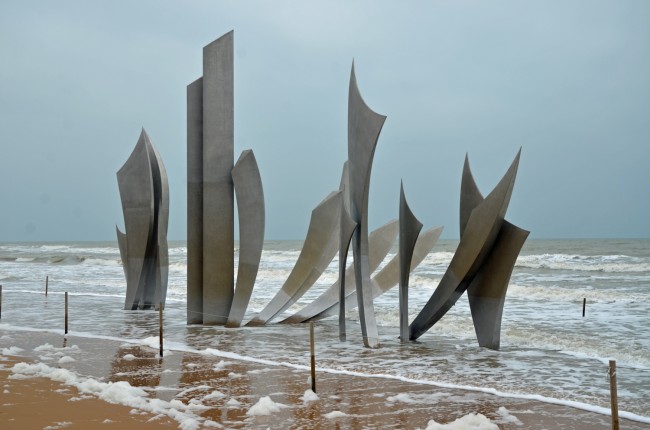 I was in the mood to tell you about our dear Attorney General Pam Bondi's closet homophobia—in case you haven't heard, she intends to fight a probable court decision that would soon legalize same-sex marriage in Florida—or I was going to tell you about the latest round in the war on pot now that one person in the history of humanity may have died in Colorado from too much marijuana.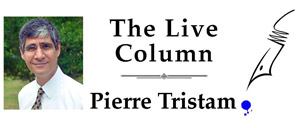 But then Sisco Deen, Flagler County's resident historian, reminded me about this day being a little more important that just about any political issue under the sun. Today is the 70th anniversary of the D-Day invasion of Normandy. So let me tell you about a very lucky trip I had a chance to take with my wife and child about a year ago, to Omaha Beach in Normandy. I'd been wanting to go there for 30 years. I consider it part of my transformation, as an immigrant, into an American, like traveling the 50 states and being a Yankee fan. I did not expect the emotional punch the visit would have on me, even though this was not my generation's war. But certain places are consecrated more than other for a reason, and time no longer exists there. Omaha Beach is such a place.
We walked the beaches, which are really not much different than, say, the sands of Flagler Beach but for the coquina shells here. You see the same sort of dunes, the same sort of hugging proximity of homes right up to the shore, you hear the same sound of indifferent waves knocking against a shore more relevant to sunbathers than to homage-seekers, except for the giant monument to the American soldiers called Les Braves, or "The Braves," a set of shard-looking metal wings planted in the surf and curving toward the sky in three groups that represent the wings of hope, the rise of freedom and the wings of fraternity.  Close to 2,500 American soldiers were killed on the first day of the invasion at Omaha, the bloodiest by far of the five landing beaches. I'm not going to say that you can feel their spirit there on those five miles of beach. But you can certainly feel the peace they gave us, the longest-enduring peace Europe has ever known since it was a backwoods of boars and boring forests.
Where you do feel more than their spirits—where you feel their presence, can touch the marbled chill of their names, commune with their stolen youth and weep in gratefulness for their sacrifice is a little way up the hill at the American cemetery at Colleville-Sur-Mer, where more than 9,000 Americans are buried beneath crosses arranged with the kind of crushing symmetry that reflects both the awesome waste of war and the price paid for what, in that war at least, was worth the price.
"Nations that once knew only the blinders of fear began to taste the blessings of freedom," President Obama said there today, in a speech that may not quite have had the soaring, personal connection that Ronald Reagan's Boys of Pointe du Hoc speech did in 1984, marking the 40th anniversary of the landing. "That," Obama continued, "would not have happened without the men who were willing to lay down their lives for people they'd never met, and ideals they couldn't live without."
Those were the days. We have not had a war since where a single American soldier's death comes close to being worth the price. Not in Korea, not in Vietnam, certainly and absolutely not in Lebanon, Iraq and Afghanistan, where every soldier's death has been dressed-up murder by our own government: pointless, unnecessary deaths that have set back the cause of freedom and tarnished America's image to the point of making World War II commemorations sound like nostalgia for heroism and legitimacy lost long ago.
I cannot help feel some sense of human proportion, too. For all those American deaths, they pale compared to what Europeans suffered. They pale more compared to what the Soviet Union, as it was then called, suffered. (Hitler had locked up his crack troops on the Eastern front, leaving his geezer and child soldiers to defend the Atlantic Wall: that had at least as much to do with Allies' success as Patton's madness or romantic notions of Allies' valor. But it's not polite to speak this way in the era of Greatest Generation mythology and "Saving Private Ryan.") Some 20 million Soviets died in the war, most of them civilians.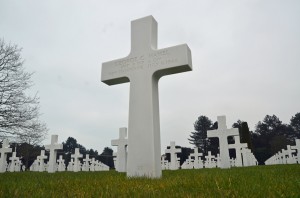 I've always thought that a civilian's death, while no less mournful than a soldier's, is far more tragic and criminal. Orwell would disagree: "I can't feel," he wrote three weeks before D-Day, "that war is 'humanized' by being confined to the slaughter of the young and becomes 'barbarous' when the old get killed as well." But he conceded that "War is of its nature barbarous," no matter who is killed. The difference is that soldiers train for war, fight, live and die by war's rules. In most circumstances—not every battlefield is an Omaha—they're better equipped to survive. Most of the time, anyway. Civilians are just sitting ducks. Always. They get clobbered indiscriminately in every war, cynical declarations about avoiding civilian casualties and unfortunate "collateral damage"—a Madison Avenue-quality specialty of American and Israeli forces—notwithstanding. Killing civilians is a war crime as killing a soldier in battle is not. Yet civilians are the ones who pay the heaviest price in every war. Put it this way: for every American soldier who died in World War II, 105 civilians died. The rare exception aside—as with Singapore's Civilian War Memorial and one in Ypres, in Belgium—you'll only see monuments to the military.
A walk on Omaha stills those thoughts, which weren't those of the men who came ashore, or of those who, once the Germans were repulsed, welcomed them. It's the serenity of the place. It overwhelms you, the walking on the surf that once ran red echoed by the shroud-like effect of walking between the marble crosses at the cemetery. It was fittingly cold when we were there, in the low 30s, windy, gray (it was in the 50s on D-Day), and almost deserted. By then we were no longer tourists. We were pilgrims. The last time I'd felt this way was at Antietam.
This year's commemoration of D-Day is especially significant because of the return to political legitimacy, as we saw in last month's European elections, of neo-Nazi and ultra-nationalist groups, and also the return, as we've seen from a couple of bloody attacks last month in Brussels and Paris, of violent and murderous anti-Semitism—the very things the Allies once defeated in Europe. Let's hope this 70th anniversary serves as a reminder of what was gained and preserved for so many years, not as a prelude of what's being lost. Americans are no longer celebrated in Europe as they once were. But in Normandy, the meaning of their achievement is as strong as it was 70 years ago. Let that meaning not be limited to those few miles of beaches and square miles of cemeteries.

Pierre Tristam is FlaglerLive's editor. Reach him by email here. A version of this piece was broadcast on WNZF.