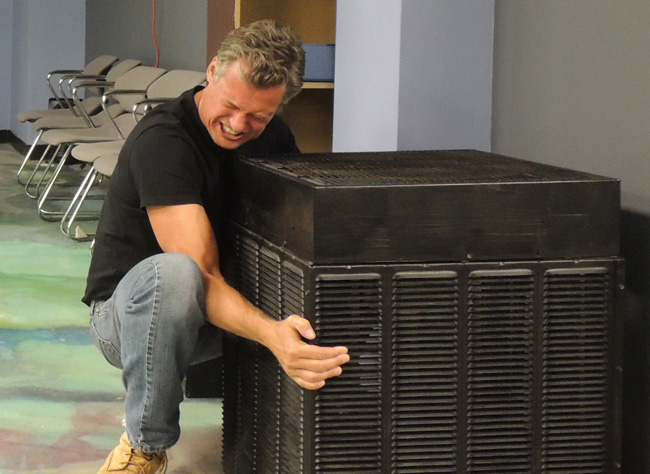 Note: Buy your tickets easily here.
His statutory rape of a 15-year-old girl aside, Randle "Mac" McMurphy is a perfectly sane criminal. Because of the rape, he's committed to a nut house for evaluation. He thinks he might serve out his term in its comfort instead of prison. His plan doesn't include running into a tyrant more oppressive than any warden would be. That's Nurse Ratched, prototype of all power-tripping bureaucrats. It's quickly a cold war between the two of them (the Ken Kesey novel the play is based on was released in 1962), occasionally turning hot. The two antagonists duel over the rest of the asylum's inmates for the psychological spoils. That's the premise of "One Flew Over the Cuckoo's Nest," whose stage version opened Friday at Palm Coast's City Repertory Theater.
Kesey wove a story of characters subjugated by the system until an anti-hero comes to free them from their oppression. The story has appealed to audiences for ages, the same story that has captivated people through figures like Christ, Muhammed Ali and Luke Skywalker.
"Cuckoo's Nest has always been a favorite story of mine," says John Sbordone, City Repertory Theater's artistic director. "The struggle of Randle McMurphy and Chief Bromden against the code of things seems to be right up our ally at CRT. So thematically it's an extraordinary match." Chief Bromden is a larger-than-life, Native American inmate who's nearly-mute for the beginning stages of the play.
Bromden is played by Anthony Felton, who last season played the confident and aggressive black lawyer Henry Brown in City Rep's "Race," the David Mamet play. Race is an underlying issue in Felton's latest role, but Bromden is half Native American. That's where his problems begin. He witnessed his father, a full-blooded chief, "get pummeled emotionally and psychologically" by his mother, "a regular towns-person," Felton says. Demeaningly, she made him take her name because she didn't want an "Indian name" and forced him to sign away the papers to his reservation. His muteness symbolizes the emasculation.
McMurphy helps him. "He grows psychologically as he regains his courage as he watches McMurphy talk and be boisterous and assertive," Felton says, no matter the price. Over the course of rehearsing, Felton felt the bond develop between the two characters. "I feel the emotion at the end as I perform that ultimate act, (an act that, if nothing else, will surely remain imprinted on the minds of anyone who has seen the movie) so I hope I can bring that out to the audience at the end."
The unforgettably villainous Nurse Ratched is played by Sue Pope, who's made a career out of playing "the bitch" (her word). That said, she sees Ratched as much more nuanced than the 20-year veteran nurse is given credit for.
City Repertory Theatre will stage "Scapino!" at 7:30 p.m. Friday and Saturday March 17-18 and March 24-25, and at 3 p.m. Sunday March 19 and 26. Performances will be in CRT's black box theater at City Marketplace, 160 Cypress Point Parkway, Suite B207, Palm Coast. Tickets are $20 adults and $15 students, available online at crtpalmcoast.com or by calling 386-585-9415. Tickets also will be available at the venue just before curtain time.
Click On:
---
"She's not that bad. I think she's really misunderstood," Pope says, though she cautions that she hasn't read the book. She also made sure not to re-watch the Milos Forman movie after being cast. Pope even goes as far as to call her a "very strong woman." Accrued legend around the fictional character disagrees. Louise Fletcher, who played Ratched in the film, has said she's no longer able to watch it, that the Nurse Ratched personality in particular is too cruel and inhumane for her to take.
"I think she had a tough life and this is her tough love that she's experienced and she's showing that to the patients," Pope says. "I don't think she thinks of herself as mean or overbearing. It's just her way of keeping them in line." Evil or not, Ratched finds herself an enigma in McMurphy. She can't control him the way she's always been able to control patients. "He's like a mad dog in my world," she says.
Sbordone found his antihero in Eric Bohus who, in addition to a corporate background, spent 12 years as a working actor in New York and around the world, which included Broadway's "Grand Hotel." He eventually got the chance to direct and produce when he landed a job as entertainment director for Royal Caribbean Celebrity Cruises before he moved back to Flagler earlier this year. By then, he was ready to get back to performing.
He was ambivalent about taking on McMurphy, a role dominated by Jack Nicholson's interpretation. "The more I thought about it, no one can be Jack Nicholson," Bohus says. "He broke the mold. But I'm not playing Jack Nicholson. I'm playing the role of McMurphy."
"So I had to think what aspects of McMurphy are in me and then potentially what parts of me can I bring to this and find the deeper levels of this character with every rehearsal that goes by. It's been a fun journey and I'm going to miss this guy when this is all over." Bohus continued: "Here's a guy who there's no doubt he's a con-man. There's no doubt he's a conniver." But Bohus points out a detail in the book that's notably absent in the play: McMurphy was a prisoner in a Korean concentration camp. He led the escape of some of his comrades but was afterwards discharged dishonorably for insubordination. That kind of experience could leave anyone bitter and cynical toward the system. But he knows compassion and authority is his bane.
For a small company like City Repertory Theater, "Cuckoo's Nest" is a large ensemble piece with 15 characters. The theater will use all four corners of the former Hollingsworth Gallery space as well as the center to help fit everyone in. "Lets just say the audience will feel like they're part of the asylum," Sbordone says.

City Repertory Theater's "One Flew Over the Cuckoo's Nest," written by Don Wasserman, directed by John Sbordone. Opens Friday, Oct. 24, at 7:30 p.m. It also plays at that time Saturday, October 25, 29, and November 1,7,8. Sunday 2 p.m. matinees are October 26, November 2 and 9. Tickets are $20 for adults and $15 for students. Buy your tickets easily here or call the box office at 386/585.9415.