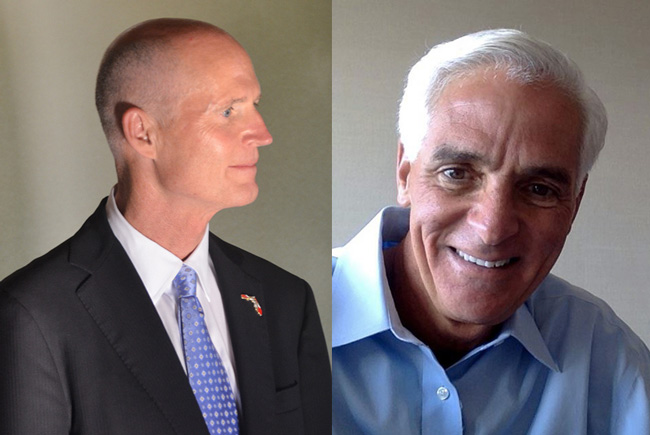 With early voting under way across Florida, Democrat Charlie Crist and Republican Rick Scott are locked at 42 percent each in the most-watched governor's race in nation, according to the latest Quinnipiac University poll of likely voters 13 days from Election Day. Libertarian candidate Adrian Wyllie draws 7 percent, down a point from last month as more voters solidify their choice. Ninety percent of those polled say they have made up their mind, compared to 81 percent last month.
There were two suggestions of better news for Crist, who for most of the year had led Scott by comfortable margins–and by double digits six months ago. One is that Scott's two-point advantage in the September poll was erased. But as in September, the late-October results are within the margin of error, which means that the margin separating the candidates could be up to six points. It's just not certain who would be ahead. Another small bit of encouraging news for Crist: among those who have already voted, the poll found Crist leading by 5 points–42 to 38, with Wyllie getting just 3 percent.
That may be a reflection of the electorate's mood after Crist and Scott tangled in two of three televised debates, including the second where Scott came off as the clear loser, although judging by the poll's broader numbers, even that perceived damage appears limited. The third debate, held Tuesday, was too late to be reflected in Quinnipiac's poll results. In Tampa Bay Times Political Editor Adam Smith's analysis, "This has turned into the ultimate hold-your-nose election, and Tuesday's debate confirmed it. Neither man has much interest in telling voters what he wants to do over the next four years, preferring to focus on how lousy Florida fared under his opponent's four years."
Scott draws a sizable advantage from men, who choose him over Crist by a 46-38 percent margin, but Crist reverses the advantage with women, drawing 45 percent of that vote, to Scott's 39 percent. Crist still has the advantage with independent voters, drawing 41 percent to Scott's 38 percent in a state where independents, whose ranks keep growing at the expense of both major parties, are increasingly  deciding close elections. There are 3.1 million independents in the state, representing 26 percent of the Florida's electorate.
"When the campaign began, everyone talked about how unusual the Florida governor's race would be," because two governors were facing off, said Peter A. Brown, assistant director of the Quinnipiac University Poll. "But, as it enters the home stretch, it's just like many other races across the country: There is a sizable gender gap; tens of millions are being spent on negative TV ads and there is a dead heat in which neither candidate has an edge."
The two candidates so far have spent more than $70 million in television advertising statewide, with more yet to be spent: contributors have donated more than $90 million to either candidate, and Scott has no fears of running put of money, being ready to pump millions into the race if need be, from his own pocket. But money, which may have helped Scpott close the gap over the past six months, may no longer be a factor.
"For all the money spent on this race," Brown said, "it now appears the winner will be the one whose organization excels at the blocking and tackling of politics – getting their voters to the polls." To that extent, Crist may have a final trump card: getting younger people to vote because of Amendment 2, the proposed constitutional amendment to legalize medical marijuana. While the amendment appeared to be heading for victory by a large margin a few months ago, its chances of success have withered more recently. But it may still act as a magnet for younger voters.
The likability factor also swings slightly toward Crist: Likely voters dislike Crist a little less than Scott, while more than 80- percent still don;t know much about Wyllie. Crist gets a negative 42-47 percent favorability rating, compared to Scott's negative 40-48 percent.
"According to voters, there are no nice guys in this race, since neither Scott nor Crist are viewed favorably," Brown said. "The Florida governor's race challenges the idea that voters won't vote for a candidate they don't like. In the Sunshine State this year, voters definitely are voting for the lesser of two evils."
Quinnipiac University surveyed 984 likely voters from October 14 to 20, with a margin of error of plus or minus 3.1 percentage points.