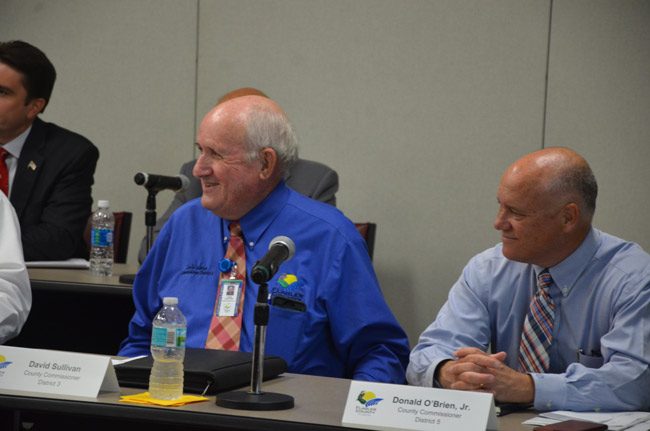 For the third straight budget workshop, Flagler County Commissioners have been unable to agree on what property tax rate to set for next year and what to cut to get there, even though they all concede that a tax increase is all but certain.
Even if commissioners stick to the current tax rate, that would amount to a tax increase under Florida law, because property owners' tax bill will be greater next year regardless, thanks to rising property values. That much commissioners concede: none is willing to reduce the tax rate to negate that tax increase.
"There's going to be a large increase in taxes above the rollback rate," Commissioner Dave Sullivan said, referring to the rate at which taxes would have to be set for there not to be an increase.
But the county administration and constitutional officers such as the sheriff have all requested budget increases, some of them substantial: the sheriff, for example, is trying to pay for the state-required increase in school resource officers. The school board is paying half that share, but the rest is for the county to pay. The county has its own list of needs to pay for. That's left Administrator Craig Coffey proposing a tax rate increase that would equate to 25 cents per $1,000 in assessed value, or $25 for a $150,000 house with a $50,000 exemption.
Most commissioners have opposed it. Commissioner Dave Sullivan proposed an increase of 20 cents. The debate has hinged on that figure, as it did again at this morning's commission workshop, with Sullivan and Commissioner Nate McLaughlin favoring that figure, Don O'Brien opposing it (he wants to stay with the current tax rate) and Commissioner Greg Hansen sending mixed signals, at times opposing the increase, at other times—as he did last week—directing Coffey to work up new numbers based on the 20-cent increase. Today Hansen again said he was opposed to the increase. (Hansen and McLaughlin are candidates in the August primary election.)
The tie-breaking vote would have been Commissioner Charlie Ericksen's. But Ericksen hasn't pronounced himself one way or the other in the first two workshops, and today he was absent. So the discussion was unresolved even though deadlines loom. Later this month the commission is required to vote on a proposed tax rate that will be mailed to property owners, what's called the Truth in Millage notice. All governments that levy a tax must tell property owners what their maximum tax rate may be next year. By September, those governments will vote on an actual rate. It could match the rate published in the so-called trim notice, or it could be lower. But it can't be higher.
Commissioners did not vote on a trim rate today. They couldn't, this being a workshop. But they at least agreed to let Coffey prepare the trim notice based on the 20-cent rate increase. That doesn't mean they'll approve that rate even for the trim notice once they vote on it at a subsequent meeting, presumably with Ericksen present.
It isn't even certain yet whether the $400,000 Coffey requested in cuts from the sheriff's budget will all be possible, so even the gap in what can and cannot be paid for is a moving target.
O'Brien discussed various big-ticket items as potential cuts, including the way health benefits are calculated or a previously agreed-to upgrade in software for government accounting. (Health benefits would not be cut. Only the way they're calculated year over year would affect the bottom line, though later O'Brien conceded that the "tweak" might not add up to the necessary savings.)  But those proposals drew resistance from Coffey or McLaughlin. The commission at a previous workshop had already committed to the software upgrade, a $1.8 million plan to revamp the government's document-management system. (See the details here.) McLaughlin, as he had in previous workshops, stressed the commission's responsibility to provide services—and to look out for the near-certainty that next year the budget will start off with a $3.5 million hole.
That's because voters are expected to approve Amendment 1 in November, a proposed constitutional amendment that would expand the homestead exemption to $75,000, with certain qualifications.
Later in the workshop, commissioners again considered breaking up the $1.8 million commitment to the IT upgrade over several years, drawing a caution from the administrator: cutting one thing will cause ripples elsewhere. "You really are diving and having philosophical discussions on how to approach some of these things," Coffey said. "Every choice has repercussion."
The county's property tax rate today is $8.1167 per $1,000 in assessed value, which works out to a bill of $1,218 for a $200,000 house with a $50,000 homestead exemption. Even if the rate stayed the same next year, homesteaded property owners would most likely see a 3 percent increase in their tax bill, because property values have increased at an average of 7.5 percent across the county. But the assessment increase is capped at 3 percent of that, except for non-homesteaded properties and commercial properties. So the tax on that $200,000 home will go up to $1,266 no matter what. Add to that the possible 20-cent increase commissioners are debating, and the bill rises to $1,297, a difference of $79 from today's cost.
The rolled-back rate–the rate the commission would have to set for there not to be a tax increase–would have to be $7.7084 per $1,000 in assessed value.