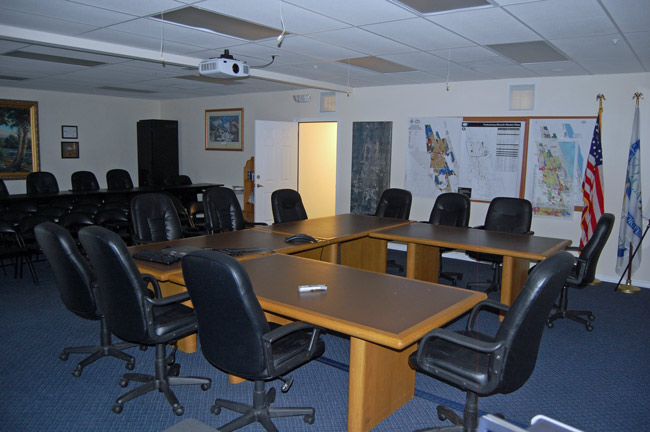 The election is over. The shuffling on the Palm Coast City Council isn't. The council must still fill the seat vacated by Frank Meeker, who was elected to the Flagler County Commission on Tuesday.
Since Meeker stayed on the council until the election, the council could not hold an election in tandem with Tuesday's voting to fill the seat—as it could have, had Meeker chosen to resign immediately after he announced his intention to run for the commission seat in late May. So the council's four remaining members must appoint a replacement to fill out Meeker's term, which runs to November 2014. An election for that seat will be held that summer and fall, but whoever fills it now will have incumbency's edge.
Sixteen candidates applied for the position. Tuesday evening, the council narrowed the list to four: Lynette Callender, David Ferguson, Norman Mugford and Robert Uhl.
The four will be interviewed individually for half an hour by each council member next Tuesday, Nov. 13, from 9 to 11 a.m. at the city administration's offices at City Market Place. Each council member will be seated in a room of his own (there are no women on the council), and each candidate will rotate in and out for four successive interviews.
The interviews will be conducted behind closed doors. When the county commission holds such interviews, as it did last year for its economic development council membership, and for an economic development director, the round-robin interviews were open to the public, and a few people did attend. The city will not open its interviews.
"I don't see any mechanism for making them open. That's the way it was done in the past," Mayor Jon Netts said. "I don't think it's a question of need. The deliberations, the discussions of council is open, interview process is not."
When the interviews are concluded at 11, the council will meet in open session and deliberate on a choice. It could take more than one ballot, or even a coin flip. In 2008, when Alan Peterson resigned his city council seat to run for the county commission, the council deadlocked on a replacement when the choice came down to Bill Lewis and Sarah Nunziato. The council voted three times, and three times each candidate got two votes. A coin toss decided it for Lewis.
Following the 11 a.m. special meeting, the council will convene for a noon workshop, but without its new member: that swearing in is on Nov. 20. The only certainty is that it'll be one of the following four:
Lynette Callender: The 62-year-old Brooklyn native has lived in Palm Coast 21 years. She is an attorney in private practice (Lynette J. Callender P.A.), getting her law degree from Howard University in Washington in 1976. She served seven years on the Daytona Beach Community College Board of Trustees (now Daytona State College), was a law professor at Hofstra University, and served on the Palm Coast Community Service board and the Northeast Florida Area Agency on Aging, among other memberships. She describes the city as a collection of "business, professional, cultural and social associations, children, senior citizens, physically challenged individuals, and our visitors."
David Ferguson: A 60-year-old part-time resident in Palm Coast for 10 years, and full-time resident since 2010, from Jacksonville, Ferguson is a self-employed business consultant (Ferguson Enterprises). He says he got his first taste of seeking office when he was 8, in 1960, "when my mother won a mink coat in a radio contest predicting the number of votes John F. Kennedy would get for president." In the mid-90s, Ferguson campaigned for Jacksonville's John Delaney, who won two term, and himself ran for office unsuccessfully in 1999 (and attended George W. Bush's inauguration in 2001). He's remained politically active, serving on community and civic boards. He has an engineering degree and an MBA from Georgia State University. In his application, he writes that he can "communicate well across broad opinion/interests as well as above/below my intellectual, emotional and personality differences."
Norman Mugford: The 64-year-old businessman and Montreal native owns Alarmpro in Palm Coast, where he's lived for almost 25 years with his family. He's a past gubernatorial appointee to the Florida Department of Business and Professional Regulations, which he chaired for a few years, and is currently chairman of the Palm Coast Code Enforcement Board. "I have watched Palm Coast grow from a population of less than 12,000 to over 70,000," he writes in his application letter. "I have watched as people from all over the world have moved to our beautiful city and I have watched as ourt government has grown to serve our residents."
Robert Uhl: The 77-year-old Buffalo native and engineer is among the earliest colonists in Palm Coast, arriving in town when it was not quite a town, in 1980, as part of ITT's relocation of the Wittemann Company. He writes of having no political experience but plenty of broadly travelled business experience. After retiring from Wittemann, he was a small business owner, specializing in the sale of educational supplies and materials. He's been a member of the Palm Coast Yacht Club since 1990.
"Obviously congratulations to the four who were ranked most highly," Netts, the Palm Coast mayor, said at the end of Tuesday's meeting. "But congratulations to all 16 individuals who put the time and the effort to apply. Especially in this political season that has been probably one of the nastiest, most harmful, hurtful, I could go on forever. But it takes something special to be willing to put your name forth to be considered for this kind of a position. Not everybody is equipped to suffer the slings and arrows of the political arena. So to all of the applicants, thank you for your efforts, thank you for your time, thank you for your interest, and to the four who are the top, we'll see you next week."
Each council member ranked the 16 candidates and submitted his rankings to the city clerk for tabulation, and the drawing up of a short-list. Those rankings appear below. The fuller applications of each of the final four appear below the rankings.

How the Palm Coast City Council Members Ranked the 16 Candidates