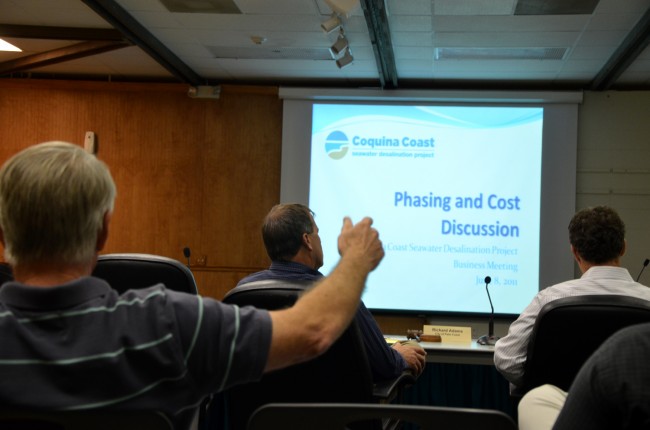 The meeting of the Palm Coast-led Coquina Coast Seawater Desalination project this morning was to focus on a few technical issues and the politically sensitive matter of the plant's location. There was that. The project consultant produced a map showing 14 areas of several hundred acres each, virtually all of them in Palm Coast—and none on beachside—where the eventual $200 million desalination plant might be. (See a map of those locations at the foot of the article.)
But what would normally have been one of the project's lightning rods, given public interest in—and potential opposition to—colossal utility projects in an urban backyard, proved moot after what happened next: Palm Coast's last remaining partners are dropping out of the project, making Palm Coast Mayor Jon Netts's warning in late March now closer to reality: absent other partners, Palm Coast would halt the desalination initiative, at least for now.
Leesburg and the St. Johns River Water Management District are Palm Coast's only partners on the project. They're carrying almost half the planning cost so far—a cost that, this year alone, amounts to $1.9 million. Palm Coast is carrying the rest. The money is coming out of the city's utilities pot. Leesburg's share is $480,000. Two and a half hours into Tuesday's meeting, Raymond Sharp, Leesburg's environmental services and public works director, announced that his city would cease its involvement. He spoke so softly that many people in the room—the meeting took place at the Palm Coast Community Center—didn't hear him.
Sharp specified afterward: "Because of economic conditions and so forth, our water utility fund can no longer support funding for our participation in this project," Sharp said. "As I recall, had we moved on to phase 2B as it was crafted, our participation would have required $1.5 million—a substantial increase, because a lot of the technical work gets done in 2B. I'm sure Palm Coast faces the same issue of figuring out what to do."
Before Sharp spoke, the water management district's Tom Bartol said water management funding is all but certain to cease. "It's very unlikely that we'll be funding 2B," Bartol said. Hwe'd warned the group of just such a likelihood at a previous meeting in light of the Scott administration ordering a cut of around 25 percent in water management budgets across the state. Only this time, the prediction was more dire. "Our budget outlook is worse than it was last year," Bartol said. "We don't know what's going to happen, it's at the discretion of the governing board, but I can tell you from my perspective, it's worse." The management district is literally cutting off funding for projects already under way, among them a project it's funding on State Road 46. He had a message to the diminished Coquina group: "I'd recommend to you to get as much accomplished and invoiced by September 30 as you can," September 30 being the end of the fiscal year. Some money could carry over. But "the larger that number is, the less chance there is to roll that number over," Bartol said.
So the discussion after Sharp's and Bartol's verdicts turned to a different sort of technicality: how to work out with Malcolm Pirnie, the consultant hired for the project, the best ways to squeeze out what remains of the project's "deliverable." The verdicts mean that after more than three years and considerable sums of money spent, desalination—a long shot since it was first proposed—is not in the region's realistic future.
It's not just a financial matter. "We still haven't figured out what the group is going to be," Richard Adams, head of Palm Coast's utility and the chairman of the Coquina group, said. "The end of phase 2A is another option—option in, option out, so we don't know even know who the partners are going to be when we move into phase 2B, we don't know what the governance is going to be, the owner of the facility, that hasn't been determined yet."
Adams said those words during a break in Tuesday's meeting, before hearing what Leesburg and the water management district said about funding (though Adams said he was surprised by neither). When he was asked about the potential for new partners later, he said he knew of none. Nor has the water management district. "I haven't heard any, I don't think the staff has heard any," the district's Glenn Forrest said.
When the meeting was over, Adams was more precise about the partnership's future: "You heard the discussion. Next year is not going to be what we thought it was going to be when we scoped it out. We don't know what next year is going to be. That's the discussions we're going to try to figure out what's necessary to keep the project going and see if there's going to be any funding available.
"I think at this point there are no definites where this project is going. And so you can speculate any direction you want to go. It's my belief, and I think you will hear at the public presentation, the pu8blic meeting, that there still will be a need for alternative water supply, at least in Flagler County and I'm sure elsewhere, whether they recognize that or not, ultimately there will be growth, ultimately there will be a need for alternative water supply and ultimately I think that a project like Coquina Coast will have to move forward. In the current economic condition and the lack of growth, all the participants will have to make some serious considerations and decisions on what makes sense at this time. We know we can't design and build a multi-million gallon desal plan overnight, so all utilities need to be prepared to move forward when growth returns. If they don't, then they're probably not very forward thinking and in a lot of cases that's because they can't afford to."
Can Palm Coast afford it? "Palm Coast can't afford 2B the way it's scoped out right now," Adams said. "And I think you heard the mayor say that a few weeks ago."