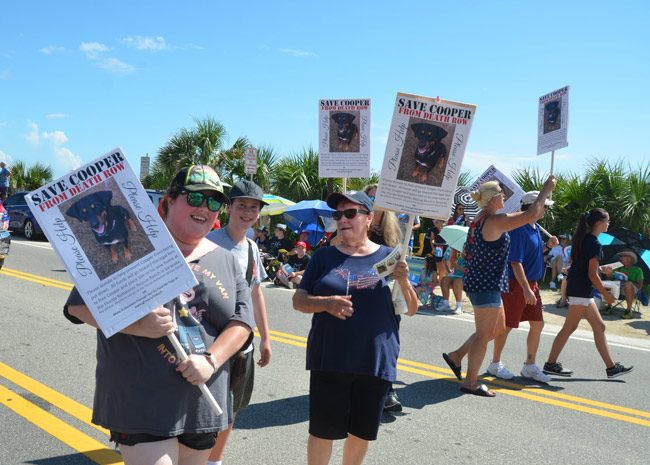 Circuit Court Judge Terence Perkins will hear oral arguments in the case of dangerous dog Cooper at 2 p.m. on Nov. 5, the day before the election.
The case, pitting Palm Coast government against Dottye Benton, the dog's owner, revolves around due process issues leading up to and at the city's administrative hearing last April 16, where Nicole Turcotte, the city's hearing officer, ruled that Cooper should be killed.
Benton, through her attorney, Marcy LaHart, is arguing that while she accepts the designation of Cooper as a dangerous dog that should no longer be in free contact with others, Cooper should be exiled to a refuge for dangerous dogs rather than killed. Benton has drawn on a number of supporters to pressure the Palm Coast City Council to reverse the death sentence. Council members have been sympathetic to the cause to the extent that they, too, would rather not see the dog killed. But the council has also insisted that legally, it may not reverse the decision, and that Florida law must be followed. The law explicitly states that a dog that has twice been declared dangerous "shall" be executed.
Perkins adheres strictly to textual interpretations of Florida law, so Benton's case appears to stand little chance of success based on the language of the law alone. But Benton's attorney is hoping that other issues, such as whether Palm Coast's animal control officials carried out their responsibilities also with strict adherence to law, may lead to a different outcome. Animal control officials say they followed and applied the law.
The case was dragging, at great cost to Benton–she's had to pay $30 a day for Cooper's boarding at the Flagler Humane Society since February–until Palm Coast and Benton on Oct. 10 filed a joint motion to expedite the case. Benton had originally filed her case on May 21, but the dog has been at the society since Feb. 27. The quarantine bill is approaching $6,000. The court filed an order to Palm Coast to show cause on Aug. 22–meaning to indicate why Benton's claim should not be granted–to which Palm Coast responded by Sept. 6. (That's not necessarily an indication of how the judge is leaning as much as it is an indication of a judge looking for additional information.)
Two days after the motion to expedite, Perkins set the one-hour oral arguments for Nov. 5.
Benton's attorney in her pleading to the court argues that Cooper's previous declaration as a dangerous dog, in Port Orange, was merely affirmed but not substantiated during the administrative hearing, and that no one with first-hand knowledge of Cooper's bite there testified at the administrative hearing. The attorney even questions whether it may be asserted that Cooper was the same dog in both bites. It's not the strongest of arguments: the documentation of Port Orange's declaration is clear, as is Cooper's involvement, made clearer by the fact that Benton took ownership of Cooper from her daughter after Cooper was declared dangerous in Port Orange. Benton does not dispute that, just as she does not dispute that Cooper should no longer be in social company with others. But LaHart is looking for any opening to breach Palm Coast's finding against Cooper.
Cooper is a 6 or 6-year-old hound, previously owned by Benton's daughter in Port Orange. There, on Jan. 27, it bit a woman on both legs and an arm as the woman was attempting to defend herself. Port Orange government declared the dog dangerous. Benton's daughter brought the dog to Palm Coast. When a carpet cleaner went to Benton's R-Section home on Feb. 24, Cooper bot the man on the lip. Cooper had not been confined and the man wanted to pet the dog. That led to Palm Coast's determination to kill the dog, affirmed after an administrative hearing Benton had asked for. The dog may not be killed while a court case is ongoing.
Benton's and Cooper's supporters have held small demonstrations, marched in Flagler Beach's July 4 parade, led an email campaign to pressure the city council in Cooper's favor, and attended several council meetings–the last time, earlier this month, causing enough of a ruckus that Mayor Milissa Holland threatened to have certain individuals in attendance removed from the council meeting room. Benton has also drawn support from at least two candidates for local political office–one for county commission, one for Palm Coast council–though they've not made their involvement an issue of note on the campaign trail.
It is possible, but not likely, that the judge will decide the case immediately after hearing oral arguments. He is more likely to take the matter under advisement and issue an order subsequently. Based on the law, his options are limited either to remanding the case for a re-hearing before a hearing officer to "cure," or correct, the perceived absence of certain evidence, or to upholding the officer's conclusion. Part of LaHart's pleading includes a request that Cooper be sent away to the refuge instead. But LaHart's pleading for that approach relies on distantly peripheral cases that make the argument by inference, not on case law that deals with dangerous dogs. Little about the refuge is known other than what its owner told the Palm Coast hearing officer. It's still not clear whether any of the dogs at the refuse were found to be dangerous just once, in which case state law allows them to be kept alive, but within severe restrictions, or whether any of them have been declared dangerous twice or more.
Palm Coast declared Cooper dangerous a third time in August, after it bit an employee of the Flagler Humane Society. Benton was at the facility at the time and had allegedly left the dog's kennel door open. The Flagler County Sheriff's Office investigated and filed a felony charge against Benton, but the charge, to stick, must be filed by the State Attorney's Office. So far, it has not done so. But the third declaration will almost certainly be part of Palm Coast's arguments before the judge.