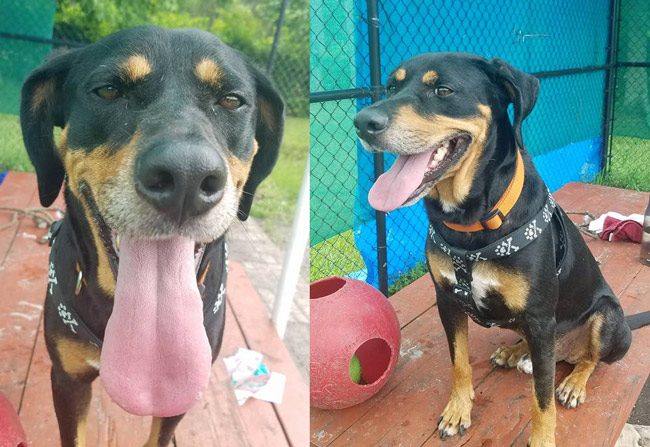 From the looks of him, Cooper is a happy, sweet, un-threatening hound dog who likes belly rubs and lathers the love on his caretaker with a ruggedly tender tongue. But Cooper is a dangerous dog who has twice bitten human beings, disfiguring one of the victims and leaving bite marks on another's legs and hand. The 6-year-old dog is now awaiting his execution, pending a circuit court appeal.
A "Save Cooper" movement has emerged meanwhile. From the looks of it, the movement Palm Coast animal activists have built around Cooper's fate seems reasonable and straight-forward: instead of killing the dog, Palm Coast should allow for a rescue ranch on the west coast to take Cooper and let him live out his days there. But much as the advocates claim the city has the discretion to show mercy, it's not that simple, particularly since the dog's owner was herself first to acknowledge it should be killed.
The Observer, FlaglerLive and the News-Journal have all reported on Cooper's case, focusing on the advocates' pleadings and the city's seemingly intransigeant stand. But a more thorough review of the dog's history since January, and particularly of the hearing before a Palm Coast hearing officer in mid-April, reveals the extent of the violence of Cooper's two attacks, of broken pledges from both its owner and one of its victims, and of what appears to have been procedural missteps and contradictions on Palm Coast's part that made the case more vulnerable to an appeal.
In the end, when Nicole Turcotte, the hearing officer, ruled that she did "not have discretion on what to do under the circumstances," she was applying a straight reading of Florida law, which states unequivocally that a dangerous dog after a second unprovoked attack "shall" be killed. But the statute is just as unequivocal about the owner's responsibility in that circumstance: "If a dog that has previously been declared dangerous attacks and causes severe injury to or death of any human, the owner is guilty of a felony of the third degree." Yet Palm Coast appears to have exercised at least some discretion regarding the owner's fate by not pursuing charges. That too undermines the city's case that its hands are tied, suggesting that it more arbitrarily applies discretion where it chooses.
In sum Cooper's case is murkier and messier than either side might acknowledge.
Two Bites
Cooper's history before January is not known. What is not in dispute is that the dog bit its first victim on Jan. 27 when the dog was owned by Port Orange resident Dawn Benton.
Connie Romanenko told a Port Orange animal control official that she was standing on the sidewalk talking to Benton when Cooper jumped out of an SUV and bit Romanenko on the back of the right leg, then came around and bit the left leg twice, according to Port Orange animal control documents. She tried to stop him with her arms. Cooper bit both hands and left arm as well. The attack was unprovoked, the official reported, and required 13 stitches for one of the wounds. The official ordered Benton to quarantine the dog in a shelter. "I also classified Cooper as a Dangerous Dog due to the severity and number of bite wounds Mrs. Romanenko received during the unprovoked attack," the investigator wrote. Port Orange animal control recommended that the dog be killed, but a hearing officer, while upholding the dangerous-dog designation, did not order the dog killed.
Dawn Benton turned the dog over to her mother Dottye Benton, who lives in Palm Coast's R Section. The second bite took place on Feb. 24 at Dottye's house. She had called on Terry Sandt of East Coast Carpet Busters to come over and clean her carpets.
"I was greeted by Dottye and two small dogs," Terry Sandt, the 56-year-old owner of the company, wrote in his affidavit, describing his arrival at the house and what followed. "I was petting the dogs and they ran to the top of the sofa where I continued petting them." Benton showed him around the house ahead of the work to be performed and tried to get the dogs to go on the porch. They wouldn't do so "because they wanted me to pet them," Sandt said. "So I went on [the] porch and dogs followed." Cooper, larger than the two other dogs, was outside. Benton asked Sandt if he wanted to meet Cooper, who was jumping up and down.
"It was not confined, as a dangerous dog should be," a Palm Coast official subsequently noted at the Palm Coast hearing. The law explicitly requires a "proper enclosure to confine a dangerous dog and the posting of the premises with a clearly visible warning sign at all entry points which informs both children and adults of the presence of a dangerous dog on the property." There was no mention of such signs in the documentation regarding Cooper, in Sandt's affidavit or at the hearing.
"I had my back to the outside door but said quote 'if he is nice and doesn't bite,'" Sandt wrote. "Apparently she opened the door because the dog hit me from behind in 2 seconds. The rest is a bloody mess." (In a verbal conversation with a code enforcement officer, Sandt described the dog as biting down on his–Sandt's–lip and "shook his head around." He claimed in the affidavit that if he'd been a young child, he'd have been dead as "the dog did not stop attacking–came at me 3x before I got away." Sandt kicked at the dog twice to get loose, one of those times resulting in a bite to the right leg. He finally slid out the door and got away from the back yard.
According to Benton, who gave a statement to the investigator, "Mr. Sandt kept asking her to let the dog in and that he loved dogs," the statement read as reported by the animal control officer. "Ms. Benton opened the door to allow Cooper in." Sandt then "bent down to pet him, and was then bit on the lower lip. She then transported Mr. Sandt to the ER" at Florida Hospital Flagler.
A Pledge to Kill Cooper, a Pledge Not To Sue
Sandt's injuries were extensive, including bites on the lip and cheek that developed "quite a bit of swelling," according to medical reports, and required plastic surgery. He also suffered bites on a finger of the left hand and on the legs. Benton stayed with him throughout, paying his expenses (he had no insurance). Afterward Sandt returned to her home and cleaned the carpets.
She claims he pledged to her that he was "a man of God" and therefore would not sue. He claims she made clear she intended to have the dog killed.
"She told people at the hospital that she had an appointment to put the dog down on Monday," Sandt said during testimony at the hearing, a statement corroborated by Eva Rodriguez of Palm Coast animal control, whom Benton had also told she intended to have the dog killed "Obviously that didn't happen."
Nor did Sandt stick to his pledge not to sue. He retained attorney Edward Rue of Rue and Ziffra to represent him, intending–as he confirmed at the hearing–to sue Benton in civil court. Benton, a paralegal who works in an attorney's office, retained Marcy LaHart, a bare-knuckles animal-rights lawyer.
"Do you recall telling her at the hospital that you weren't going to sue her because you weren't that type of person?" LaHart asked Sandt, referring to Benton.
"Until she said she's putting the dog down on Monday and never did, so that's called a lie," Sandt said.
"So you're going to sue her in civil court because she didn't kill her dog."
"I'm suing, yes."
"My client's version of what happened is that the dog Cooper was outside, and that she only let him in because you insisted that you wanted to meet him," LaHart continued.
"I never insist that anyone lets their dog in. I can't clean a carpet with a dog inside the house," Sandt said.
"If in fact my client's version of the facts were correct, that would be bad for your civil lawsuit, would it not?" the attorney asked him.
"If it was correct, yes," Sandt said.
Benton and Sandt at the April 16 hearing provided different accounts, and accounts that varied somewhat from the written record: Sandt portrayed the encounter with Cooper as unprovoked. Benton did not, saying she had not given Sandt permission to meet the dog-he had done so on his own. The hearing officer would later downplay the relevance of whether the attack was unprovoked or not. And in fact while provocation is relevant in the determination of a dangerous dog after a first bite, the law is silent on provocation in case of a second bite.
Benton's Account
Here's how Benton described Sandt's encounter with Cooper at the hearing: "He was telling me this procedure that he does, that I've never heard of it, he said he would put a chemical on my carpet that would take two hours to dry and that neither I nor my dogs could step on the carpet because it would burn your feet. So I told him that's a real problem because I have a dog that has been declared dangerous, and I would not know what I could do with him for two hours. And he said well, we'll discuss it when I get there. So he came the next day. My two shih tzu mixes were standing on the back of my couch, which they normally do. He came in and he started scratching their butts. Then he asked me, where's your dangerous dog? I said he's in the backyard. He said, well I'd like to see him, so he walks in front of me to my sliding glass door, he opens the sliding glass door and steps on my porch. So Cooper is sitting out in the yard with my other shih tzu mix Millie. He's just sitting at the fence. So then Mr. Sandt says, oh look, he's not dangerous. He's wagging his tail at me, he won't bite me because he's friendly. He said go ahead and let him in. I said no, I'm not. So he stepped around me. Now, my screened-in door was broken during the hurricane. The tension bar, I guess you call it, was broken. So he walked to the door and I was standing there as well, and he started to open the door, the door popped open, and Cooper came in. Now, he bent down at that time to pet Cooper, he's never met Cooper, but he bent down to pet him, and Cooper came up and got him, and it was not the bottom lip, it's the top lip, so he said he kicked Cooper, he did not kick him. I tried to grab Cooper, but Mr. Sandt was already trying to get back through the sliding glass door. I grabbed a red dish towel for him, for his face, and I guess that's when he came out to get it from me that's when Cooper got him on the leg. So I wrestled Cooper back out into the yard and shut the door."
"So your testimony is that he's too big to stop him, and he is just dying to meet your dangerous dog," LaHart told Benton.
"I'm not saying he was dying to meet my dangerous dog," Benton said. "He knew the dog was dangerous, when he opened my sliding glass door and he stopped on the porch, he knew the dog was dangerous, he was already in front of me before I could get to the door, he was already on my porch."
"Would you say that Mr. Sandt provoked your dog?" the attorney asked her.
"I would say that Mr. Sandt did when he opened the door for the dog to come in, and he bent down into his face," Benton said. "He got in Cooper's face. Cooper did not get in his face." She said she never gave permission to Sandt to go on her porch. "In fact I was surprised he went on my porch," she told LaHart.
Questioning Palm Coast
Eva Rodriguez had conducted the investigation into the second bite for Palm Coast animal control. Rodriguez said Benton's daughter was not supposed to have moved the dog from Port Orange after the first bite. That's not accurate: the law does not forbid a dog moving to a different jurisdiction. But a new owner taking possession of the dog is required to "obtain a certificate of registration for the dog from the animal control authority serving the area in which he or she resides," the law states, "and renew the certificate annually."
LaHart questioned Rodriguez about the role provocation plays in dangerous dog determinations but without making a distinction between a first and second bite–again, the controlling distinction in Palm Coast's decisions.
Then LaHart asked Rodriguez about sending the dog to a sanctuary instead of killing it. There were discussions in Palm Coast about the sanctuary. Rodriguez and Barbara Grossman, the city's code enforcement manager, felt they had no discretion regarding the sanctuary. "Due to state statute it does not state anywhere that the animal be removed and placed into a sanctuary rescue," Rodriguez said. "I'm just going by Florida state statutes."
LaHart read the statute, which states that a dog "may" be killed, not "shall"–again not making the distinction between a first and second bite (as Jennifer Nix, the city's attorney, did). "We have seen two serious bites from this animal and it would be in the best interest to have the animal euthanized for the safety of the public," Rodriguez said.
"Well, you testified in response to a question I asked earlier that a dog that is territorial and protective can be managed safely. Why can't Cooper be managed safely?" LaHart asked.
"I feel that the animal cannot be managed safely due to the lack of responsibility that the owner has shown," Rodriguez said.
"OK, the owner is willing to transfer the dog to somebody else permanently, did you make any effort to determine what that person's qualifications are or how the dog would be maintained by him?"
"I did not."
Joseph Pimentel, owner of the rescue near Sarasota, described conditions there toward the end of the three-hour hearing. "The only one that deals with aggressive dogs that come into my compound is me," he said. "We kind of bond. I have seven other aggressives right now." They have a 10-by-10 inside kennel and another one of the same size for outside, with locks on the cages. "The only one with a key to those locks is me, the only one that feeds them is me, the only one that shows them attention is me."
Closing Arguments
The city's attorney did not question him, signaling that the rescue was not in the scope of the hearing's purpose. "Did it bite the victim and did it cause a severe injury, and the answer to that is yes and yes," Nix said of Cooper, narrowing the case to its essence as she interpreted it. "Cooper is a dangerous dog and the statute should be applied accordingly." When the Palm Coast City Council discussed the dog's fate last week, those were, in sum, the words the city attorney used to justify the city's response.
Nix had added: "When you read the statute, the word 'shall' is used, as to euthanasia. There are not options as addressed by the statute. If they wanted the dog to go to a place where it could be rehabilitated, that should have been done before it could attack somebody else."
LaHart in her closing argued the procedural issues that would end up forming her argument in the pending circuit court case. "There is nothing regarding who has the burden of proof, what the standard of proof is, there's nothing allowing people who need to subpoena witnesses to be here to do that," LaHart said. "Ms. Knicks stated that it is uncontested that Cooper was declared a dangerous dog. That is in fact contested. Cooper was declared a dangerous dog by an entity that no longer had any jurisdiction to do so, jurisdiction over a dog which in every tort case I have my opposing counsel likes to remind me is property. Jurisdiction over the property requires that the property be in the jurisdiction."
"Cooper is a healthy dog. Euthanasia means mercy killing. There is nothing merciful about killing him." She said the magistrate has the discretion, just as the city has, as a matter of due process, to consider the circumstances surrounding the bite, and she promised an appeal. "If Ms. Benton prevails, it is possible that Cooper would be stripped of any sort of dangerous dog designation. It is in the best interest of the public as well as Cooper for the dog to be allowed to live out his life in a manner in which he will be kept safe with someone who is a qualified, experienced dog handler and is able to keep him from having another incident like with Mr. Standt."
The case is before Circuit Judge Terence Perkins. He has yet to set a date for the first hearing. Meanwhile, Cooper remains at the Flagler Humane Society.