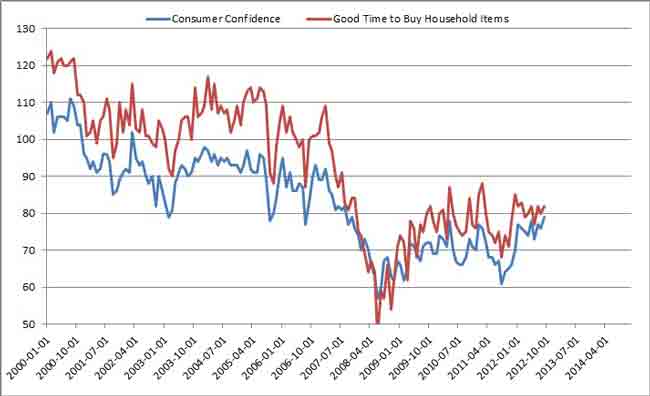 Consumer confidence among Floridians rose in September to a post-recession high of 79 compared to the revised August reading of 76. All five of the five components that make up consumer confidence increased, according to the latest analysis by the University of Florida's Bureau of Economic and Business Research.
"The last time Florida consumer confidence hit 79 was in October, 2007," said Chris McCarty, the Survey Director. "At that time confidence was on its way down as the housing crisis was getting underway. This month's index comes at a time when the economy is still in recovery. Much of the increase in confidence in September was from lower income households and from seniors. Some of this may have to do with the elections around the corner and anticipation of what it will mean for the future of entitlement programs. So far news about the potential consequences of the fiscal cliff has not unnerved Floridians."
Gov. Rick Scott seized on the new numbers. "The fact that Florida's consumer confidence is at a five-year high is more good news and evidence that our state is moving in the right direction," he said in a statement.
Perceptions of personal finances now compared to a year ago rose one point to 62 while expectations of personal finances a year from now rose one point to 86. Expectations of U.S. economic conditions over the next year rose three points to 78 while expectations of U.S. economic conditions over the next five years rose two points to 84. Perceptions as to whether it is a good time to buy big ticket items rose two points to 82.
Economic indicators affecting Floridians are somewhat mixed. Unemployment in August was again unchanged at 8.8 percent, well above the 5.5 to 6 percent that has been considered the natural level of unemployment. The drag on employment continues to be losses in construction and government, and August saw a decline of 10,000 people in the labor force. The reduction in the labor force has been a focus of concern both in Florida and in the U.S. The median price for a single family home in August was up 5.8 percent over the previous year at $147,000 although down slightly from July. The stock market is getting closer to the all-time record and this along with increases in housing are certainly a boost to consumers' sense of wealth. Gas prices remain elevated and in the long term will only go higher. While inflation is currently under control, consumers should expect increases in prices next year particularly as the effects of the drought hitting much of the U.S. makes its way into food prices.
The recent policy by the Federal Reserve to guarantee low interest rates until at least 2015 is a two-edged sword. While it will stimulate consumption, particularly in the housing market, it is difficult for those approaching retirement who typically put assets into interest-bearing accounts which are considered safer than investments such as the stock market. Seniors may have to change their investment strategies to keep up with inflation next year.
"October will be an interesting month for consumer confidence," said McCarty. "The presidential debate on October 3rd will focus on domestic policy and will almost certainly include a direct question about the fiscal cliff in January. Those Floridians who are still not aware of the potential effects of the looming cuts and tax increases will certainly know about them after that. There are enormous differences in consumer confidence between Floridians who support Obama (averaging 98) and those who support Romney (averaging 63).
Obama levels are consistent with pre-recession highs while Romney levels are near all-time lows. As most people realize, the economy is center stage in this election with Obama supporters seeing a recovery taking hold and Romney supporters seeing an economy in danger of slipping back into recession. Whether Floridians react negatively or positively to the debates remains to be seen, but it will largely determine consumer confidence as we get past the election and into the holiday shopping season."