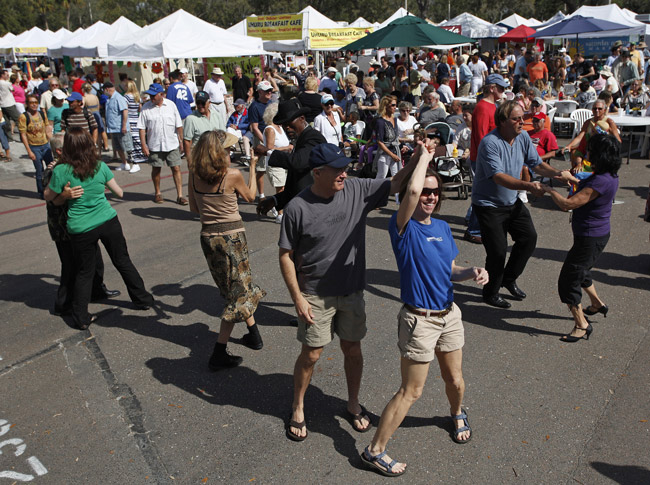 Consumer sentiment among Floridians rose two points in July to 84, hitting another post-recession high, the University of Florida's Bureau of Economic and Business Research announced Wednesday morning.
Of the Five components that make up the index, two increased, two decreased and one stayed the same. Perceptions of personal finances now compared to a year ago fell two points to 74 after reaching a post-recession high of 76 in June. Expectations of personal finances a year from now fell one point to 82. Expectations of U.S. economic conditions over the next year rose four points to 84 while expectations of U.S. economic conditions over the next five years rose seven points
to 85. Perceptions as to whether it is a good time to buy big ticket items maintained a post-recession high of 94. The gain in confidence was more broad-based than in previous months.
The consumer-confidence report coincides with the Department of Commerce's report Wednesday morning that the national economy grew at a brisk annual 4 percent rate in the second quarter, compared to a shrinking of 2.1 percent in the first quarter (a revision from minus 2.9 percent). The increase reflects a 2.5 percent rise in personal spending and a rise in private investment, exports, state and local government spending, and residential fixed investment. Imports, which are subtracted from the GDP, increased. Exports increased 9.5 percent in the second quarter, in contrast to a decrease of 9.2 percent in the first. Imports increased 11.7 percent, compared with an increase of 2.2 percent the previous quarter. Also on Wednesday, ADP, the payroll processing company, announced that private payrolls increased by 218,000 jobs in June, the fourth straight month of increases above 200,000.
Clearly, the improvement swelled confidence in Florida.
"We appear to be gaining some traction among consumers here in Florida," said Chris McCarty, who directs the consumer confidence survey at UF. "The last time Florida consumers were this confident was over seven years ago in April 2007, prior to the recession, when the housing market was beginning to unravel. Prior to that the index peaked at 98 in January 2004. Overall we are quite a bit behind where we would typically be this far out from the end of a recession, but we had a lot further to go in this recovery."
The employment situation has continued to improve over the last month with unemployment declining 0.1 percent to 6.2 percent. Unemployment in Flagler County increased to 8.8 percent, but underlying trends in the county have been brighter than the unemployment figure indicates as the local labor force has steadily increased, and the number of Flagler County residents with jobs has increased by 3,000 since 2010.
Still, while there have been some significant job gains in Florida as a whole recently, questions persist about the quality of jobs being created, particularly those in the services sector. Construction employment has made solid gains but is still far below the level it was prior to the recession. The stock market again hit record highs in June which benefits both the working population and retirees with equity investments. Housing prices were up again in June to $185,000 for the median price of a single family home. There are some signs that housing gains may slow as both housing starts and sale of existing homes slowed in southern states. Economists are waiting to see if the decline is noise or part of a trend. Inflation continues to be under control and meeting expectations. Gas prices here in Florida are lower than they were a month ago and have been trending down since April.
"Given the current trends here in Florida our expectation is that consumer sentiment will continue to rise slightly in the short run," McCarty said. "While an index of 84 is not historically high, it does reflect a far more optimistic consumer than we have seen over the past year. Most of the potential effects of confidence are external to the state. These include the inevitable rise in short term interest rates that the Federal Reserve will implement as early as this fall, the effect on consumers from escalation of conflict in the Middle East and Ukraine, and a significant correction in the stock market which is a topic of discussion among economic pundits.