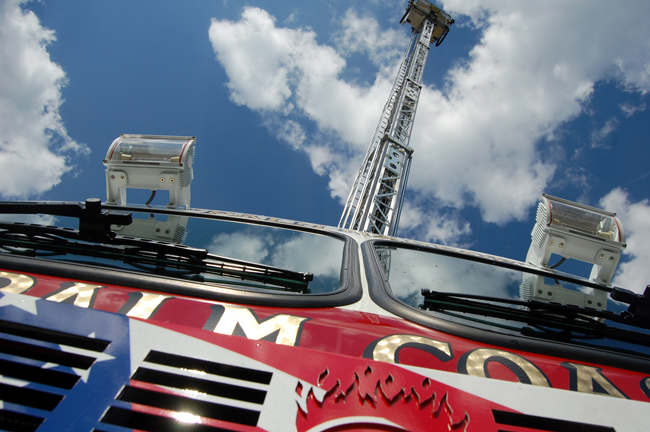 Flagler County and Palm Coast officials are grappling with lower revenue and lower property values as they develop next year's budgets. Palm Coast is facing a $2.5 million shortfall. The county's shortfall is more than twice as large.  They are considering various options that may eventually include some layoffs, reductions of service or higher property tax rates, or combinations of all three. The following is an open letter from the presidents of the Palm Coast and Flagler County firefighter unions proposing an alternative.
By Richard Bennett and Jason Laughren
To the citizens of Palm Coast and Flagler County,
It is no secret that the declining tax base has put a burden on you, the taxpayers, for several years. It is also no secret that the declining tax base means declining revenue for Flagler County's local governments. It has become readily apparent that in order to not raise taxes this year we must find ways to be more cost-effective to preserve the same level of service, or better. Short of that, services would almost certainly be affected.
Palm Coast City Council members have suggested closing a firehouse and laying off nine firefighters. As firefighters and taxpayers ourselves, we have been looking for a better way. We believe we have found it.
Consolidation of services was to some degree recently discussed among Flagler County commissioners and at Palm Coast City Council meetings, and even enacted in some ways.  After careful consideration, both unions, Flagler County Professional Firefighters IAFF Local 4337 and Palm Coast Professional Firefighters IAFF Local 4807, have embraced a broader concept of consolidation.
As a union, we represent the firefighter in his or her mission of protecting the life and property of the citizens of Flagler County, and share the primary goal of providing the most efficient and effective services to our citizens. The unions support the efforts to provide these services in a fiscally prudent manner. For these reasons we support consolidation. It is a win-win situation for both citizens and firefighters. Over time, consolidation of the fire service is proven to increase the efficiency and effectiveness of the fire service.
We believe that consolidation would create several benefits for residents (in essence, our bosses) in our community. By consolidating the two departments into one, much of the overlap and double taxation will be eliminated. Once all the resources are combined we can use the expertise from each department and put an end to the duplication of services and make this a more efficient Fire Rescue Service.
Consolidation will actually increase services while preventing layoffs and station closings which would jeopardize the health and safety of our community. Consolidation will reduce budget constraints and the tax burden to our citizens; we recognize that this issue is a high priority in our community. In sum, through consolidation, the fire department would provide improved services to Palm Coast and Flagler County.
Both Palm Coast's and Flagler County's fire departments showed during the recent wildfire season to what extent we share the goal of ensuring that all citizens in our community are protected. We are committed to continue providing the best services and care that all the citizens of our county have come to expect. Both unions will work together to support the efforts of consolidation to provide these services in the most fiscally responsible manner. We realize it would be a big effort. We understand that change is difficult. But difficult circumstances, which we routinely face on the job, are an opportunity to be resourceful and creative. Given all the options, we feel that consolidation is one of those opportunities, and one of the best solutions to a difficult problem for the community.
Both Departmental Unions stand together as one in support of the consolidation. We ask you to join us and help improve the financial burden to taxpayers and provide a better Fire Rescue Service.

Richard Bennett is president of Flagler County Professional Firefighters Local 4337. Reach him by email here. Jason Laughren is president of Palm Coast Professional Firefighters Local 4807. Reach him by email here.