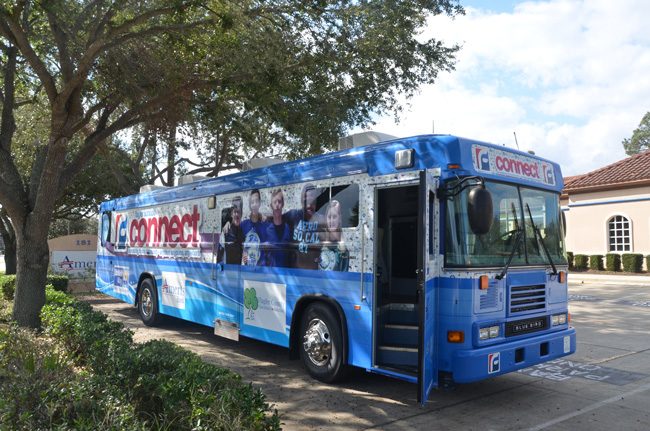 One of Cecil Gibson's first reactions after entering the Flagler Education Foundation's Connect Bus was: "This does not look like a classroom that I was in."
It was exactly the sort of reaction Education Foundation Executive Director Joe Rizzo wanted to hear from the veteran marketing president of Ameris Bank (he's been in the business 42 years, so his classroom days pre-date the first Apple desktop by a few years-). Today's classrooms in Flagler County are nothing like their antecedents of even a decade ago. They're more like collaborative work spaces where desks and chairs often give way to roomier and seminar-like spaces that look more like lounges for the mind than prisons for posteriors. The spaces are designed for comfort and lit by the pulsing of technology.
That's how the Connect Bus was designed: as an extension of those work spaces, but an extension that can roll anywhere, whether for a few miles or across state lines (but more often in-county), to connect communities with the Flagler County school district and bring today's classroom environment to parents, residents and businesses, precisely to elicit the sort of reaction Gibson gave when he boarded the bus: this is not your father's classroom anymore.
It's also why Gibson, standing in the bus as it hummed with slightly frigid air but the warmer if unnecessarily mournful strings sound of a Samuel Barber adagio Tuesday morning, then and there made a three-year commitment to donate $5,000 a year from Ameris Bank to the Flagler Education Foundation.
The money joins a similar, five-year commitment from the United Way to help pay for the Connect Bus' operating expenses as it begins its journey across the county and possibly across the state. Rizzo wants the bus to become as recognizable as the Red Cross' Big Red Bus, and for similar reasons: both are intended to be community life-bloods of sorts, if more literally so in one case than the other.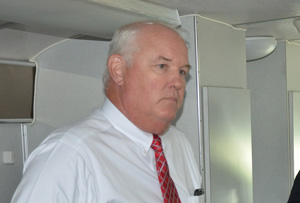 "I think there's a whole generation of people that probably, like he was, will be blown away by the fact that kids don't learn in the environment that we learned in. It's a different setting. It provides a glimpse of the opportunities that are being provided for kids that their parents didn't have and that their grandparents didn't have. That's one of the big things that the bus does."
Functionality is very important," he said. "Aesthetics are also very important," Joey DiPuma, the district's technology coordinator, said. "People don't want to sit in an environment that's uninspiring. They don't want to sit where it's something very traditional, where they're forced to learn a certain way. When you put a chair in a room you suggest to somebody you're going to sit in that chair—that's how it's going to be. If that chair doesn't move, you're suggesting that you're sitting there and you're not moving." The environment the bus creates breaks down those seeming restrictions that Rizzo describes as "an interrogation box," creating instead a more fluid space for "the creative juices to start flowing."
But Rizzo sees the Connect Bus as having many more uses than just as a showcase of today's evolving classrooms. One of the first uses of the bus, before it was actually ready to roll out, was in the immediate aftermath of Hurricane Irma, when it became a relief bus, especially on the west side of the county, which was severely hit by the storm. The bus turned into a mobile registration site for the Federal Emergency Management Administration (FEMA), giving people a place to apply for help without having to travel to Palm Coast or Flagler Beach.
At significant field trips for students, such as to Florida Hospital Flagler or Sea Ray, the boat manufacturer, the bus drives along, giving parents or other members of the community who work at those two sites a chance to board and connect with their children's schools either through their grading databases or through individuals, such as counselors or other staffers who might come along to give those parents a chance to interact without having to go to a school or to the administration building. The bus could be used to help students sign up for financial aid for college, says Rebecca Bower, the scholarship specialist with the Education Foundation.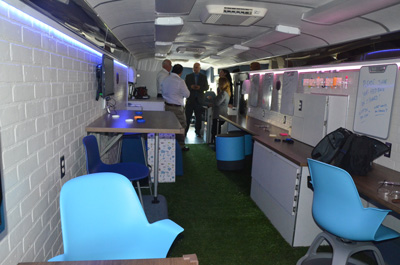 The bus could—it should, Rizzo says—become a fixture at special events such as the annual Creekside Festival at Princess Place or other similar events that draw large crowds, the way it was used a few weeks ago at Buddy Taylor Middle School, site of a statewide gathering of educators at an education camp: for those educators from other counties, the bus was a concrete expression of the Flagler district's premium on technology. Some wanted the bus to travel to their districts to be showcased, and to spurt similar ideas there.
It can have other uses, too, for the district's school-to-work initiatives, known in the district as its flagship programs. There are 20 such programs in effect through the district's schools, each one the focus of a particular professional field, such as medicine, agriculture, science, banking and so on.
"You can have a bank day here," Gibson said, "you could bring people in and teach them what banking is like, we have people who can't balance a checkbook."
In essence, the bus is becoming a mobile showcase of one of the district's leading initiatives, its one-to-one plan that has over the past several years placed a laptop or a tablet in the hands of almost every one of the 13,000 students in the district, as only a few districts (and the entire state of Maine) have achieved so far. The district is placing a serious emphasis—too much of an untested emphasis, according to School Board member Janet McDonald—on technology, and the bus is its latest tool to make that initiative more directly palatable to the public that pays for it.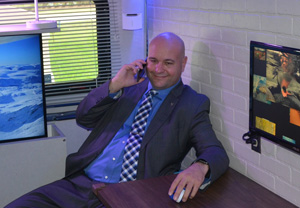 (The initiative is paid for through a half-cent sales tax supplement voters approved several years ago. But McDonald is correct to the extent that there has yet to be a comprehensive, rigorous analysis of technology's actual benefits: despite the rollout of the one-to-one initiative, now in place four years, Flagler has remained a B-rated district, down from an A over several years before the initiative. )
The bus, a 2008 Bluebird, was donated to the Flagler Education Foundation, which is an adjunct of the school district but must keep all its finances separate. The foundation is the district's non-profit, fund-raising arm. So while the bus uses district services, the foundation must be billed—and must pay—for those services, whether it's a driver for the bus, equipment installed in the bus or other uses that may not draw on taxpayer money. That's where fund-raising comes in, and where Rizzo's cultivation of such donors as Ameris Bank comes in: he had adorned the bus with a big Ameris Bank logo before driving it to the bank's parking lot Tuesday morning, one final enticement to gain the support of a big patron. It worked. (He's looking for one more major donor for the bus.)
The bus used to be called the Make-It-Take-It Bus. It was home to an earlier tech incarnation–the brainchild of former School Board member Jim Guines–that gave students a chance to build their own computers out of mounds of spare parts. If they made a computer, they could take it. That was before the ongoing one-to-one initiative made Make-It-Take-It obsolete. The Connect Bus is the latest stage in an unpredictable technological evolution.
"We wanted to see this, we wanted to see how it worked," Gibson said. "As high school students say, it's way cool."