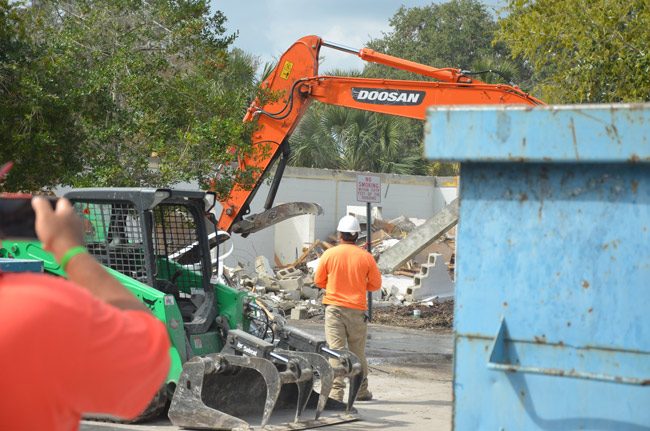 Not all groundbreakings are created equal. Some groundbreakings are not even groundbreakings. Take this afternoon's ceremonial shoveling at the Palm Coast Community Center: the actual groundbreaking there took place in 1977, without much fanfare, to build the $235,000 structure that became a YMCA, a polling place, a city hall for a nascent Palm Coast in 1999, and of course the community center county and city governments used over the years.
"I was promised destruction and snacks, otherwise I'd have passed," the Palm Coast Council's resident Shaw, Bob Cuff, said moments before Mayor Milissa Holland began the brief ceremony that would turn dirt again, not for an entirely new building, but close enough: the city had arranged for a little destruction of the old structure to take place to jazz up what is, after all, the marking of a $7.8 million renovation that will more than triple the size of the community center to around 21,000 square feet, leaving in place only what used to be its largest meeting room, where the city council used to meet for so many years.
It looked a bit odd when the council members and others chosen for the honor–including county commissioners–lined up with their shovels to turn dirt even as two demolition machines, a giant one and a smaller one, rumbled in the background, crushing the building's tired walls and moving the actual debris to a dumpster: work had been under way for a while, with reconstruction scheduled to take about a year, barring Holland Park-like mishaps (that beleaguered park's opening date has been pushed back further to April or May, making it roughly a year behind schedule).
Despite its symbolically preserved remnant the end result will look like an entirely new building worthy, naturally of its own ribbon-cutting. But today's occasion was not without nostalgia. Cuff hadn't yet moved to Palm Coast when the building first rose higher than daisies, but he got here in 1983, just a few years after it was first used as a polling site (in 1980, the election that resulted in Ronald Reagan's presidency). And Jon Netts, the former mayor, who was there today, spent most of his years as mayor presiding over meetings in the center's big room. (Marsha Lidskin, long the graceful ghost behind Netts's celebrated speeches and a fixture as the city's image-maker until her retirement a few years ago, was also there.)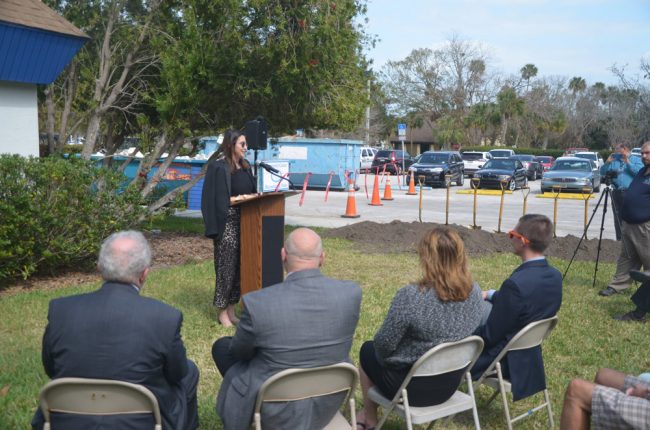 "All my three children attended summer camp here, so I definitely have a connection to this facility as well," Holland said in a brief speech that tied the community center's rich history under three ownerships (ITT, which developed Palm Coast, county government, then Palm Coast), with projections of a richer future.
"I think it's appropriate that we're having this–" (the mayor paused as she spoke, herself apparently having trouble calling it a groundbreaking) "recognition today, on Valentine's Day, because the community center really is the heart of our community. It really demonstrates how people come together, different walks of life, different backgrounds, and all ages utilize this facility."
Palm Coast, its population growing more than ten-fold since the center was built, outgrew its lone community center years ago. The newer version was supposed to have been built a few years ago but was displaced by City Hall, where the addition of the section known as the Community Wing–where official meetings now take place–was deemed more important than the community center, at least to give the council a meeting place since the center was to be out of commission. The switch was supposed to also be economical, according to the city administration. But in the few years between concept, design and construction the price tag on the community center essentially doubled. That price, Holland said, will be paid through the city's share of sales tax supplement money distributed to the county and cities. So the mayor took advantage of the occasion to remind people to "buy local, buy local, buy local," since every local purchase yields that fractional sales tax that stays in Flagler County, gets recycled in local projects, and reflects purchasing power that benefits local business.
As construction takes place, the entire grounds of the community center will be closed to the public, including the basketball court. Both those closures will ruffle up routines for the innumerable clubs and basketball players who used the facility. "Most of the weekly classes/programs are meeting at the Frieda Zamba Swimming Pool classroom, and most of our community groups who conduct business-type meetings are meeting at the City Hall Community Wing," the city's Cindi Lane said. Denise Calderwood, a former county commission candidate who's made a new senior center a permanent plank whether she's running for office or not, was none too pleased by today's developments, the latest in a series, in her view, that have marginalized seniors who use the center by restricting them to a small room at Frieda Zamba.
As for the basketball players, the court at Indian Trails Middle School will be lit every weeknight with portable lights until 9:30 p.m. to accommodate games. Players can also use the court on weekends, but weekend nights will not be lit, as that requires supervision. And by May, Holland park's basketball courts should be open.
Netts said the preservation of the old, main meeting room will preserve a touch of history, if that were a concern. "There really is to me, other than the fact that it was here in the 70s, it doesn't have a lot of historical significance," Netts said. "It's a piece of property that we're going to use to meet the needs of a growing community." He added: "It's going to be marvelous. It's going to meet the needs of the current community and the community as it grows, it's going to give us more diverse opportunities."