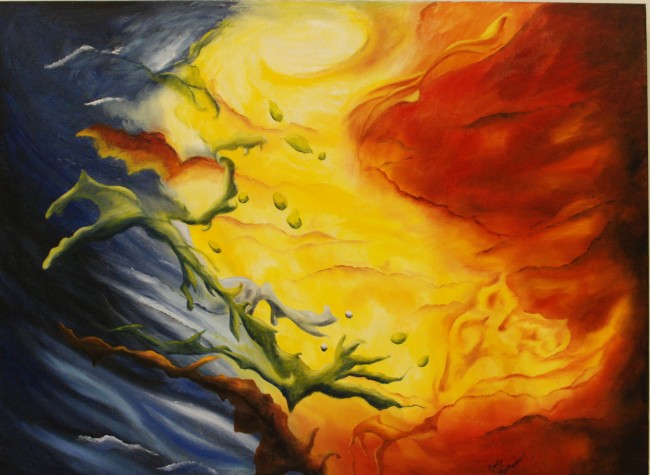 Lions, tigers, and bears. Abstract, representational, and nonrepresentational. Any and all of those names and terms fit under the theme of "Color Splash," the Flagler County Art League's newest show, opening tonight (Sept. 8) with more than 100 pieces.
"Certainly, what entrants did was very colorful," the league's Bob Ammon said of the medley of styles he hung and curated. "The work has improved. There's no question about that. People have gotten much more creative in their thinking. There are some really striking things that will knock you on your butt when you see them. I'm glad I'm not judging." The improvement is in reference to last year's work (the league's 2011 "Color Splash" was in January).
Judging falls to Bob Dorman, a realistic Florida freelance painter, who, according to his biography, "is responsible for perhaps hundreds of greeting cards as a vice president and creative director of two major greeting card companies." His subjects range from massive, bounding swordfish that conjure Hemmingway's Old Man and the Sea to Southwestern cowboys and the jungles of Rudyard Kipling rendered with brutal realism.
"When there's such a loose theme, that allows a lot of leeway to interpret," Ammon says. Theme shows are restrictive. Ammon is trying not to have too many of those to avoid scaring people away, or sending them down the balcony to Hollingsworth gallery's more esoteric shows. Those more inclined towards abstract work might keep a "people" themed show at arms length.
John Robak specializes in acrylic historical paintings. One of the painting he's entering in the league's show is a tight depiction of Fort Matanzas. Three soldiers stand at ease, bantering before a ready cannon and a calm blue Florida sky. "I don't exhibit this genre much because art judges are looking for experimentation and interesting uses of the medium," Robak says. "My focus is on historical accuracy, and I consider myself more of an illustrator than a wow-em-at-the-gallery painter." Robak has two other pieces in the show–a colored pencil piece based on an agricultural farm re-enactor and a small acrylic of a Flagler Beach-Key West colored Bungalow. Robak currently has a four-panel mural on display at the Government Services Building in Bunnell.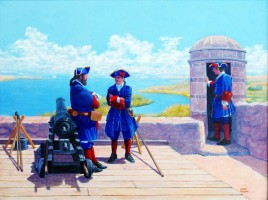 Photographers are now routinely part of the league's shows, too, such as Karen Neville. Originally from the New York area, Neville attended the School of Visual Arts in Manhattan and worked as a graphic designer her whole career. "When I first moved to Palm Coast, I didn't know a flower from a weed," she says. "My new backyard was so beautiful, the result of hard work from the previous owners. Since then, I studied the beauty of these flowers and plants and tried to capture that awesome beauty in photographs. The colors of nature can't be surpassed."  Her "Spring Time Explosion," a collage of the myriad flower types she's encountered here in Palm Coast,  embodies that love of floriculture.
Joan Howard who usually enters acrylics or watercolors into league shows, decided to dabble with colored pencils this time around, entering a Key West golden hen. The "Color Splash" theme gave Howard room for  experimentation. "I like to try different mediums for unusual subject matters. It's fun to go back and forth between different mediums. It keeps you on your toes," she says.
Some of the work, whether realistic or abstract, can be determined merely by the viewers' distance, with a close-up viewing resulting in a myriad of dazzling colors while a few paces back you have a vibrant representation.
Virtually any league show could be called "Color Splash," but in this case, Ammon says, "the subjects and styles really go from one extreme to another."
The success of  show parallels the success of the Art League: In September, for the first time, the league will finally be able to pay teachers, Art League President Ann Delucia says.  Class sizes are exploding, generating more income which will be shared with the instructors.  Consequently, the league has expanded its education program. The first Monday of October, for example, begins the Creative Kid Workshop Series, which will run each Monday of the Month. These  events invite children from ages 6 to 12, each accompanied by one adult or guardian to spend quality time together while they learn about art. October's workshop is called "Big Hands Little Hands, and the Magic of Clay," and will focus on technique and also the history of using clay and glazing techniques. Future Creative Kids Workshops  include "Medieval Mondays" and "Meet the Masters."
For kids and adults alike, Delucia says, "our goal is to take our members to the next level. Push the envelope. Get people to try new mediums. We need to show the leaders in both the city and county that culture is significant to the vibrancy of the community."