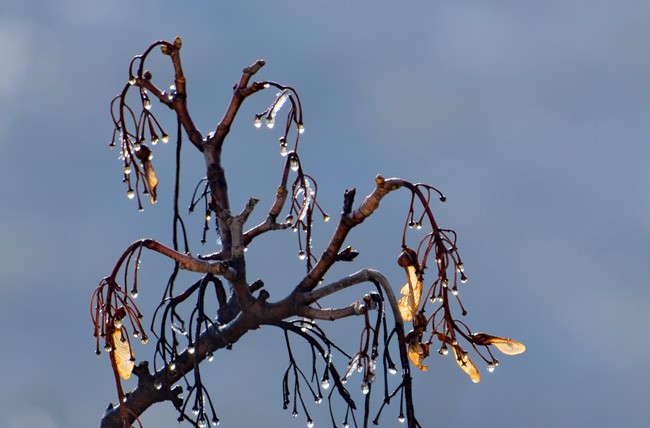 Last Updated: 3:52 p.m.
Overnight lows in Flagler and Palm Coast were reportedly cold enough, according to spotters, that birdbaths froze solid, while stress on electrical systems cut off power to more than 800 Florida Power and Light customers, mostly in Flagler Beach.
The lowest temperatures in the county were reported at Eagle Rock, at the far south end of U.S. 1 near Favoretta, where it fell to 23, in southwest Palm Coast, sinking to 25, and in northeast Palm Coast, where a reading of 26 was recorded, according to Flagler County Emergency Management's Bob Pickering, who collected data from volunteer spotters across the county. The entirety of the county fell below freezing overnight. Other than customers losing power, no other cold-related issues were reported to emergency management.
The freeze warning for the region was in effect until 9 a.m. Friday. Despite a cloudless sun, temperatures were still around 40 in Palm Coast at mid-morning, with winds strong enough to make it feel more like in the lower 30s. Temperatures today were not expected to rise much past the upper 40s the rest of the day, with lows in the low 40s and upper 30s Friday night into Saturday. But warmer weather returns Saturday, with a high of around 70.
Windy conditions and very low humidity have elevated fire dangers in the region.
Here are the reported lows officially recorded by Flagler County Emergency Management this morning:
Flagler County Emergency Operations Center in Bunnell: 30
Downtown Bunnell: 30
Marineland: 29
Flagler Beach: 30
The Hammock: 30
Eagle Rock: 24
Palm Coast Locations reported the following temperatures:
Southwest Palm Coast: 25
Northeast Palm Coast: 28
Far northeast Palm Coast: 26
North Palm Coast: 30
East Palm Coast, 32
Northwest Palm Coast: 28
West Palm Coast: 28
Central Palm Coast: 27
South Palm Coast: 30
As of 10 a.m., FPL was reporting that 812 customers were without power, but that power would be restored by 11:30 a.m.
"The lowest temperature being recorded in Flagler County," Pickering noted for reference's sake, "was 11 degrees during the January 1985 Freeze. The last time significant winter precipitation occurred (enough so it was disruptive) was December 23rd 1989 when an ice storm struck the area. Before that was the snowfall of January 1977. The last significant cold spell was in January 2010 where we had a week of temps dropping below freezing each night and a spell of sleet that occurred the morning of Jan. 9."
Issues may be reported to emergency management at 313-4200.