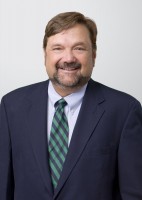 Clay Henderson, the New Smyrna Beach lawyer and environmentalist who's leaving his mark on Florida's geography, is the 2012 recipient of Stetson University's George and Mary Hood Award, one of the university's most prestigious honors. This award, presented by Stetson President Wendy B. Libby at a Sept. 28 college advisory board meeting, is named in honor of Dr. George Hood, Stetson's former dean of students, professor and director of the Counseling Center, and his late wife Mary Turner Hood, longtime assistant to President and Chancellor J. Ollie Edmunds, in recognition of their commitment and contributions to Stetson and its core values.
As senior counsel at the national law firm Holland & Knight, Henderson practices in the public policy section in the areas of environmental law, land use and smart growth, and represents public agencies, large private landowners and conservation organizations. He is well-known in Florida for his work and is credited with negotiating the preservation of more than 300,000 acres of lands that are now part of national and state parks and preserves. In 2006, The Florida Bar honored Henderson with the Bill Sadowski Memorial Award for public service in environmental law.
A 1977 Stetson University graduate, Henderson has served as a member of Stetson's Arts and Sciences Advisory Board since 2009. He was presented the Distinguished Alumni Award in 2000 for his outstanding professional achievement which had a major impact on Florida's environmental policy and brought distinction to the university.
Henderson is a past president of The Florida Audubon Society, one of the nation's oldest conservation organizations, and worked for The Nature Conservancy and the Trust for Public Land. Committed to helping the community, Henderson serves on the board of directors of the Florida Trust for Historic Preservation and the St. Johns River Alliance. He is the recipient of the national public service award from The Nature Conservancy, and has been recognized by the Florida Wildlife Federation, Sierra Club and the League of Women Voters. In 2008, he was named Champion of Sustainability by the Central Florida Community Partnership.
To date, there have been only six recipients of the Hood Award, including the late Stetson University President Dr. H. Douglas Lee and his wife Margaret Lee; former U.S. Senator from Georgia, Max Cleland, Stetson class of 1964; Trustee Emeritus Dr. Mark C. Hollis, Stetson class of 1956, and his wife, Lynn Hollis; retired Professor Emeritus of English E. Bryan Gillespie; and retired Senior Professor of Political Science, and former Dean of the College of Arts and Sciences Gary Maris.