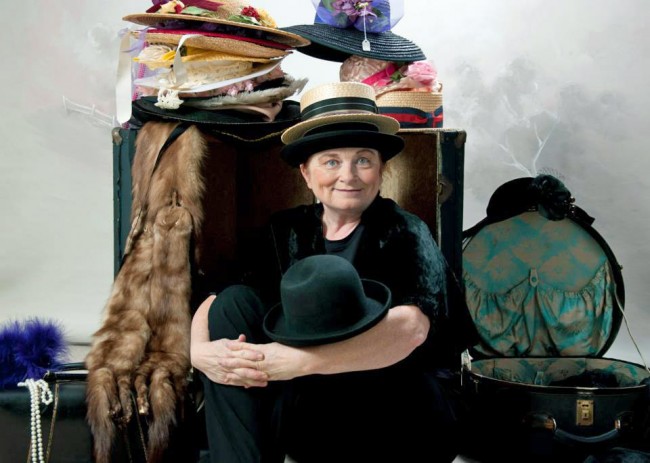 Tickets for each show are $15 for adults and $10 for children. For easy ticket purchasing and more information, go here.

Friday evening John Sbordone's City Repertory Theater began a rotating cycle that makes good on the "repertory" part of the young theater's name, with three different one-person shows: one one-man and two one-woman.
Friday night's already-sold-out performance belongs to the now City Rep vet and local Shakespearean actor Robert Gill, who performs Eric Bogosian's "Sex. Drugs, and Rock and Roll," a show unlike any the area has ever seen, he says. Saturday, Anne Kraft performs the emotionally weighty "The Year of Magical Thinking" by Joan Didion, one of New Journalism's favorite voices. Sunday Linda Gray Kelley brings her myriad of costumes and corybantic spirit to Edger Lee Master's classic "Come to Spoon River." The three shows will repeat twice on successive weekends, in the same order, concluding March 31.
The big national theater companies, Sbordone says, "often introduce a show and keep it on the backburner while they rotate other shows in and out. So if you have a five-play season, and a show is introduced in September, you can still see it later in the year because it is in repertory. This is our version of that. You have the opportunity to see them all in one weekend, or you can space it out, and do a different show each weekend."
If you were to throw all the descriptors Sbordone has for all three of these distinctly different shows in a bag, you'd find yourself reaching into quite the maelstrom: thoughtful, bawdy, raucous, insightful, hilarious, quiet, abstract, raunchy, sexy, sad, and in the case of "Sex, Drugs, and Rock and Roll," says Sbordone, "there's more 'fucks' on the page than you're likely to find anywhere else—though it's totally appropriate to the characters. It's funny."
Besides, and not quite to its credit, there's a distinct dearth of fucks on Palm Coast's performing arts scene, overly dozed as it is by the safe, the tried, the oldy and the fusty. George Carlin should not, even in death, considered an alien here, nor should Bogosian alive, particularly in light of the prescient nature of Bogosian's "Talk Radio" (his 1988 indictment of the genre).
Robert Gill performed his evocative Mark Twain one-man show at City Repertory Theater this past November and, before that—also in November—Henry Higgins in Sbordone's production of "Pygmalion." In the case of "Sex, Drugs, and Rock and Roll," Gill first came across Eric Bogosian's script, which hit the big screen in 1991, at Palm Coast's Goodwill, about four years ago. "I knew right away that I had to do it," he says, though it's taken three years since he first started pitching it for anyone to pick it up. Now that he's got it, "It's been 10 months of steady character building. I'm exhausted but euphoric to bring something new and fresh to the area. This is the kind of really out there stuff that other theaters won't go near. For John to bring this to Palm Coast is really quite ingenious."
What Gill calls the best work he's done is a definite turn in the road for him. He's been somewhat pigeonholed through his stage career into historical personas like Twain and Henry Flagler, which Florida audiences eat up, he says. If the show is successful, as Sbordone and Gill are confident it will be, they plan to take the risky performance across Florida.
Gill will play ten separate characters, all of whom "have a distinct point of view and interesting way of viewing the world," he says. The intermittent and shifting character arcs include a street hustler scrounging for change outside the theater, an aged British rocker doing a benefit for the Brazilian rain forest, a club playboy with an entitlement complex, compliments of his endowment, a "street urchin" or deformed rapper from injuries he's sustained on the streets, ranting to himself about God, the system, and everything in-between, and so on.
As he did for Twain, Gill, who lives in guise when he's doing that show, needed to be able to relate to all the "Sex, Drugs, and Rock and Roll" personas to bring the "presence" and "gravitas," required. In other words, although all the portrayals are fictional, they're based in Gill's reality. "These are all people I've known and hung out with," he says. "This is something that a young, stand-up comedian wouldn't be able to do. Someone who didn't grow up in the sex, drugs, and rock-and-roll generation, for all his talent, doesn't have that life experience." Gill will move from character to character, he says, with the mere turn of the back when he'll pick up a another prop before turning to face the audience again, transmogrified from one redeemable degenerate to another.
"The Year of Magical Thinking," is based on Joan Didion's 2005 National Book Award winner for for Non-Fiction. She later adapted the book for the stage. It is the author's account of coming to grips with life the year after her husband of 40 years–the celebrated John Gregory Dunne of Vanity Fair–died suddenly, while her daughter was comatose as a result of septic shock. (Her daughter, too, later died.) As Anne Kraft, a process-driven actress, says, "It illuminates the process of how someone can feel like they're going completely crazy but then come back sane."
That'll be the effect of the performance on the audience, Kraft hopes. "It's really a study of how the mind works," says the 74-year-old actress, the only one of the three who'll play a single persona. She is almost the same age Didion was when she wrote the book. Her own Mom died when she was just eleven. "We all think that we're so grounded, until something happens that shakes our reality. We hold onto something so strongly, but we need to fly off sometimes, to outer space sometimes. So when we come back, when we land, we have our beliefs but they're stronger than before."
And that's how the show is presented, not with a straight-forward narrative, but one that jumps back and forward, as memory has a habit of doing, "and sideways even," she says. Kraft often dreamed that her mother hadn't really died, that her death was the dream, that she'd come back. "That's a small example of what our mind does to try and cope in these situations."
Although, the play is about "unrelenting grief," it's not all gloom, she assures viewers, "because audiences can't deal with that much sadness. There's enough lightness here." So Kraft won't exactly look unraveled in her performance. "I dress neatly, in slacks, modern, the way I'd imagine a writer would dress," she says, even though it's not her intention to become Joan Didion. "I just want to be an everyday person, an everyday woman, whom everyone can relate to. It's the material, it's the message that's important—the words."
Those same words came back to haunt an audience member who attended one of Kraft's early performances of "The Year of Magical Thinking" in 2011. A few weeks after that performance, the woman approached her. She told her that her son had committed suicide and those "words"—uttered during Kraft's performance—were still in her head, and that helped her keep her sanity.
"The Year of Magical Thinking" furthers City Repertory Theater's reputation as the place for far-out subjects, even behind the scenes: Kraft, as a member for the Actors' Equity Association—the union for professional stage actors in the United States—will be working at City Repertory Theater under a Special Appearance contract. That's a first for local theater. Without that contract, Equity members are prohibited from working for a nonunion company. There are only a couple of Equity theater companies in Northeast Florida—the Alhambra Dinner Theatre in Jacksonville and the Hippodrome in Gainesville. Landing her is "a big deal," in Sbordone's words.
The third play, "Come To Spoon River," is something of a kaleidoscopic costume party. Sbordone has never seen as many props as Linda Gray Kelley is bringing to her show. She'll need them if she's going to portray the nearly 40 characters she'll bring to life, not only out of fiction, but literally from the grave, to tell a multifaceted tale that is humorous but also about loss and regret. Spoon River, keep in mind, is a graveyard.
"The point is to inspire people to live," Kelley says. "You don't know how happy you are until something terrible happens. These characters mainly want to set the record straight about what they've done and who they've wronged."
One wonders if Faulkner ever visited Spoon River himself, or at least picked up Master's work before he wrote "As I Lay Dying," with its constant shift between narrators within a poor Southern family, which includes the dead matriarch. It's a wonder that Kelley doesn't conjure the Southern Gothic pioneer as one of the ghosts. She makes wardrobe changes right there on stage, so there's an added voyeuristic element to the performance, which is always the case when ambling about a graveyard, where tombstones are mere fig leaves of entire lives.
At the end of the performance, Kelley will call willing audience members to the stage to try on her myriad fabrics, adding a textural element to the performance, or turning it into a hat party.
Kelley started doing "Spoon River" about 40 years ago. It was one of her first parts, just out of college. That particular production had a cast of actors to support the varied folks who comprise the Illinois graveyard. Kelley had to settle for playing the younger female roles. To her it was boring. She wanted to play a man. "This was before 'Tootsie' came out," she said, referring to the 1982 Larry Gelbart-Dustin Hoffman vehicle of the unemployed actor who wins a big part and a nation's heart by reinventing himself as a woman. "So back then, it was unheard of for me to play an older woman, let alone a man. I said, 'I'll show you. One day, I'm going to play all the characters."
And so she did and will do again at Sbordone's theater this coming Sunday. Well, almost all of them. As impressive as it is for Kelley to take on nearly 40 roles, she's picking and choosing. In Master's work, there are over 280 epitaphs. She's chosen, among others, a farmer with a machinery fetish, a village arsonist, a village atheist, and a girl too shy to admit her love to anyone. All are fleeting performances, as each character has only about 16 lines of free verse before they vanish.
How is this possible for Kelley to become so many people in so short a time? "Severe ADHD." What's City Repertory Theater's excuse? Severe Sbordonism. That we should all be so gladly afflicted.

"Sex, Drugs, and Rock and Roll" runs: Friday, March 15 at 7:30p.m., Friday, March 22 at 7:30 p.m. and Saturday, March 30 at 7:30 p.m.
"The Year of Magical Thinking" runs: Saturday, March 16. At 7:30p.m., Sunday, March 24 at 2p.m. and Friday, March 29 at 7:30p.m.
"Come to Spoon River" runs: Sunday, March 17 at 2p.m., Saturday, March 23 at 7:30p.m. and Sunday, March 31 at 2p.m.
Tickets for each show are $15 for adults and $10 for children. For easy ticket purchasing and more information, go here.