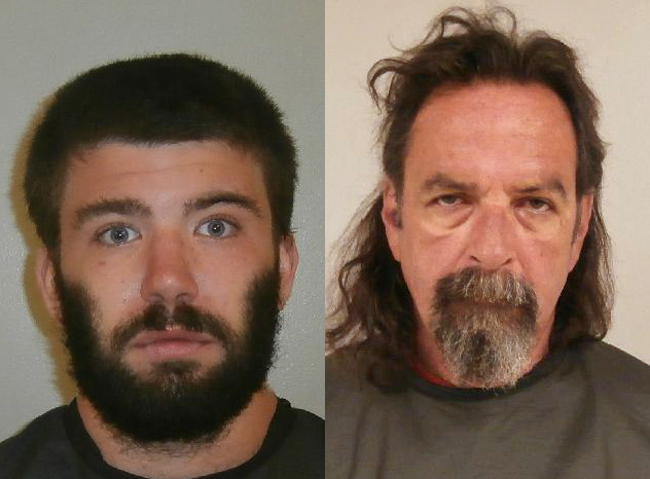 A Palm Coast man was jailed late Friday afternoon for brandishing a gun at a client who was dissatisfied with work being done at his house.
Gregory Thilesen, a 22-year-old resident of Camino Del Ray Parkway in Palm Coast, was finishing a job at an address on West Oceanshore Boulevard near Island Estate Parkway when he got into an argument Walter Miller, owner of the property where Thilesen had been working.
Miller, 50, told police that he asked Thilesen to leave the house. Miller then went to call Thilesen's boss. At that point, according to a police report, Thilesen went to his car, pulled out a gun from the glove box, and said to Miller: "Who's the victim now?"
Miller ran around his truck to get away while Thilesen, according to the report, raised his gun and pointed it at Miller, who asked a witness to call 911. The witness later told police  that when he heard an argument outside he went to see what was happening and saw an individual with a  gun following Miller.
When a Flagler County Sheriff's deputy arrived at the scene, he saw Thilesen, who matched the description of the individual described as the alleged assailant. Thilesen was in his black Mazda. He was asked to show his hands, get out of the car and stand by the deputy's patrol car, all of which Thilesen did. Thilesen also acknowledged having a gun, and gave permission, according to the report, for the gun to be retrieved from the glove box. The cop retrieved a semi-automatic 9mm Luger. It was in a black case with no magazine or bullet in the chamber. Thilesen told the cop that the bullets were in the center console, from where the cop retrieved two magazines filled with 9mm ammunition.
The cop secured the weapon in the trunk of the cruiser, asked Thilesen for identification and went to the cop car to check on warrants. At that point, according to the police report, Thilesen yelled out: "Did you think you accomplished something?"
"Thilesen was then placed in handcuffs and advised he was being detained for our safety and investigative purposes," the deputy reported. "He was placed in the back of my patrol behicle. He asked if he was under arrest, and I replied 'No, not at this time, you are being secured for our safety and so that we may finish our investigation.'"
Thilesen was eventually charged with aggravated assault with a deadly weapon and improper exhibition of a firearm, and booked at the Flagler County jail. He posted $2,500 bond and was released.
Blade Brandishing at the White Eagle Lounge
Late Thursday night (Sept. 12), Bunnell resident Wray Wolk was at the White Eagle Lounge on U.S. 1 when someone walked up to him and punched him in the mouth. The man, who had been talking to Ken Guarnieri in the bar, the n left. Guarnieri, 59,  and Wray, then got into an argument I n the parking lot. Guarnieri happens to be dating Wray's ex-girlfriend, according to a police report.
Witnesses told police that Guarnieri took a box-cutter from his pocket and threatened to cut Wray's neck. Another patron stepped in and separated the two men.
Guarnieri was arrested for aggravated assault with a deadly weapon. During the search of his clothing, cops located a clear plastic bag in his rear pants pocket, containing a white powdery substance. A 4-inch straw with alleged cocaine residue was also in the same pocket. Oxycodone and hydrocodone pills were also allegedly located on Guarnieri, who was charged with possession of cocaine, possession of a controlled substance without prescription, and possession of drug paraphernalia. He was booked at the county jail early Friday morning and released on $10,500 bail.
Attempted Robbery at Town Center Shopping Mall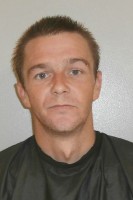 The afternoon of Sept. 15 (Sunday), a woman was walking out of the Western Union office at the Publix shopping center by Town Center (at the southern end of Belle Terre Parkway) when a man later identified as Richard Knoblaugh  allegedly accosted her and asked for money. Knoblaugh, 34, of 3027 Palmetto Avenue in Bunnell, was last arrested in May for violating probation. The woman told him she had no money and told him to go away. Knoblaugh allegedly refused and grabbed the woman's wallet, though after a brief struggle Knoblaugh backed away and repeatedly said: "I'm sorry." A Bunnell Police Department officer later found Knoblaugh, who was detained until the woman identified him as the alleged assailant. Knoblaugh was charged with attempted robbery and taken to the Flagler County jail, Where he remained Monday morning on $2,000 bond.
Medical Examiner Investigator Arrested
On Friday, agents with the Florida Department of Law Enforcement arrested Christopher Dwight Allen, 46, of St. Johns, on charges of official misconduct, dealing in stolen property and false verification of ownership on pawnbroker transaction form.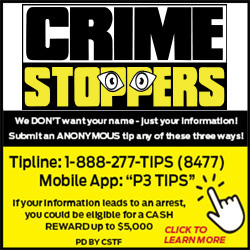 Allen is a medical examiner's investigator in one of the state's publicly-supported office that conducts autopsies, in Jacksonville.
The investigation began in May 2013, after relatives of a Hamilton County woman alleged several items of jewelry had been stolen from their loved one following her death. Items stolen included a ring, a watch and a necklace.   Agents reviewed pawn broker transactions that indicated Allen sold 62 pieces of jewelry to pawn shops within the previous year.  Investigators allege at least some of the pawned items were stolen from deceased persons whom Allen had access to as a forensic investigator at the District 4 Medical Examiner's Office in Jacksonville.
Allen was arrested around 7:30 Friday morning at the medical examiner's office and booked into the Duval County Jail. The State Attorney's Office, 4th Judicial Circuit will prosecute the case.