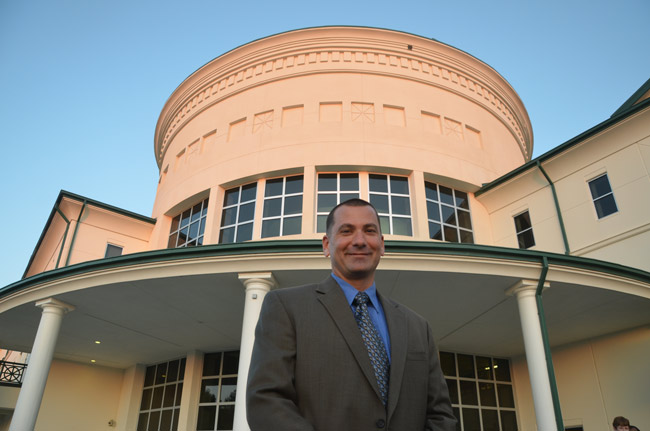 Jeff Hoffman won't even get a day off. He'll log his last hours as a captain at the Daytona Beach Police Department Friday, and come Saturday, he'll be on the job as Bunnell's newest police chief, replacing Arthur Jones.
A unanimous Bunnell City Commission Monday evening ratified City Manager Armando Martinez's decision to hire Hoffman, the last man standing after a whittling process that began with 31 candidates. Hoffman was twice applauded at the commission meeting as Martinez introduced him, with State Attorney R.J. Larizza making the trip to give Hoffman his support and endorsement–a notable gesture for a state attorney whose office was saddled with difficult and sensitive investigations of irregularities and crooked cops at the Bunnell Police Department during the Martinez-Jones tenure.
"You asked, and I think we were able to deliver," Martinez told commissioners, describing the process that began with Jones's announcement in December that he was retiring. "I'm happy to report that the decision was not easy, we got really good candidates." He added: "I believe we found the best of the best. We have a candidate who has 21 years law enforcement experience in the area, he is recognized and known by all law enforcement officers, anybody who you ask will tell you he's a great cop, which is exactly what we were looking for." Martinez described his ideal candidate as "a police officer that officer that can stand before you here and have a budget presentation, walk out the door, chase somebody down and put him in the back of a police car. And that's who you've got."
Martinez, of course could have been describing himself: a police chief at heart, Martinez thrives on his dual role as a top administrator who also knows his way around his streets and how to show the way to the the back of a police car, though last year he had to give up his title as the city's public safety director to steer clear of a constitutional prohibition against holding dual office. He then introduced the 41-ywear-old Hoffman.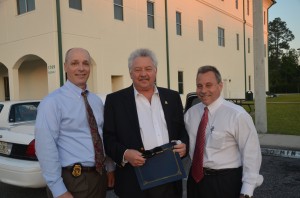 "The selection was very tough, it was very professional, it was probably the toughest promotional process I've been involved in in 21 years," Hoffman said. "It was an experience, and what he doesn't know," Hoffman continued, referring to Martinez, "is that about two days out from my interview I started to get cold feet, and I thought, I was thinking–I don't know, but my boss, a close friend of his, Mike Chitwood, said no, you're good for this, this is a good move for you, you need to see this through, and I'm glad that I did. So thank you." Hoffman thanked his family who "put up with a lot the last 21 years."
"I've always prided myself on integrity and professionalism," Hoffman added. "I'm very eager to bring that to the city of Bunnell, and I'm very eager to continue all the hard work that not only Mr. Martinez has done but that Chief Jones has done."
Pastor Sims Jones and a Bunnell reserve officer who'd actually made the shortlist of the final six candidates gave their accolades to the new chief immediately before the commission's vote, as did Larizza immediately after it. He spoke of the 45 to 50 law enforcement agencies in the judicial district his office oversees and said: "I've got to tell you that I've talked to staff members at the office that have worked with Chief Hoffman–get used to that chief, chief Hoffman–while he was at the Daytona Beach Police Department, these are folks that are management positions in the State Attorney's office, and they speak very highly of him. But it is kind of bittersweet, isn't it? Where is Chief Jones?"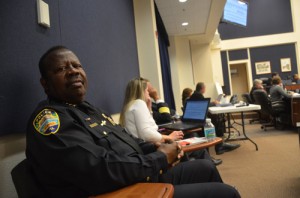 Jones by then sat toward the back of the room, not far from a going-away cake that by then had been half consumed by the people in the audience during a break earlier in the evening, after the commission offered its recognition to the outgoing chief who'd led the department since late 2008.
Michael Barr, chairman of the Bunnell Chamber of Commerce, had a letter of appreciation for Jones from the chamber read into the record. "Since your arrival in November of 2008, you have demonstrated an outstanding level of commitment to law enforcement and to enhancing the quality of life in Bunnell for its residents," the letter read. (Bunnell business owner Mark Langello, a fixture at city commission meetings, read the full letter before the commissioners.)
"I've been involved in city issues for over seven years now," Barr said, "and we mention a number of facts on the appreciation that are on the record, but what may not be on the record out there is the change in perception for the city, and I think that's wholly due to the chief here. Bunnell is a much better place to come to, to do business in, and he has built the community in ways that exceeded my expectations, and I think most out there."

In an unrelated development, the city commission appointed Commissioner John Rogers to represent it on the countywide task force that will be working on crafting a proposal to renew the half-cent sales tax, with voter approval, by fall. The proposal is facing some resistance from Palm Coast, absent a compromise from the county commission on how the $4 million annual revenue is split between the county and the cities. The county wants to apply a formula that increases its share. Palm Coast isn't willing to change the existing formula, which reserves a larger share of the revenue to Palm Coast.