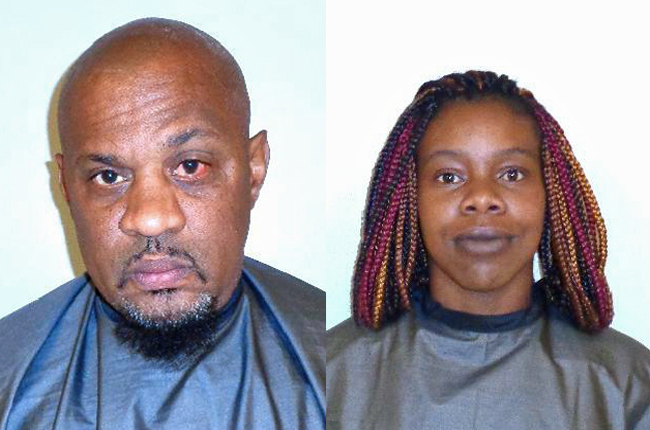 Spencer Veney is a 52-year-old resident of Phoenix Lane in Palm Coast. Around 7 p.m. Saturday (May 3) he stopped by the Chicken Pantry on East Moody Blvd. in Bunnell for dinner. He left in handcuffs with two charges of felony battery. One of his victims was the restaurant's owner.
According to witnesses, Veney was eating in the restaurant when the food for some reason made him angry. He got aggressive toward staff, witnesses told police, pushing one employee. Some employees and customers then forcibly removed Veney from the restaurant.
Chicken Pantry owner Joseph Lamanna tried to talk over the matter with Veney once outside. One witness said that at that point Veney punched Lamanna in the face with a closed first, even though Lamanna had shown no aggression to Veney. Restaurant employees gave police much the same story.
When a Bunnell Police officer arrived at the scene, a white man was on the ground, outside the restaurant, bleeding from the back of the head. Veney was standing to the side. A crowd had formed around both men. Veney, his arrest report states, "appeared to be still worked up."
The officer—Christopher Wolfle—ordered Veney to place his hands behind his back. Veney "raised his voice, flared his arms and stated, 'why?'" Sensing the suspect's aggression, the officer drew his Taser and ordered Veney again to place his hands behind his back. Veney complied.
Lamanna himself wasn't sure what had happened, and after he'd been struck was not coherent enough to be able to give an account of the incident to police. He was taken to Florida Hospital Flagler. But another employee, Dana Owens, said he'd been struck by Veney and that he wanted to pursue charges.
A criminal history check revealed prior convictions for battery in Veney's record, his arrest report states. (Veney was arrested in Alachua County on a battery charge in 2011). Other than a traffic ticket from Bunnell police, which he resolved through traffic school last year, he has no prior record in Flagler County. Because of that conviction, he was charged with two counts of felony battery and one count of resisting arrest without violence. He was booked at the Flagler County jail on $2,250 bond, which he posted, and was released.
Precisely 24 hours later, Wolfle was again at the center of an unrelated incident that drew a crowd in Bunnell, this time in the area of South Bacher Street and Martin Luther King Ave., where he was dispatched regarding a gunshot.
Wolfle had seen Ashley Ross, 27, of Bacher Street in Bunnell, "begin to throw her purse into another female's vehicle," after having gotten reports that she had fired the gun, and that the gun was in the purse.
For the second time in 24 hours, Wolfle drew one of his weapons, this time his duty gun, ordering Ross to put her purse down. She complied. He was then able to detain Ross and recover the purse, where a .22-caliber gun was found, loaded but for one missing bullet.
There'd been two women in the car toward which Ross had been walking when she allegedly attempted to get rid of her purse. Both women told cops that they were not aware of Ross's intentions, or that a gun was in her purse. The two women had merely parked the car and had been socializing with passers-by. Neither heard the gunshot, they said, but both saw the crowd of 20 to 30 people that had gathered to follow Ross from the area of Martin Luther King Blvd.
The firearm was checked through a state database but, the arrest report states, had not been reported stolen. It's not clear why Ross had the gun or had fired it: the arrest report is heavily redacted when it relates Ross's interview with police. But a drug dealer was involved.
Ross did not have a concealed weapon permit. She was charged with discharging a firearm in public and carrying a concealed weapon without a permit and booked at the Flagler County jail on $3,000 bond, which she posted.