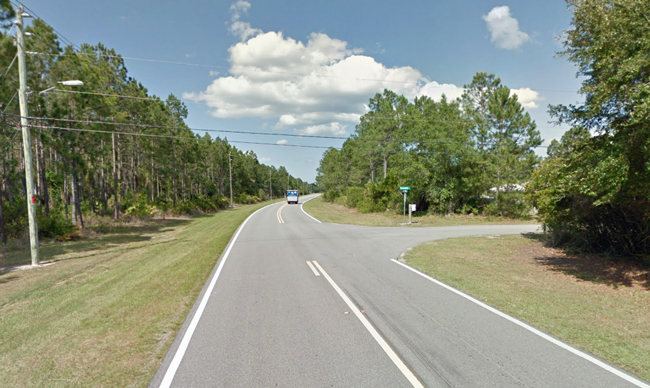 A Flagler County Sheriff's deputy sent 54-year-old Palm Coast motorcyclist Selbert A. Mills to a hospital in serious condition after the deputy's cruiser collided with the motorcycle at Seminole Woods Boulevard and Sloganeer Trail early Thursday evening (March 20).
Jeremy Chambers, a 10-year veteran of the Sheriff's Office, was at fault by violating the rider's right of way, a crash report concluded.
Chambers had been dispatched to check on a possible hitchhiker on the south side of Old Dixie Highway, west of I-95. The woman was an "older female" who'd been sitting there with luggage for a couple of hours, according to dispatch notes.
Chambers confirmed getting the call at 6:09 p.m.
Nine minutes later, 911 got the call about a "motorcycle down," and that Chambers's cruiser was involved. Two minutes later Mills was determined to have suffered small lacerations and a back injury. A dozen units were dispatched to the scene and Seminole Woods was closed in both directions at the Sheriff's Office command, at Sesame Boulevard.
The Florida Highway Patrol was notified of the crash at 6:33 p.m.
The Florida Highway Patrol's Cpl. Pete Young, after investigating the scene, determined that Chambers had been traveling south on Seminole Woods Boulevard in his department-issued 2014 Ford Crown Victoria while Mills was traveling north on his 2014 Honda M/C motorcycle. Chambers was making a left turn in front of the motorcycle, according to Young's report, causing the motorcycle to crash into the cruiser and eject Mills. No alcohol was involved.
Mills was transported to Halifax hospital in Daytona Beach. Chambers was transported to Florida Hospital Flagler by the Sheriff's Office's Cpl. Jon Welker, according to Bob Weber, a sheriff's spokesman.
At 10:17 p.m., the Sheriff's Office's David Williams reported that Chambers's cruiser was towed by Roger's towing, and that he had secured the deputy's rifle as well as his laptop. The Crown Vic sustained some $5,000 in damages.
"Deputy Chambers is off duty, as per his normal work schedule for the next several days," Weber noted. "The incident would be considered workers comp related."
Deputies log hundreds of thousands of miles a year on Flagler roads, periodically causing or being the victim of crashes.