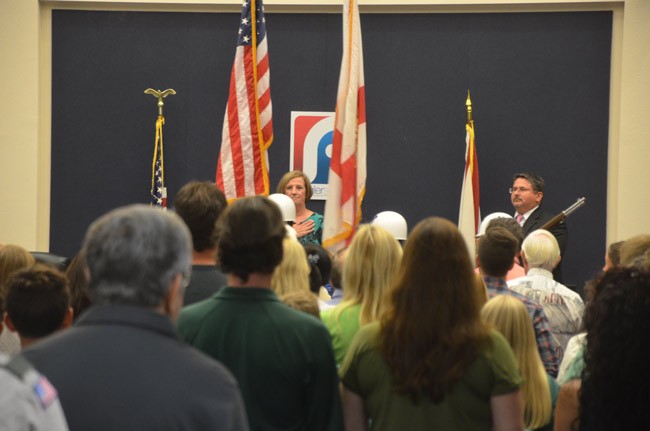 You may have heard by now of the minor controversy involving Flagler Palm Coast High School senior Patrick Conklin's painting of a not-quite nude woman and the cluster of petals substituting for a fig leaf in her Venusian parish. The piece was universally acclaimed by Conklin's teacher, by the leaders of two local art galleries, one of which displayed it, by most of those who saw it, and by Conklin's principal, Dusty Sims, who said of the work: "It's awesome, it's an amazing piece of art, we never want to censor kids with their work of art."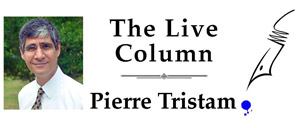 Except that Sims did just that. He censored it by barring it from display in any school galleries, where other distinguished student art is displayed. His reasoning was that it would not be "in the best interest of the school" to display it. That doesn't mean anything. It's a fig leaf for not having justifiable reason, the authoritarian mindset's version of "because I said so." Sims later explained to me that the school is a "community, general audience facility" that at times has younger children in its hallways. That's true. But that doesn't mean younger children or their parents should veto the display of "an amazing piece of art." FPC is not their refuge. It's high school students' learning environment.
Nevertheless Sims had the right to make the decision he felt was best. He made it. He stuck by it, and Superintendent Jacob Oliva stuck by Sims (though he told Conklin Friday after a meeting with him that he was pondering the question and will make a decision in January). Where things got ugly and disturbing was at Tuesday's school board meeting. A local Republican operative called Edward Fuller, who's old enough to remember the McCarthy era, addressed the board and after briefly recalling Sims winning the state assistant principal of the year, which is neither here nor there, asked board members "whether you support Mr. Sims or the negative campaign lodged against him." Fuller's demand stank of a set-up, as if someone on the board or the administration didn't want this issue to go any further.
Of course there never was a campaign against Sims. There was a debate about his decision. Those who didn't like it criticized him, as is their right. Those who did like it praised him. There was plenty of both. It's what debates are about. It's what open, intelligent communities should be about. Fuller's demand though sought to shut down that debate with what amounts to a loyalty oath to the principal, which has no place in educational settings. We love and respect our principals, within reason. We don't bow and submit to them, or worship them, no questions asked. They're not cult figures. They're administrators. If anything, we hold them to account first and foremost, as the school board should.
But that's not what the board did. Four of its five members lined up to pledge their allegiance to Sims and to "staff" in general, putting respect for authority for its own sake ahead of the particulars of this case, which warranted further discussion and at least consideration of a school board policy, not silencers. (Even that allegiance was self-serving: If you've ever witnessed the adversarial negotiating sessions between the board and its unions, you'd quickly realize how fluid that allegiance is, at least to employees below managerial levels.)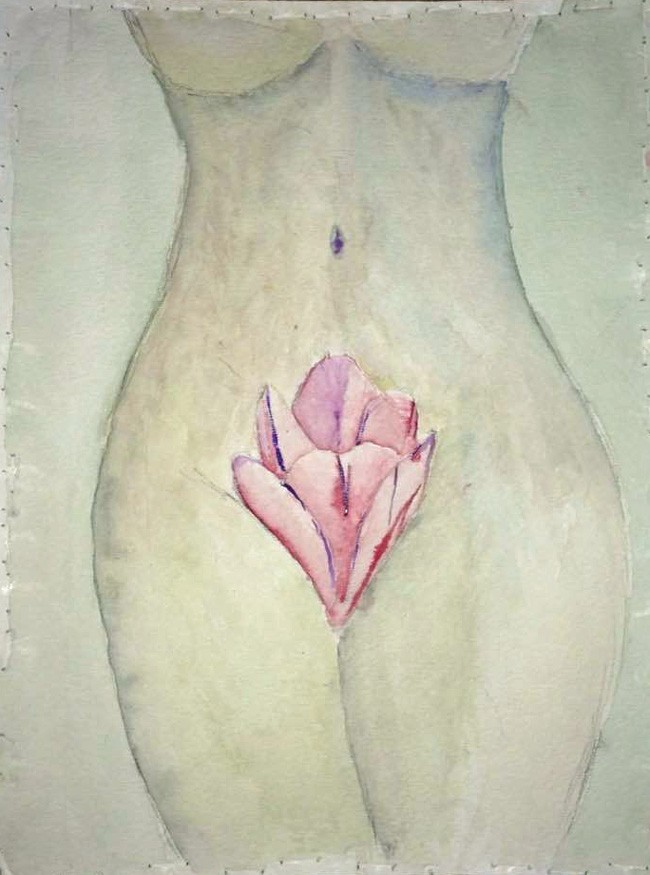 Only Andy Dance qualified his statement by noting that the issue prompted good debate about art. But he, too, fell in line behind Sims, praising administrators "for all the decisions they have to make during the day," as if anyone was suggesting otherwise. "Keep your chin up, we're behind you, we support you 100 percent," Dance said of administrators. Really? Are principals that infallible? Are board members' responsibility to blindly cheerlead or to also provide oversight? Is supporting students not at least as important, if not more so, than supporting "staff"? And where was the board's broader welcome of a discussion or of an appeal from the student?
Colleen Conklin, who chairs the board, was the lone dissenter. Patrick Conklin is her son, though she's on record speaking up against censoring art with her notable confrontation with Oliva five years ago over the censoring of "To Kill a Mockingbird." She speaks up out of conviction even if personal interest is involved here. And she had it right.
"I think it's kind of sad that the conversation has resulted into whether you support Mr. Sims or you don't support Mr. Sims," she said. (She had no idea who Fuller is, so she did not mention what ought to be mentioned: that as a Republican operative, he may be laying the groundwork for a fellow-Republican's campaign against Conklin, a Democrat facing reelection next year. Fuller's crass cleaving of the board is a way to create the sort of wedge issue a candidate can exploit.) Of Sims, Conklin said: "I'm very supportive of him. I think that the decision that he made was a decision based in fear, and I don't agree with the decision. I find it as a form of censorship."
More importantly, principals and schools are not islands unto themselves, let alone fiefdoms. "When principals make decisions, they need to understand it is a statement about our entire system," Conklin said. The statement this principal made is at odds with the district's respect and celebration of student arts. It's not enough to be supportive of routine, of the usual pier scenes and inoffensive self-portraits or clever color schemes. What makes the difference in this self-professed "premier learning environment" is support for work that manages to challenge boundaries without relying on shock. That's what Patrick Conklin's piece did, and what he was forbidden from sharing with his fellow-students. How ironic that his theme was "rebirth and enlightenment."
The school's statement in this case was to cower from enlightenment, missing a great opportunity to put Patrick and his work at the center of a constructive discussion about art, women, body image, respect. And the school board's reaction was to submit to an administrative edict at the expense of a student's expression everyone had recognized to have been artful and mature. So much for awesome when a principal and superintendent are challenged.
I hope Patrick Conklin appeals his case to the school board, and that the board will see its way to a more intelligent discussion than rah-rah cheerleading for staff and, eventually, a serious policy on handling student expression–art, theater, dance, music–that lives up to art's purpose: to move, to please, but also to challenge and, at times, to make us, alleged adults especially, uncomfortable. A "premier learning environment" should demand no less of its students, with 100 percent support.
Yet somehow I have little hope that the school board will see past its allegiance to authority or hear the voice of free expression over the din of its circling wagons. This mockingbird looks dead.

Pierre Tristam is FlaglerLive's editor. Follow him on Twitter. A version of this piece aired on WNZF.