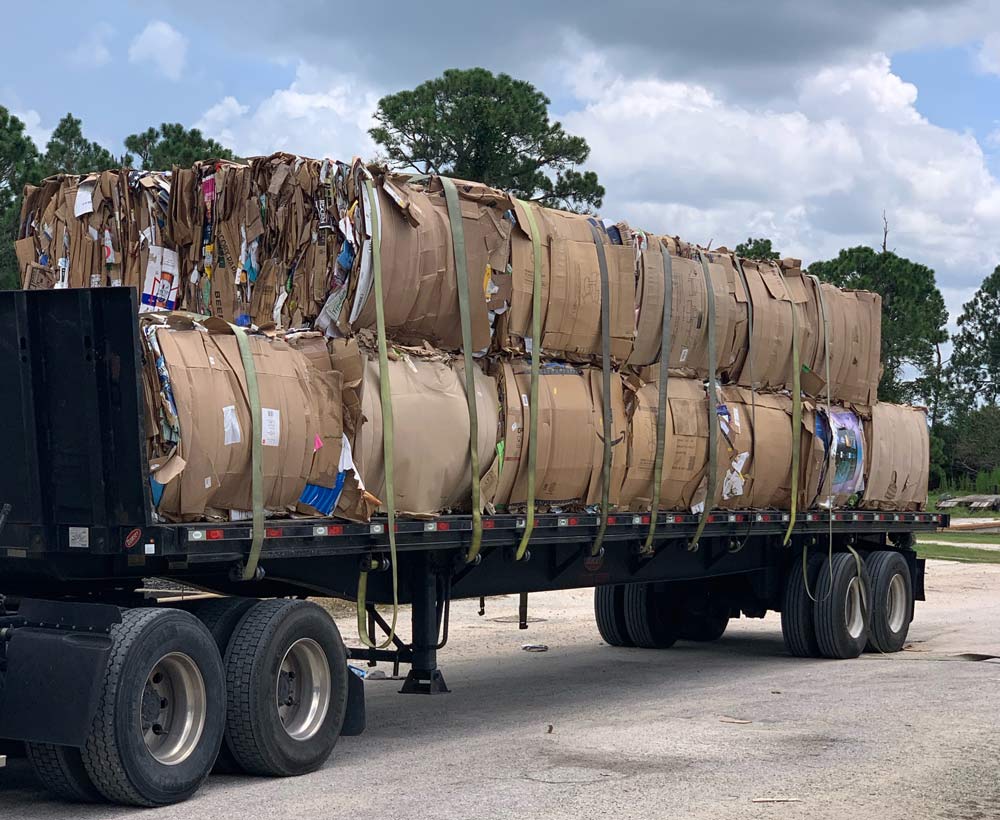 Flagler Beach Sanitation Director Rob Smith is constantly looking for the next big thing his department can do for his little city.
A year and a half ago he launched Big Blue, the glass-crushing and recycling machine that won him and the city an award.




In spring the department launched a limited plastic recycling program. The city contracted with NexTrex to give residents the opportunity to recycle plastic bags, grocery bags, bread bags and plastic wrapping film. Receptacles were placed in a few locations around the city for drop-offs–at City Hall, the police station, the public library, the Methodist Church on the south side, 7-Eleven and the Beverly Beach Town Hall.
Smith said Flagler Beach was the first city in the state to have such a contract with NexTrex, which pays 8 cents for a pound of plastic. (He's right: a few businesses in the state have contracted with the company, but Flagler Beah is the only city to have done so.) NexTrex then processes the plastic into materials used to build decks and rails. Some of it could end up railing the city's new boardwalk, if and when the city gets around to rebuilding it.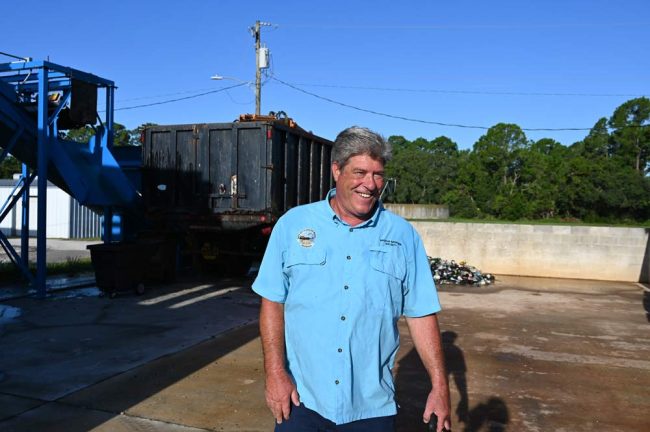 And now, since mid-August, the department has been shipping out tons of cardboard for recycling, packed with its own heavy-duty baler–a different kind of big blue machine that hulks in a corner of a Sanitation Department hangar, its maw ready to feed on a cascade of cardboard. Smith acquired the used baler for $6,000. It can compact 1,500 pounds of cardboard into a single bale.
The city has been recycling cardboard since spring 2021, though until recently it was a less systematic method. The city was trucking the loose cardboard to ELS Environmental in Bunnell. "He was baling it and reaping the rewards, but we knew it was at least getting recycled. But now we're following through," Smith said.
Starting Aug. 17, Flagler Beach took over its own baling. That day, the Sanitation Department placed 24 bales–18 tons–on the bed of a truck. "It was the first truck to leave the city of Flagler Beach Sanitation to go to the mill with our own cardboard, which is pretty cool," Smith said.




"We'll be able to do more," Smith said. "What I want people to understand is they need to not put cardboard out on trash day. It needs to be out on Wednesday, on recycled day. I want them to see that this is actually going on. There's no smoke and mirrors. This is the real deal. I mean, it's happening."
There are exceptions: no pizza boxes. No cardboard that has touched food. Residents pay $2 a month in recycling fees, as part of their trash bill, which runs about $22 a month (some $10 less than in Palm Coast, where the residential fee is $32.32 a month).
A lot of the city's non-residential cardboard comes from businesses like Dollar Tree, where cardboard gets picked up every two days. The rest is residential waste. Prices for recycled cardboard vary from $60 a ton to $120 a ton, depending on the market, Smith said. But the city is saving $46 a ton by not dumping it. "We're not making a ton of money off of it. But it's paying for itself," Smith said.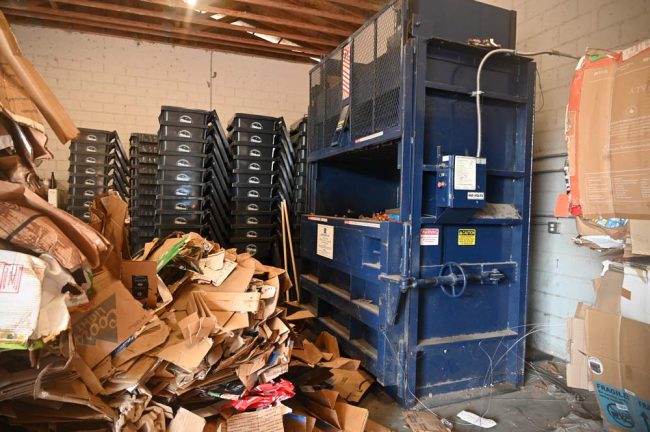 To the chagrin of residents, the city had abandoned all but some aluminum and some cardboard recycling in spring of 2021 before easing back into glass, those plastic wrappers and bags, tin, and now cardboard in a bigger way. "Soon we'll be setting up a compound dump behind the fire station where they'll be able to drop off all plastics," Smith said. But newspaper recycling will not return: "Eight people in town have newspapers," he said, though the Santa Maria del Mar Catholic Church on North 10th Street still has a newspaper recycling box in its parking lot. Smith doesn't think it ever fills up.
"It's sad to say but recycling has got to make revenue to be viable it's just what it is," Smith said. "But I just want everybody to see that has happened. There's no pretend."
In recent years, since China stopped accepting the world's trash and much of its recycling materials, Americans have become suspicious of recycling claims, suspecting that much of their recyclables ends up in landfills anyway, because trash-hauling companies can't make money from recycling. That's still true today: ABC News placed trackers on materials put in recyclable bins in 10 states. Its investigation found that "of the 46 trackers placed in bundles of plastic bags that ABC News dropped off at stores across the country, the vast majority – after months – had not ended up at locations associated with plastic bag recycling."




The demand for cardboard is having a devastating effect on forests and the environment. It may have been recycled from paper. But all cardboard started as a tree. "Cardboard manufacturers broke production records in 2021, and they've been breaking them basically every quarter since," The New York Times reported last year. "By 2025, according to one estimate, the size of the international market for corrugated packaging will reach $205 billion, commensurate with the gross domestic product of New Zealand or Greece."
Even before Covid, in 2020, American manufacturers were generating more than 400 billion square feet of cardboard. Amazon alone shipped an estimated 7.7 billion packages in 2021. On the other hand, the American Forest & Paper Association and Fibre Box Association is reporting this year a steep, 8.4 percent decline in demand for cardboard boxes in the fourth quarter of 2022, the steepest decline since the Great Recession.