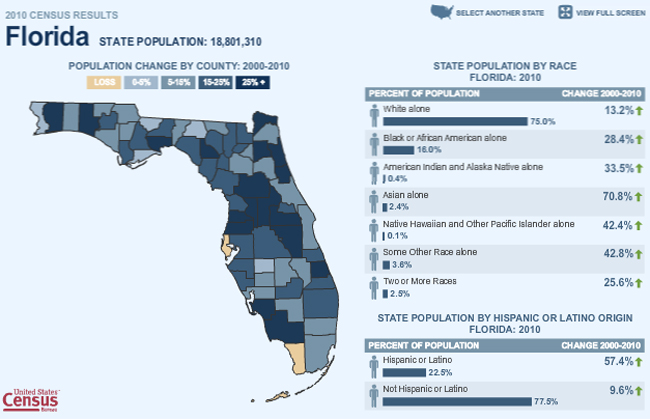 The 2010 Census figures are out: As of April 1, 2010, Flagler County's population stood at 95,696, an increase of 45,864 from 2000, or 92 percent.
Florida's population is 18.8 million, up 17.7 percent from a population of 16 million a decade ago.
"It would have been nice to make the 100,000, but I didn't expect that we'd quite reach it," Alan Peterson, chairman of the Flagler County Commission, said when hearing the numbers.
For Flagler County, the 95,696 count is higher than the Census Bureau's last estimate, in 2009, of 91,622, but still short of the 100,000 mark that would have placed the county in a more urban bracket and qualified it for a different set of federal grants such as mass transportation.
"The 100,000 was an arbitrary target, it's a nice round number," Palm Coast Mayor Jon Netts said. "I think it's indicative of what we felt all along that this is an area of potential growth. The fact that you've got those kinds of numbers and the fact that we're seeing an increasing retail interest in Palm Coast, I think this helps us better project the future and what's in store for us." If, for example, the numbers had declined in comparison with projections, the county and the city may have had to rethink their strategies, the mayor continued. "So we're on the right track. All of these discussions that we're having about economic development probably validate some of those economic goals."
According to Census figures, The five most populous incorporated places and their 2010 Census counts are Jacksonville, 821,784; Miami, 399,457; Tampa, 335,709; St. Petersburg, 244,769; and Orlando, 238,300. Jacksonville grew by 11.7 percent since the 2000 Census. Miami grew by 10.2 percent, Tampa grew by 10.6 percent, St. Petersburg decreased by 1.4 percent, and Orlando grew by 28.2 percent.
Flagler and Sumter counties were the fastest growing in the decade. Monroe County, covering the Florida Keys, and Pinellas County, home to St. Petersburg, lost population.