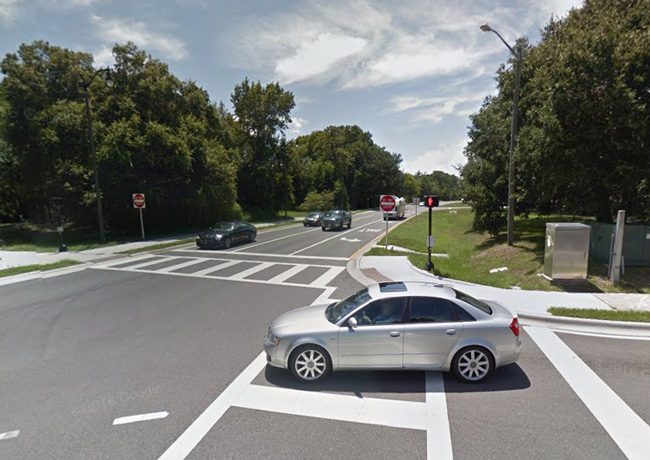 Beverly Ann Campbell, 60, became the fourth road fatality in eight days on Palm Coast Parkway when she died Friday at Florida Hospital Flagler, after sustaining serious injuries in a rear-end crash near Florida Park Drive.
Campbell, a resident of Daytona Beach, was driving east in her 2003 Dodge Caravan van at 6:45 Friday morning when, according to a Flagler County Sheriff's crash report, she struck a deer within 300 feet of the intersection with Florida Park Drive. Campbell had been traveling on the inside lane of the multi-lane road. (She had stopped the van just ahead of the intersection, parallel to the left turning lane for Florida Park Drive.)
Campbell stopped and stepped out of the van. At that moment, Frank Mannarino, 79, of Burning Tree Place in Palm Coast, who was driving his 2004 Honda Civic in the same lane, rear-ended Campbell's van, knocking Campbell to the ground. She suffered "possible broken ribs and a broken arm on her right side," the crash report states. Mannarino's knees were injured and he suffered chest pains from the deployment of the air bag in his car.
Both were taken to Florida Hospital Flagler. Campbell's injuries were not considered life-threatening at the time, otherwise she would have been taken to Halifax hospital in Daytona Beach, the investigating sergeant on the case said. Campbell was taken to the Medical Examiner's office in St. Augustine for an autopsy.
When units of the fire department arrived at the crash scene–they were first on scene–they reported that the van was still running, but its headlights were not on. Marinno told authorities that the van's lights were not on at the time of the collision. At 6:45 a.m., the crash report states, it was still dark.
Both vehicles were towed by Roger's Towing in Bunnell. The deer was removed by Palm Coast municipal workers. Marinno was not charged.
On Jan. 12, Tyler M. Allen, 21, of Palm Coast, was killed when he was riding his motorcycle and he rear-ended a car further east on Palm Coast Parkway. Four days later, two people, a mother and child–Terri Wickel, 55, and Margaret Wickel, 17–were killed when they were t-boned into a ditch at the intersection of Pine Cone Drive and Palm Coast Parkway.