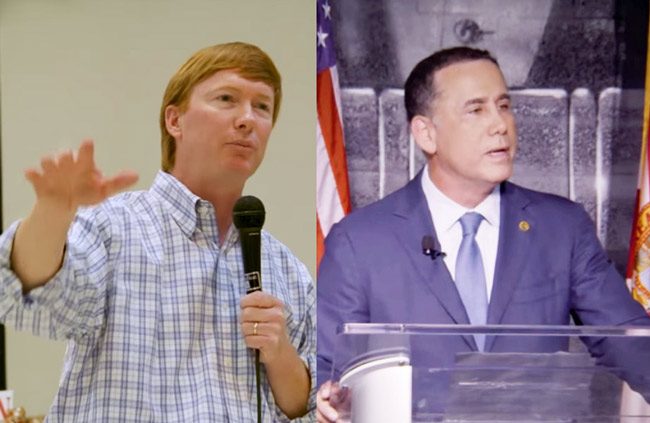 As the leading fundraisers in their party primaries for governor, Adam Putnam and Philip Levine have an advantage over their rivals when it comes to reaching voters.
New campaign finance reports filed with the state Division of Elections show Putnam and Levine's largest expenditures in May were for television advertising, the most direct, but expensive, way to reach the more than 9 million Democratic and Republican voters eligible to participate in the Aug. 28 gubernatorial primary elections.
Putnam, a two-term Republican agriculture commissioner, had raised nearly $31 million through May for his campaign account and his Florida Grown political committee, the new reports show. He raised more than $441,000 for the campaign account and more than $1.2 million for Florida Grown in May.
The political committee spent $4.9 million in May, including $4.4 million in advertising, including a new television ad that promotes Putnam's promise to emphasize more career and technical training for students, while taking a shot at "liberal elites."
Levine, a Democrat who served as mayor of Miami Beach, has collected more than $16 million for his campaign and the All About Florida political committee, including some $8.8 million in loans and personal contributions made by Levine. In May, Levine raised $308,000 for his campaign account, loaned his campaign $1.3 million and raised another $946,000 for All About Florida, the reports show.
His $3.6 million in May expenditures included $2.6 million in television advertising, with Levine running a series of ads, including his promise to strengthen gun-control laws and ban "assault" weapons following the shooting deaths of 17 students and staff members at a Broward County high school.
Levine's report also showed some $23,000 in spending on advertising and marketing in May through Twitter, the social media network.
U.S. Rep. Ron DeSantis, R-Fla., raised more than $3 million for his gubernatorial campaign in May, including a $1.1 million transfer from a political committee he controlled to his Friends of Ron DeSantis committee, the reports show. DeSantis has raised nearly $11 million for his campaign and the political committee.
Although he has not run any television ads, DeSantis' campaign spent some $162,000 on direct-mail advertising in May, the reports show.
Democratic candidate Gwen Graham, a former U.S. House member from Tallahassee, raised more $1 million last month for her campaign account and the committee Gwen Graham for Florida, bringing the overall total to nearly $8.5 million.
Although it is not reflected in her May report, Graham launched her first television ad in the Orlando and Tampa markets this month, saying she would spend some $1 million on the effort. The ad emphasizes her support for public education and the expansion of Medicaid, while also noting the influence of her father, former Gov. and U.S. Sen. Bob Graham.
Orlando-area businessman Chris King has raised more than $5 million for his Democratic campaign and the political committee Rise and Lead, Florida. In May, that included receiving nearly $80,000 in contributions and loaning $400,000 to the campaign.
King has been advertising on television and through other media, reporting $1.3 million in advertising expenditures in May and another $50,000 in digital advertising. Earlier this month, King announced his campaign was making a "six-figure" media buy for Facebook advertising. His digital ad outlined his "bold" proposals, ranging from universal background checks for gun purchases to tuition-free community colleges to a dramatic reduction in the state's prison population.
Tallahassee Mayor Andrew Gillum has raised nearly $3.5 million for his Democratic campaign and the political committee Forward Florida. In May, that included $122,000 for his regular campaign account and another $232,000 for the political committee, the reports show.
His $190,000 in May expenditures included $41,000 in digital advertising.
Palm Beach billionaire Jeff Greene, who filed paperwork June 1 for a Democratic bid for governor, was not required to file a campaign finance report by a Monday night deadline.
–Lloyd Dunkelberger, News Service of Florida