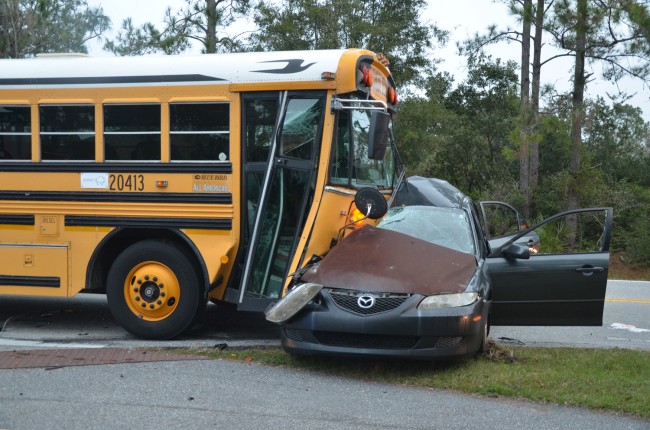 Note: The case against Brian Szmitko was dismissed, as were all penalties, on Aug. 5, 2015. See the story here.
Note: A memorial service for Elisa Marie Homen is scheduled for Tuesday, Jan. 20, at 5 p.m., at the crash site (at Whiteview Parkway and Ravenwood Drive in Palm Coast). Details here.
Jan. 14 update: Elisa Marie Homen, the 22-year-old woman involved in the school bus wreck on Jan. 9, died of her injuries at Halifax hospital in Daytona Beach Tuesday (Jan. 13), according to FHP and family members. Homen had been in critical condition since the wreck, and had lost all brain functions. Note: most media are reporting Homen's age as 23. She was in fact born on Nov. 5, 1992, according to FHP.
The family has set up a fund-raiser for Homen's mother, Lisa Randolph, to help defray costs associated with her daughter's loss. The fund-raiser is approved by Homen's aunt, Alice Bartorelli. Other fundraisers on the web have not been approved by the family or verified by FlaglerLive.
The original story is below.

25 Children Hospitalized, 1 Adult Critical in School Bus Crash With 2 Vehicles on Whiteview
Jan. 9–Twenty-five middle school children were hospitalized with minor injuries or aches, and one adult, a woman of about 20, was taken to Halifax hospital in critical condition Friday morning after a school bus crash involving two cars on Whiteview Parkway and Ravenwood Drive in Palm Coast, according to school board and emergency response officials.
A replacement bus with three dozen children who'd been on the bus involved in the crash drove to Florida Hospital Flagler, where those students could also be checked out and released to their parents, Palm Coast Fire Chief Mike Beadle said. As of mid-morning, none of the students needed to be admitted.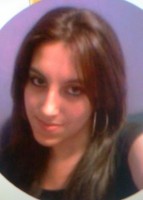 By 11 a.m., 11 students had been released. By 3:30 p.m., all had been released. (The total number of children taken to Florida Hospital Flagler increased as the morning wore on and officials tabulated more accurate information, with the latest complete tally issued in mid-afternoon.) Many went back to school, some went home. School officials commended the reaction of several of the students, who put emergency drills into practice and took leadership roles in the immediate aftermath of the wreck, staying calm throughout.
The driver who was trauma-evacuated to Halifax is Elisa Marie Amber Homen, 22. She had just gotten off work at Dunkin Donuts.
The driver of a third vehicle, a 19-year-old Brian Szmitko of Palm Coast, was also hospitalized with non-life-threatening injuries and released by mid-afternoon. Charges are pending, according to FHP. He'd previously posted images of his 2007 Subaru Impreza–the vehicle involved in today's crash–as part of his profile on a social media site.
The crash took place a little after 7 a.m. Whiteview from Belle Terre Parkway is shut down in both directions. Emergency crews were at the scene, assessing patients as school officials transfer other students who have escaped injuries to awaiting buses.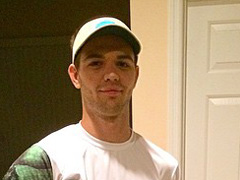 The bus involved in the crash is #20413, the Buffalo bus, which was on its way to Buddy Taylor Middle School. The bus driver, Maria Rosa Martinez, 65, is a veteran driver with more than 40 years' experience (without incidents, according to a school official). She was also taken to Florida Hospital Flagler with minor injuries, according to Mike Beadle, Palm Coast's fire chief, who was at the scene. The bus driver was released.
According to a Florida Highway Patrol investigator at the scene, the preliminary investigation indicates the following sequence of events: a Mazda sedan driven by Elisa Homen was heading west on Whiteview. Following it was a Subaru sedan driven by a 19-year-old man. The school bus was heading east on Whiteview. The Mazda slowed down or stopped to make a left turn onto Ravenwood.
---
Drills show their worth as students step up and take leadership in a remarkably calm response to an emergency.
---
For reasons unknown at this time, the FHP investigator said, the Subaru did not stop, rear-ending the Mazda, and catapulting the Mazda in the way of the school bus, which collided with it broadside. "We can be thankful there was no passenger in that vehicle," the investigator said of the Mazda, whose passenger side was crumpled into the front of the school bus.
There were a total of 47 students on the Buffalo bus, the FHP investigator and the superintendent said. In all, five ambulances transported seven students.
"Then we found out that, to be safe, some of the other kids started to feel funny, I guess," Beadle said, "so rather than just let them go home or go back to school, we transported the school bus with the kids to the emergency room, the emergency room knows they're coming in, it's typically what we do in a mass-casualty incident. Those that are walking, ambulatory, walking on their own, we take them to the hospital on the school bus, it's the easiest way to transport them. Those that we thought were maybe of a serious nature we put them in back of an ambulance."
---
Audio: Interview with School Board Chair Collen Conklin and Superintendent Jacob Oliva[media id=383 width=250 height=200]
Beadle said all parents were notified swiftly. "We get into a situation like this," he said, "you've got to get mom and dad notified right away, social media, I'm sure some of the kids had cell phones and were texting."
"I think we used all the medic units in the county, all but one," Beadle said, "so it worked very well."
School Superintendent Jacob Oliva was at the scene around 8 a.m. with some of his top staff, joining Transportation Director Winnie Oden, who'd been there earlier. "It's too early to give a statement right now," Oliva said, noting that information was still being gathered. "Right now we're just trying to make sure all our students are taken care of."
At 8:12, paramedics were readying to take the last middle school students they'd been working on to Florida Hospital Flagler while a replacement bus was preparing to take students from the Buffalo bus to Florida Hospital Flagler.
The scene throughout was calm as crews went about their work deliberately and steadily. The replacement bus left the scene at 8:16 a.m. Meanwhile at the hospital's emergency department, the waiting room was teeming with activity into mid-morning, with parents and school officials conferring and some parents driving away with their children, after the children have been checked out.
Just after 11, Oliva and Colleen Conklin, the chairman of the Flagler County School Board, emerged from the hospital's emergency department and spoke at length to FlaglerLive of the incident. "They were very grateful for how quickly we were able to make sure their children were safe and their needs were being met and to notify them to bring them here. They understand the circumstances and have been very supportive of us and appreciative of our efforts."
We visited with every single student and parents to just check in with them, make sure that they were OK, and if there is anything that they needed," Conklin said. "For the most part they're all OK, and many of them like I said earlier being released now. However, they're shook up. It was a scary situation for them." Conklin stressed that emergency drills were put in practice and worked almost flawlessly.
---
Audio: Palm Coast Fire Chief Mike Beadle on the Crash[media id=384 width=250 height=200]
Oliva was especially and repeatedly complimentary of the middle school students, some of whom took lead roles in addressing the situation as soon as it developed.
"We know we had some of our student leaders step up and make sure the emergency doors were open and help get the students off the bus," Oliva said, "because the driver had minor injuries, suffered minor injuries as well, so our students did an outstanding job, showing that the drills and precautions that we put into place work. And they stayed calm. We can't express how proud we are of how they handled this situation."
Oliva said the school administrators and guidance counselors at Buddy Taylor are on hand to address the situation from a psychological point of view. "The students that went back to the school were all brought together to talk about what's going on," Oliva said, "and they've done an outstanding job communicating with parents, making sure that everybody is on the same page and that our students understand it was an accident, or it's a crash, and they're taking appropriate steps to make sure that their safety and emotional needs are being met, and get them focused back on learning."
The hospital, too–which just last month organized a mass-casualty drill with, ironically, a similar number of casualties–was able to handle the sudden load swiftly and efficiently. "Amazingly, with the numbers that we were dealing with, the hospital did an outstanding job getting students in, having them placed comfortably and having them be seen," Conklin said.
"I keep going back to how well the students stayed calm and responded and they were the true leaders," Oliva said.
Some of those students will be recognized at a Spotlight ceremony at a coming school board meeting, Conklin and Oliva said.
The Florida Highway Patrol is investigating the wreck. Flagler County Sheriff's units, the Palm Coast Fire Department and Flagler County Fire Rescue responded. The Palm Coast Fire Police is controlling traffic.