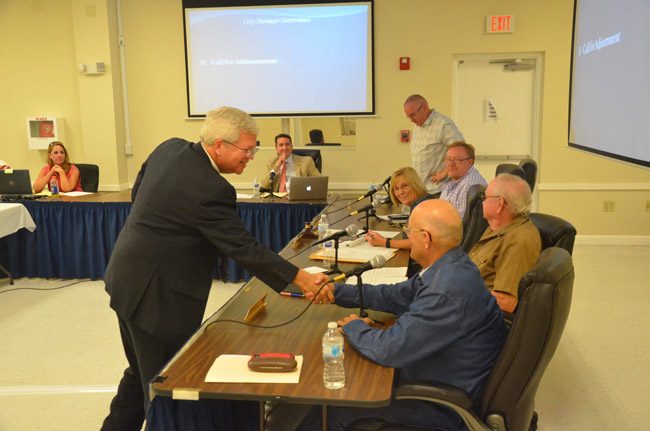 The Bunnell City Commission is an abbreviated discussion Monday night voted 3-2 to hire Martin Murphy as its next city manager. Strictly speaking, the vote was to negotiate a contract with Murphy, but with the commission's background checks completed, the negotiations are expected to be more of a formality.
Murphy, who's not currently employed, spent all but a few months of his career in New York State local governments. He spent less than a year as an assistant city manager in New Port Richey, a posting that ended last October due to "financial constraints on the budget," he said: the position was eliminated. He was one of four candidates who interviewed with the commission, from a list of 18 applicants.
"I'm certainly very excited and honored by the offer that's been made," Murphy said in a phone interview shortly after the commission's vote. "I understand the city will be formalizing their offer within the next couple of days and hopefully within the very near future we'll be able to come to an agreement."
Murphy will not suspend his job search, however, until he begins deliberations with Bunnell on the contract and "once we get an opportunity to digest the formal offer." He will then suspend the search, he said. The job pays $85,000.
Of the three with accomplished resumes in management, Murphy had been the least flashy, the most direct , and by far the least obsequious. His lack of experience either within Florida government or with Florida's state government agencies did not concern a majority of commissioners.
Neither Elbert Tucker, who made the motion to negotiate with Murphy, and Commissioner Bill Baxley, who seconded, explained their decision. Commissioner John Sowell, the third vote for Murphy, did, though it was not exactly a rousing endorsement: "Of the four background checks the only one I can go with is Mr. Murphy," Sowell said.
Mayor Catherine Robinson did not go along because she repeatedly said that she'd entered the hiring process thinking there'd be a second round of interviews. She explicitly mentioned the second round to Murphy in his interview, if not to others, with no objections from other commissioners. Commissioner John Rogers joined her in hoping for a second round, but only because his candidate had lost.
Rogers opened the discussion on the next manager with a motion to hire Alvin Jackson, the most charismatic of the four candidates to interview and currently the economic development director in Suwanee County. But Rogers's motion died for lack of a second. Even so, Rogers had a written statement about Jackson, much of it a recitation of Jackson's resume, and wasn't going to let it go to waste.
Rogers had announced his intention to hire Jackson during Jackson's interview, with two more interviews yet to be conducted. The tactic backfired as it may have turned off some commissioners, though commissioners also spoke about concerns with Jackson's credentials, including his master's and doctorate from a defunct divinity school in Jacksonville. They'd also spoken of what they saw as too much flashiness.
"I don't know if this board took the time to read the book but it talks about leadership, that's what we need," Rogers said, referring to a paperback Jackson had self-published years ago, with his face prominently on the cover. Rogers then added a nativist touch: "This man is from Florida, he knows how to get to Tallahassee, he knows how to get around." (Murphy, curiously, did not yet have a Florida driver's license when he interviewed with the commission last week.) Sowell had, in fact, read Jackson's book even before Jackson distributed a copy to each commissioner before his interview, and commended Jackson for it.
Robinson wanted to re-interview Murphy and Jackson.
Only two people addressed the commission ahead of the vote: "We need a dynamo," Jan Reeger, a member of the city's planning board, said. Alvin Jackson–not Murphy, the professional planner–was her choice. Former City Commissioner Daisy Henry also spoke, not to pick favorites but to say that the city staff needed attention in coming months.
The city's administration has been riven by some dissention and dissatisfaction. The commission is hiring a new manager after firing Dan Davis, in the job two years and four months after he'd been the city's clerk for many more years.
Commissioners also interviewed R. Scott Tipton, a retired Florida Highway Patrol traffic homicide investigator who was all earnestness but had no experience managing, and Lyndon Bonner, who'd been a Bunnell city manager in the 1990s and triggered a bit of a challenge from Rogers during the interview, regarding Bonner's demeanor toward the end of his tenure as manager.