After receiving 18 applications for city manager, the Bunnell City Commission short-listed six names between May 29 and June 4, but did so outside of a public meeting, which may have been a violation of the Sunshine Law. The city's attorney told commissioners that it was not, even though six names now appear on two successive city commission meetings' agendas, for interviews, without there ever being formal action by the commission to pick or list them.
The commission is working toward replacing Dan Davis, whom it fired in late April. Tom Foster, the city's police chief, has been its interim manager since. He intends to go back to the police department as soon as a manager is hired.
The city administration advertised the position in various trade outlets and drew a relatively low number of applicants. Commissioners discussed the responses at a meeting last Monday, where Becky Vose, one of the city's attorneys, directed them to take the lead on the matter. "Y'all need to figure out how you want to do it. I don't think that staff or the city attorney should put restrictions on you," Vose told commissioners.
Commissioners agreed to pick at least five candidates to interview. Some were ready to submit names then and there. Others were not. They decided to submit names for a short-list by email to the city administration, which would then draw up the list and set up interviews.
"If we each pick our two and you compile the list," Mayor Catherine Robinson told Kristen Bates, the city clerk. That's what commissioners did.
The arrangement mirrored the way Palm Coast government narrowed down to four a list of 16 applicants for city council in 2012, when the council was seeking to appoint a successor to Frank meeker, who had resigned to run for the County Commission. Palm Coast drew up a short list outside of a public meeting, after council members each submitted their favored names.
Jon Kaney, the general counsel for the First Amendment Foundation, the Tallahassee-based nonprofit watchdog, wrote Palm Coast officials to let them know that they were violating Florida's Sunshine law because the short-list amounted to a ranking of candidates, and by ranking candidates, that amounted to an official action. "What they did was they took formal action without doing it in a meeting," Kaney said at the time.
Legal precedents include a 1969 Second District Court of Appeal decision that stated: "Every step in the decision-making process, including the decision itself, is a necessary preliminary to formal action. It follows that each such step constitutes an 'official act,' an indispensable requisite to 'formal action,' within the meaning of the act." In other words, "It is also how and why the officials decided to so act which interests the public," the decision stated.
As it stands, the shortlist was prepared without the why of the matter.
In a 1997 case, a citizen sued city of Bradenton after a panel short-listed six bidders down to three, but outside of a meeting. The same court said the short-listing was a formal action requiring an official meeting.
A potential violation of Sunshine exposes the council's subsequent actions regarding the matter in question to litigation.
Palm Coast officials defended their approach in 2012 but nevertheless seemed to concede Kaney's point by formally voting on the shortlist at an open meeting in order to "cure" any perception of wrongdoing. Kaney did not see that as a sincere resolution. "We are aware that the council took a perfunctory vote to ratify the short list during its meeting on Nov. 13, 2012," Kaney wrote. "This did not cure the violation because it was not an independent reconsideration of the decision to shorten the list." He then cited additional precedents, including one from the Fifth District Court of Appeal, which has controlling jurisdiction in Flagler: "A violation may be cured by an independent final action taken in the sunshine that is 'not merely a ceremonial acceptance of secret actions and not merely a perfunctory ratification of secret decisions at a later meeting open to the public.'"
Wade Vose, Bunnell's attorney, did not respond to an email regarding the commission's short-listing outside Sunshine.
He told commissioners that it was permissible. "I talked to Wade our attorney," Commissioner John Sowell said today in an interview (from Iceland). "He again assured me that there is no sunshine violation."
"From my understanding, there is no sunshine violation because we're not having deliberations among commissioners," Sowell said. "Any member of the public would like to know why a particular commissioner chose a certain person to be interviewed, that commissioner should be more than forthcoming to say why they wanted that particular person."
The six short-listed names are Lyndon Bonner, Alvin Jackson, John Klimm, Martin Murphy, R. Scott Tipton and Brian Watkins.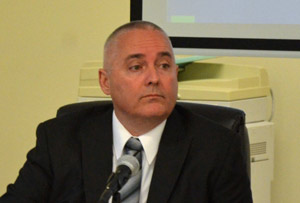 Bonner's reappearance is a surprise. He had been the city manager for four years, a term that ended with some turbulence in 2006 when the commission refused to renew his contract, soon after revelations that his failure to file paperwork with the state jeopardized annexations Bunnell was carrying out at the time. Later that year Bunnell re-hired two police officers Bonner and his then-police chief had fired a year earlier. The city had to give the officers back pay and pay their legal fees, though one of the officers subsequently was arrested and charged with six felonies (he pleaded to one charge). Robinson, a Bonner loyalist, picked him for her list, along with John Klimm. No one else picked Bonner.
Another somewhat local name is R. Scott Tipton, who rose to the rank of sergeant with the Florida Highway Patrol between 1983 and 2013, the year he graduated with a mater's in public administration from Barry University in Miami. He retired that year, and lists no jobs since on his application for city manager. His resume lists one other job: a three-year stint in the military. Only Commissioner John Rogers picked Tipton, along with one other name: Alvin Jackson.
Jackson was also picked by Sowell. The Boynton Beach resident is the Suwanee County economic development director since 2014. He submitted the longest application by far, a 72-page opus stretched by a powerpoint presentation of his achievements, numerous reference letters and what appears to be a long evaluation. He has 30 years' experience in government, including as city manager. He's been deputy county manager in Lake County (1996 to 2001) and Town Manager in Eatonville, which has a population of about 2,100, though his resume doesn't say when, or for how long. He has a master's of ministry degree from Thomas Brown Bible College in Jacksonville.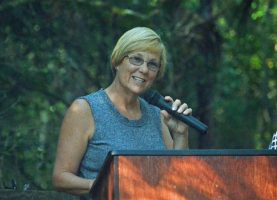 Only one candidate drew three commissioners' nods: Brian Watkins–from Bill Baxley, Sowell and Elbert Tucker. He was the city manager of Milton, a city of 8,000 in the far west Florida Panhandle, until April, ending a 10-year stint. He'd been public works director there for two years previously, spent a few years as a construction manager in the private sector and was a Navy Commanding Officer. A divided Milton City Council (which was under investigation for an alleged Sunshine Law violation) fired him in early April. Council members cited a lack of communication.
John Klimm of Saint Simons Island, Ga., who lists his last job as a town administrator for Portsmouth, Rhode Island–a job that ended in 2015–and Martin Murphy, of New Port Richey, where he was assistant city manager until October 2017, each got one vote: Klimm from Robinson, and Murphy from Baxley.
The commission is scheduled to interview Klimm, Jackson and Tipton on June 12 starting at 6 p.m. at City Hall, in one-hour increments. Commissioners will interview Watkins, Bonner and Murphy starting at 6 p.m. on June 18. The stretched-out format is unusual: it allows the second batch of applicants to examine the first group's interviews and present accordingly.
"It looks like it's rolling along. We'll have somebody hired before Palm Coast," Rogers said at the May 29 meeting.
"I'm not touching that," Robinson said, alluding to Palm Coast's current search, which is stretched over two years.
"If you dawdle around, if there's a really good city manager, yeah, they're gone, they get snapped up," Becky Vose, the attorney, cautioned.

Commissioners' Short-List Choices For Bunnell City Manager
Click on each applicant's name to see the full application package. See all 18 application packages as provided by Bunnell administration in two files, here and here.

First Amendment Foundation's Counsel's Letter to Palm Coast Regarding 2012 Short-Listing