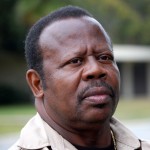 A shooting in Bunnell just after 9 p.m. Monday, in a drug deal gone bad, sent a man to the hospital, according to Bunnell Police Chief Arthur Jones.
"We're tracking two suspects now," Jones said Monday evening.
The shooting took place at South Church Street and Martin Luther King Avenue, a block away from U.S. Route 1 on the south part of town.
Jone said a white male in the area of 410 Martin Luther King Avenue "was confronted by two black males. Two shots were heard, then one shot was heard." Jones said "the white male went down." He was airlifted to the hospital with two gunshot wounds, one to the chest and one to the leg. He was in stable condition when he was transported by helicopter to Halifax Hospital in Daytona Beach.
The two suspects were being tracked with dogs, Jones said. The Flagler County Sheriff's Office was assisting in the chase. The Florida Department of Law Enforcement was expected.
The chase was inconclusive. Tuesday morning, Bunnell City Manager Armando Martinez added a few details: "It was a drug deal gone bad over 100 oxycontin that the victim was going to buy. He was set up for a robbery, which resulted in the victim getting one shot in the upper left chest and the lower left leg. An investigation is ongoing and an arrest is imminent."
Martinez said he could not elaborate, or comment on whether the pills involved were related to the hundreds of pills an armed robber took from the Winn Dixie on State Road 100 on Sunday.