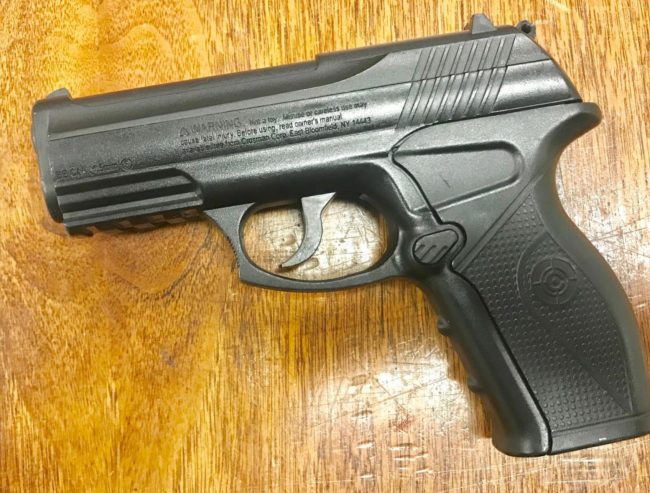 After a 13-year-old 6th grader was apprehended and later arrested and charged with aggravated assault for pointing a gun at a Bunnell Elementary School child Wednesday afternoon, two questions remained unanswered until today: where was the alleged gun, and where was the second boy who had been spotted with the 6th grader, and who was referred to as "Mike"?
The Bunnell Police Department, which has been investigating the case with assistance from the Flagler County Sheriff's Department, today answered both questions. It had located the gun.
If that's the weapon brandished Wednesday, it was, in fact, a BB gun made to look almost exactly like a handgun, though not a "long pistol," as one of the child witnesses who'd reported seeing it had described it to a law enforcement officer.
The 6th grader had been riding his bike on the street, along the fence that rims the Bunnell Elementary campus along East Magnolia Street, on the northwest end of the school, when he allegedly pulled the gun and pointed it at one of the children playing on the school playground, within the fence. Children immediately ran to the school and informed faculty, who called police and triggered a lockdown. The 6th grader was located less than half an hour later and the lockdown lifted. It had happened around dismissal time.
As he was being arrested, the 6th grader muttered that the weapon had been a BB gun, and his mother had said that she owned one, and that it had disappeared from her closet that day.
The Bunnell Police Department late this afternoon issued a statement through the city administration that "Mike" and the weapon had been located. The city released an image of the gun (see above). But it did not release the identity of "Mike" or disclose whether he faced any charges.
"Additional witnesses have come forward and the information being provided is still active and further information will be released when the case is completed," the release stated. Police Chief Tom Foster could not be reached (his cell's voice-mail box said it was "full" and would not take messages). But City Manager Dan Davis texted that he did not believe there was an intent to charge the 14-year-old boy, and that he attends a school different than Bunnell. But that, because of his age, and since he does not face charges, his full name would not be releasable (nor would it be disclosed here if it were).
"Nothing else is releasable at this time because his testimony is key to the overall investigation of the incident," Davis wrote, a strong indication Bunnell police was following up on the investigation.