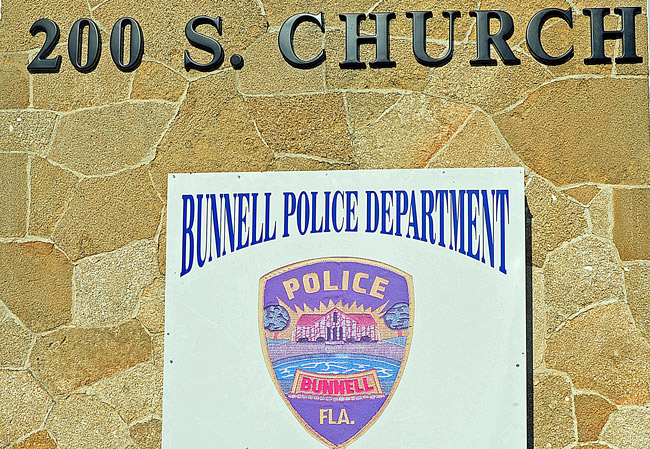 Tuesday update, 9:25 a.m.: Just after 9 this morning Bunnell City Manager Armando Martinez in a phone interview said he was sending two names to the Flagler County Sheriff's Office for background checks, for the prospective job of Bunnell police chief: Jeffrey Hoffman and Brannon Snead. The names were not necessarily ranked in that order. In other words, Martinez has not yet decided which of the two is the front-runner. But the decision essentially eliminates Gregory Feldman from contention.
"I'm trying to find the best candidate to do the job, who will be transparent with the community," Martinez said. "We need to take the department to a higher level of professionalism."
Yesterday's story is below.

Bunnell will not have one of its own for a new police chief.
Earlier today, Bunnell City Manager Armando Martinez interviewed the three finalists for the job, selected for him from a short list of six by an advisory committee he appointed. Lt. Randy Burke, the second in command at the department and a popular, local favorite, judging from a petition on his behalf submitted to the Bunnell City Commission in January, hadn't made the cut. He was eliminated by the committee, from a list of about 19. He was among 31 original applicants. The administration reduced that batch to 19 for the appointed board to review in two rounds.
The three finalists for the $50,000-a-year position are Gregory Feldman, 63, of Miami, where Feldman is a regional criminal justice coordinator at the Florida Department of Children and Families; Jeffrey Hoffman, 41, a captain in the Daytona Beach Police Department, where he oversees all uniform patrol operations and supervises about 85 employees; and Brannon Snead, 34, of Crawfordville, Fla., a supervisor in the Florida Highway Patrol's Criminal Interdiction Unit in Tampa. Two of the candidates appear willing to see their pay cut in half or more to take the Bunnell job. The third makes more than the proposed salary merely in retirement pay.
Some details in applicants' histories stand out. In 1968, Feldman was a police spy who infiltrated meetings of the Students for a Democratic Society and reported his findings to local police and military intelligence, according to his application. "Cover was lost when I went to a demonstration and pointed out the organizers for arrest," he writes. (The U.S. Senate's Church Committee in 1975 and 1976 condemned the lawless infiltration practice, led in large part by federal authorities.) A message left at Feldman's home Monday evening was not returned.
"I have not made my decision as of yet," Martinez said this afternoon. "I interviewed them today, I'm going to deliberate on my decision." He added: "I've got three candidates that are making it tough for me to decide. But I do feel very satisfied in the quality candidates that we got."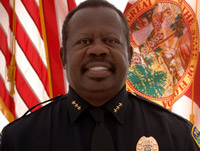 Arthur Jones, the police chief since November 2008, announced  in December that he would be retiring this month. He was Bunnell's first black police chief, a relevant distinction in the only city in the county with a still-populous black ghetto and a visible racial dividing line. All three of the candidates for the police chief job are white. Martinez said race was not a factor in the process. "When I'm looking at these candidates I'm looking at qualifications."
Martinez said he'll choose the leading candidate and an alternate, possibly by Tuesday, and send the names to the Flagler County Sheriff's Office for background checks. He hopes to formally announcing a choice at the commission's April 23 meeting, though it's possible the choice will have been made public by then.
"Burke was presented as promised," Martinez said. "He was included in the original 19 from which the top six were presented. He was not in the top six."
Burke, who's served in the Bunnell Police Department for two decades, was a local favorite, with Koreen Kowalsky-Colpoys, a former candidate for the city commission, organizing the petition drive on his behalf. The petition bore the names of more than 200 Bunnell residents. It appeared to have the support of at least some commissioners: Elbert Tucker and John Rogers spoke favorably of hiring from in or around Bunnell. But the commission has little say in the firing and hiring of the police chief, an administrative position under the supervision of the city manager.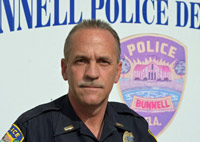 "I'd say that's up to my attorney at this moment," Burke said Monday evening. "They've already been notified. We'll see what happens from there. I wish the best of luck to whoever the best candidates are." Burke said legal action against the city would encompass several issues going back to his firing in 2009 and re-hiring 16 months later over a matter of negligence that an arbitrator said did not warrant a firing. The incident created antagonism between Burke and Martinez, though Martinez insists that the issue has nothing to do with Burke's application: he was included in the batch of applicants even though, according to the job description, applicants had to have a four-year college degree to qualify. Burke does not. On the other hand, Burke said the requirement was itself arbitrary and against city policy, because it had not been in effect when Jones, the outgoing chief, was hired in November 2008. Burke saw the provision as targeting him specifically, though by not rejecting Burke's application, and letting it make the first cut, Martinez may have been essentially diffusing Burke's claim that he was being singled out.
The committee Martinez appointed to narrow down the candidates' list was almost identical to the one that hired Martinez as Bunnell's police chief several years ago, before he took the manager's job. The committee members included: Noel Griffin, chief investigator for state attorney's office. Rick Look, the former under-sheriff, who represented the Flagler County Sheriff's Office; Sid Nowell, the city attorney; Mike Ignasiack, a former Bunnell interim police chief; and Jones.
Gregory Feldman is not new to Bunnell. Martinez hired him in July 2010 to be the second in command at the police department—Burke's job—but the offer was withdrawn when the arbitrator ruled in Burke's favor, compelling the city to re-hire Burke. Feldman has been at the Department of Children and Families since 2007. He's also been a security director at a university in Miami, and spent 25 years as a cop in the South Miami Police Department, going from police officer to assistant police chief under Orlando Martinez. His retirement was not tidy. He was involved in litigation with South Miami, filing a lawsuit over an unfair labor practice, and retired in 2005 "in exchange for dropping lawsuit," he writes in his application. Earlier in his career, he had "several actions for rules violations such as late paperwork, traffic crashes, etc."
Feldman has kept a house in Palm Coast for the past five years. His wife has lived there for the past four. He is planning on moving there regardless. He holds a political science degree from the University of Oklahoma in Norman, where he graduated in 1973.
Jeffrey Hoffman has been at the Daytona Beach Police Department since 1991. Other than a landscaping company he owned and operated between 2003 and 2004, he's not worked for any other organization. He graduated Daytona State College with an associate's degree in 2005, and Warner University in 2006, with a bachelor's in organizational management. Like Martinez in his Miami days, Hoffman was commander of the department's internal affairs division, which investigates allegations of corruption or misdeeds by cops. Hoffman  has been a captain since January 2011 under the popular and sometimes tasteless tenure of Police Chief  Michael Chitwood, who thrives on his trademark epithet leveled at all suspects, guilty or innocent—"scumbag." Hoffman does not list Chitwood as a reference. His current salary is $94,500, which means he'd be taking a cut of almost 50 percent should he win the job in Bunnell.
Brannon Snead is extremely thorough, at least in his answers to questions. Each candidate was asked four questions in his application—about his management style, accomplishments, first 90 days' plans and ideas for new program that could be implemented in Bunnell. Feldman answered in three pages plus a paragraph. Hoffman kept it at a succinct page plus a paragraph. Snead, the youngest of the three, filled out almost six pages, albeit in larger font and, in one case, using a SWOT analysis graph from Wikipedia (SWOT stands for a current fad in management: the strengths, weaknesses, opportunities and threats analysis). Snead's application, at 58 pages, was also twice as long as his competitors'.  A graduate opf Thomas University in south Georgia, with a bachelor's in criminal justice, he started work as an investigator with the Florida Highway Patrol in 1998, left "for more money" (in his words) to be a cop in the Tallahassee Police Department in 2003, then "returned to previous employer"—FHP—barely a year later to be the supervisor of a criminal interdiction unit. He owns Snead Enterprises, a securities services company (he is its own director). He's been the FHP's Trooper of the Month 15 times.
Snead lists a secondary annual income, on top of his FHP pay, of $30,000 to $40,000 from "secondary law enforcement jobs." Combined with his annual salary of $88,000 (up 50 percent from his pay in 2007), Senad is making $118,000 a year or more, compared to the $50,000 a year on offer from Bunnell.
Feldman's annual retirement pay of $58,000 alone is $8,000 more than what he'd made as a Bunnell police chief.
Hoffman, Feldman and Snead all say they've tried marijuana—twice each.