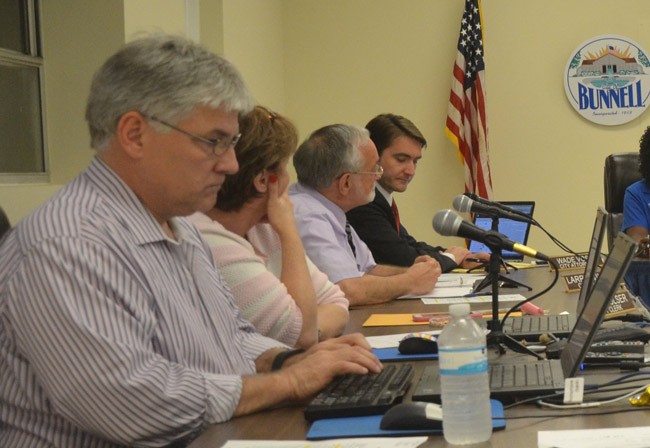 The Bunnell city manager's job that unexpectedly opened last month when Larry Williams announced his resignation has drawn three internal applicants: Deputy City Clerk Dan Davis, Finance Director Stella Gurnee, and City Engineer Ferdinand Tiblier. The three will be interviewed in one-hour increments during a special, open meeting of the Bunnell City Commission Wednesday, starting at 6 p.m.
"I'm going to let the evaluations be up to our commission," Williams, who had informally recommended Tiblier to commissioners when he announced his resignation, said. "They're three qualified individuals, all three of them have government experience, all three of them have been very valuable to what I had to achieve in Bunnell, they were all helpful in reaching my goals."
All three were also hired by Williams, although Davis had worked as the city clerk in the previous administration, until his public and angry resignation to protest against Armando Martinez, the former city manager. Davis announced his resignation during a meeting of the commission in April 2013, saying he couldn't work for Martinez because Martinez wouldn't address an ongoing extra-marital relationship between two members of his executive staff–the police chief and the finance chief, both of who have since moved to the sheriff's office. Davis was re-hired last year.
In the cover letter to his application, which he wrote on city letterhead, Davis referred to his 20-year Air Force career, during which he was "hand-picked by General H. Normamn Schwarzkopf to be on his personal staff that deployed to Saudi Arabia during the Persian Gulf War because of my reputation in his Command." Davis says he "superbly managed multi-million dollar defense budgets and contracts" before spending almost 12 years in government. A 12-year resident of Bunnell, Davis has been a records manager and a deputy clerk in Palm Coast government (from 2003 to 2009) and was city clerk in Bunnell from July 2009 to his April resignation. He was re-hired in September 2014.
"I work well with my fellow employees and directors," he wrote in his application, "many of whom have voiced their support and [hope] that I will be their next city manager. I'm ready for this… and will not let you down." He is asking for a salary of $67,000, or almost $4,000 less than Williams's current Salary of $70,608. Williams was hired two years ago at $67,000.
Gurnee, a Palm Coast resident, also underscores spending most of her career in public service, starting with the U.S. Army, where she was an aircraft electrician and personnel and finance officer for seven years until 1982. She worked in various finance jobs at the old Community Hospital of Bunnell, Embry-Riddle Aeronautical University and St. Augustine Beach before serving as Port Orange's comptroller for 12 years. Williams hired her as Bunnell's finance director in 2014. In that post, she oversaw the city's transition from a deep budget deficit incurred under the previous administration to a balanced budget.
"I believe I can be instrumental in the continued enhancement of the city's financial health," Gurnee writes in her application letter. "I also would recommend focusing on economic development for the city." She is asking for a salary of $68,000, but would not ask for the $2,400-a-year car allowance that goes with the current city manager's contract, thus lowering her amount to $65,600.
Tiblier did not submit a cover letter, though his resume includes the sort of narrative that would be typically included in such a letter. The resume states he has "administered and performed numerous and diverse civil and environmental engineering pursuits," with specialization in public works, water utility administration, storm management, wastewater treatment, water permitting and related fields. He's served 18 years as a public sector engineering manager, 12 of them as a department director.
He lists his own engineering consultancy as a job he still maintains, as he has since 2009, and cites his website, where he speaks of his personal, heavily religious philosophy: "The 'Core Mission' is simple yet urgent. The time is now for all Christian believers and persons of good will to get back to the very basics. Our nation and economy need healing and a sustainable approach to policy and business practices. Let's all vow to rearrange and better manage our priorities."
Tiblier's career has toggled between the private and public sector, including stints with Orlando and Daytona Beach corporations and two years as utility director for Winter Garden and four years as public works director and city engineer for Deltona. He is requesting a salary of $75,000 a year.
The interviews will start with Davis at 6 p.m., Gurnee at 7 and Tiblier at 8, followed by a discussion of the city commission. It is possible that commissioners will vote on making an offer to one of the candidates as early as Wednesday evening. The meeting, open to the public, takes place at Bunnell City Hall, 201 West Moody Boulevard. See fuller details of each application below.